Top 10 Places to Eat in Houston, with Kids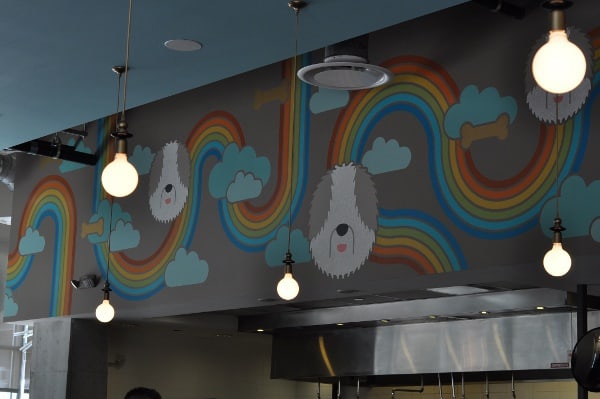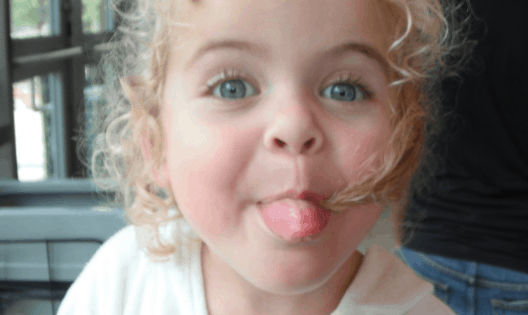 What I've learned over the last 10 years of visiting Houston restaurants, with kids, is… not all are great for families. Some are just not set up for kids, and some just don't like kids.

I do understand not liking kids running through your restaurant or damaging property or disturbing other patrons. I find this irritating too.  (And seriously, watch your kids.)  But I was once at a casual restaurant and the kids were eating quietly at the booth. We had already spent way more money than the coffee drinkers surrounding us… and the owner came out to thank every single table for their business… except ours.

This place was small and it was deliberate and I was shocked and furious. And I quickly learned to be careful where I spent my money.

So… with that said, there are many family friendly restaurants in Houston and BigKidSmallCity has updated our 10 FAVORITES!

You can also find our weekly restaurant review HERE and the places where kids eat free, HERE!  If you need a strategy for teaching good restaurant behavior, go HERE… and take the family out to eat!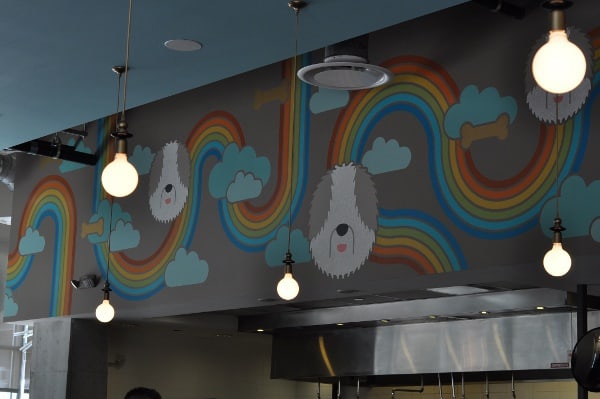 1. Barnaby's Cafe – Oh, we love this funky fresh restaurant for kids and for parents.  There are several locations, but the museum district restaurant is our favorite.  The walls are playful yet modern and this is very much a grown up restaurant that is welcoming to families.  They have a kids menu and a wooden robot to keep the kids entertained!

The menu options are some of my favorite in Houston, with several options of veggie burgers, salads and burgers, fish, meatloaf and more. I like good veggie burgers and I think it's awesome that they serve several options. And when I get a salad instead, it's can-hardly-finish-it big.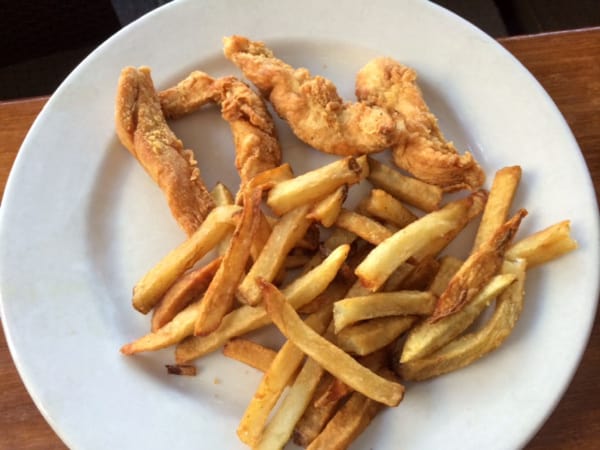 2. Ruggles Green – The City Center location is a wonderful kid-friendly (and allergy friendly) restaurant. The adults love the food selection and the kids love the grass area where they get to play as we visit with friends.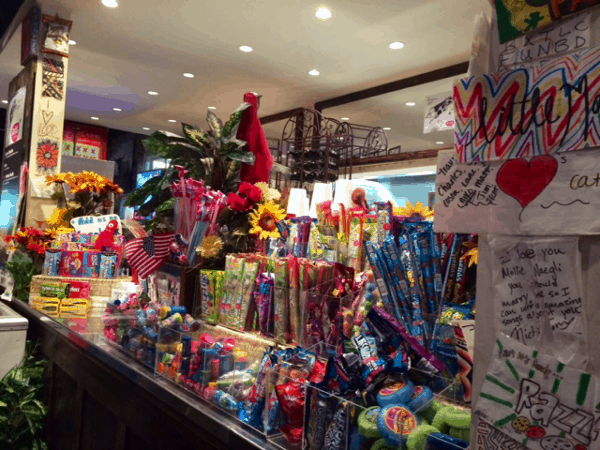 3.  Little Matt's – Don't let the bland gray exterior fool you.  This little restaurant is wild inside.  There is good food, nice patio, iPad station, candy store, arcade AND the proceeds go to help children and families affected by cancer.   Psssst – Here is a secret… you can ask for an adult beverage and get it for a donation!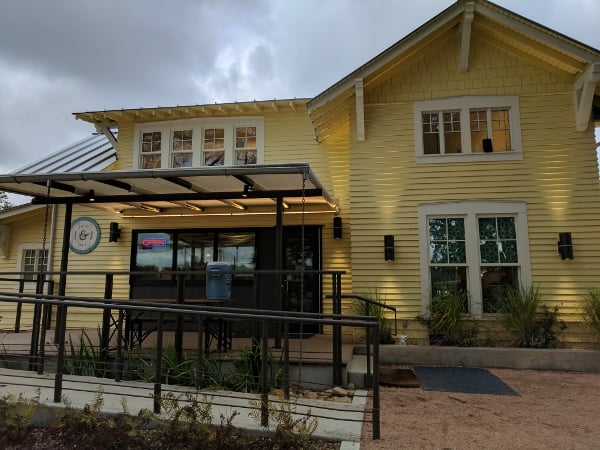 4.  Closed:  Ivy and James – There is room to run and food that looks nothing like park food!  Ivy and James is right in Bellaire's Evelyn Park and serves up a good food.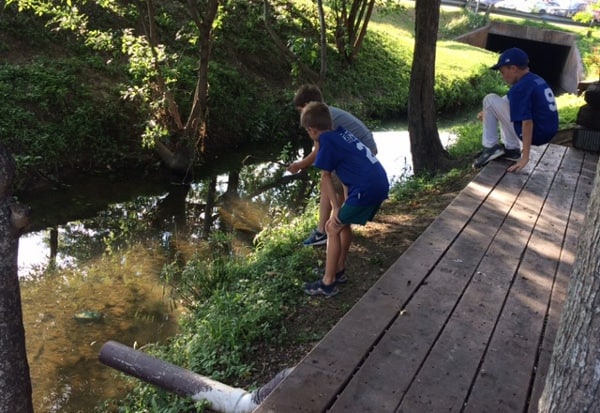 5.  Cedar Creek Bar and Grill – Cedar Creek has a motto: Life is short, don't sweat it! And the many families there seemed to enjoy their life! It feels casual and welcoming and you will want to sit outside, there is plenty of shade and lots of great tables for small or big gatherings.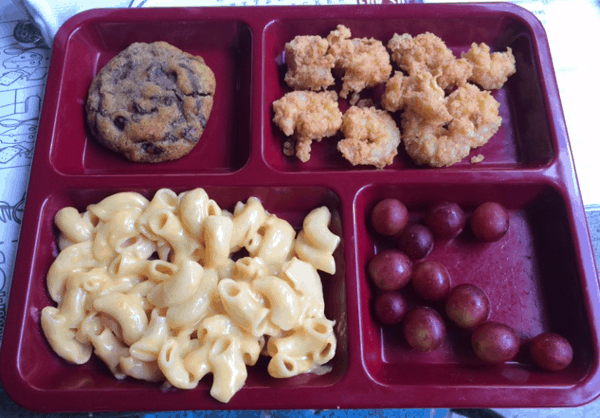 6. Punk's – This restaurant in Rice Village was a great find for us. The grassy area is a hit with the kids and the southern food was absolutely delicious! The staff is very friendly and the cookies served with the kid menu were some of the best in Houston.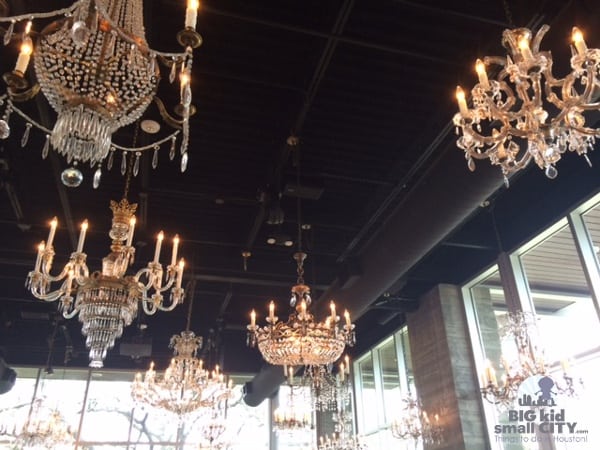 7.  The Dunlavy – Fair warning… some people love this place and some people hate it. It's certainly not a fast food playland restaurant.

As you walk up the stairs, you find yourself at tree height and the huge windows on 3 sides of the dining room let you feel the outdoors. The dining room is the most beautiful room we have seen this year.

One focal point is the dozen of crystal chandeliers, all different, all elegant, all softening the room. As your eyes go down from the ceiling, the warm wooden tables, large enough for big groups or to share, are welcoming and casual. Then your eyes go back outside, to the green foliage, to the bayou or to the peaceful lake.

I love Houston for its easy-going attitude. People seem to mix peacefully and respectfully embracing each other's differences and cultures. Last Saturday, at lunch time, it was a perfect example of Houston's best. Well-dressed ladies happily mixed with families with children, with bikers dressed in bright colored outfits and us!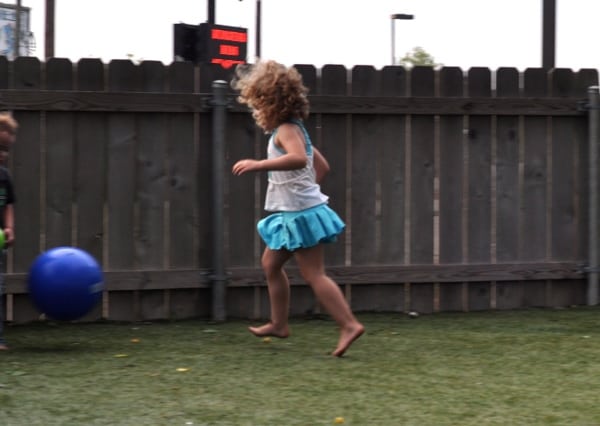 8.  Frey's Backyard – Located in Tomball, north of the Houston, this casual restaurant has good (and reasonable) food and a giant backyard.  Sit at the picnic tables and you can watch the kids run in the fenced-in bug-free turf covered yard.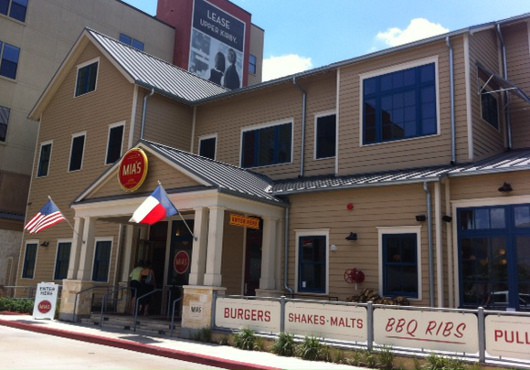 9.  Mia's Table – Mia's is a Carrabba family restaurant and it says "family friendly" right on the logo.  We love this cozy home-like restaurant because they treat us so well here.  We walk in, order at the counter and find our seats.  The staff always greets us warmly and comes by our table to check on us.  The interior is casual but very nice with a punched tin ceiling and big windows that open to the large porch.  Ice cream is free and the managers have been known to bring around free cookies.  I also think the iced tea is the best in town!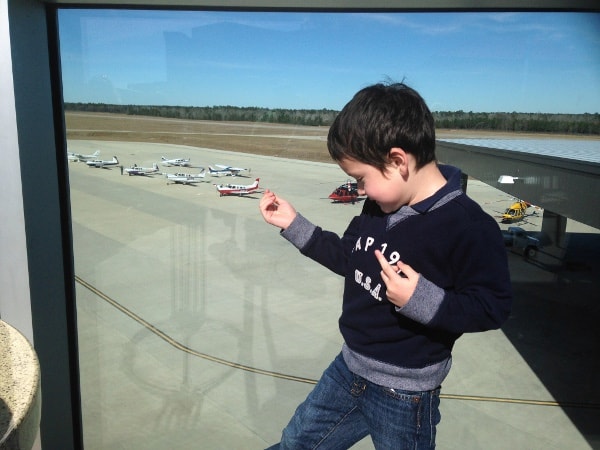 10. Black Walnut at Conroe Airport – This place is good for little aviators! The Black Walnut Cafe in Conroe is located inside the Conroe-North Houston Regional Airport!

Go inside the airport, ride up the elevator and eat lunch as you watch the planes and helicopters!

Other restaurants that are really good for families are:

11. Niko Nikos at Market Square Park

12.  Buffalo Grille

13.  MOD Pizza

14.  Luna Pizzeria

Still don't feel like messing up a restaurant?  Check out the top Picnic Spots HERE!  Want to see a new Houston restaurant review each week?  Sign up for the free newsletter HERE!