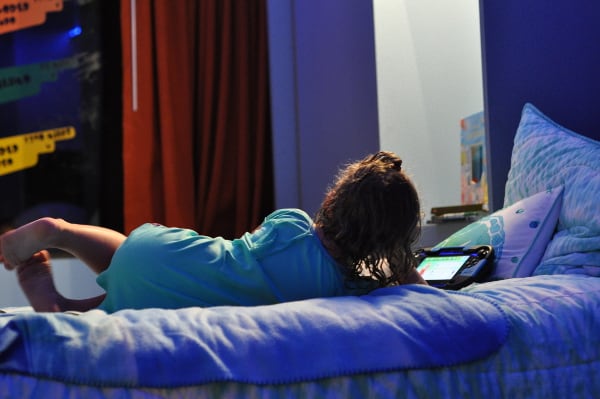 Families lounge on the deck of the Omni Hotel pool for evening movies, and if you walk through, you can literally see them point to the window on the 15th floor and hear their theories about what the room holds. They don't know that the Omni Hotel has a new
Aquatica Kids Suite
that is a completely over the top, out of control, theme park of a room that is even more impressive from the inside. Omni gave me the great opportunity to visit this suite and I have never ever been a cooler mom.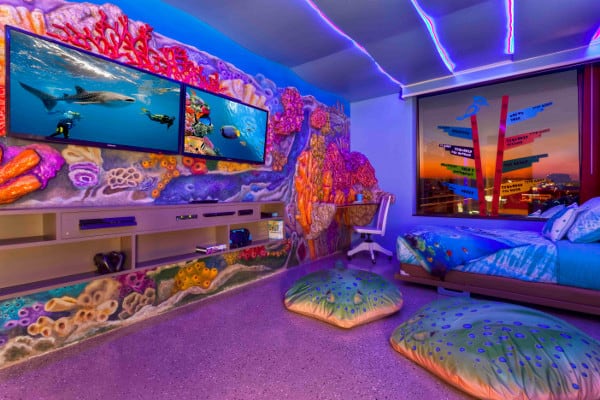 Photo Credit: Omni Hotel
The room has walls covered with a 3D coral reef, 2 real aquariums, stingray bean bags, bubble swivel chair, cubbies full of sea creature toys, 2 flat screen TVs, DVD player, Play Station, Wii console and stacks of movies and games. There are floor to ceiling water bubble lights that change color and waves of blue lights across the ceiling. Two twin Murphy beds fold into the wall and leave the floor clear for playing in this outrageous room.
My kids saw a picture of the room the evening before we left, and were too excited to sleep. When we arrived the next evening, even I was too excited to sleep.
Not only did we walk into the crisply cool room with curtains drawn, neon lights glowing, movies and games playing and welcome basket waiting, but we were treated really well.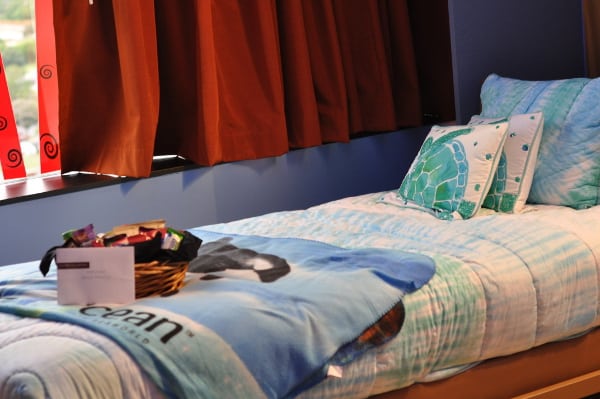 As soon as we unlocked the door, you could hear my kids squeal and giggle from the parking lot. It was really quite amazing and seeing their reaction was the best part of my entire weekend. And this room is just for the kids.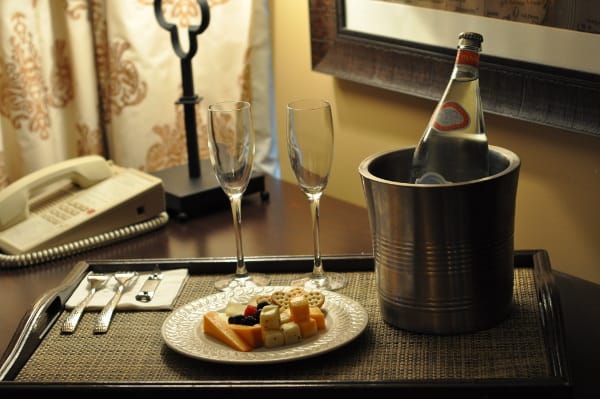 The parents have an adjoining room with king bed, sitting area and separate bathroom. This room does not glow blue but is a inviting for parents that also need a little vacation.
We had these rooms for 2 nights and left the hotel for only a very short time. The kids watched movies, played the board games, read the books and opened and closed the Murphy beds a few hundred times. We also visited the pools a few times, including for the movie nights.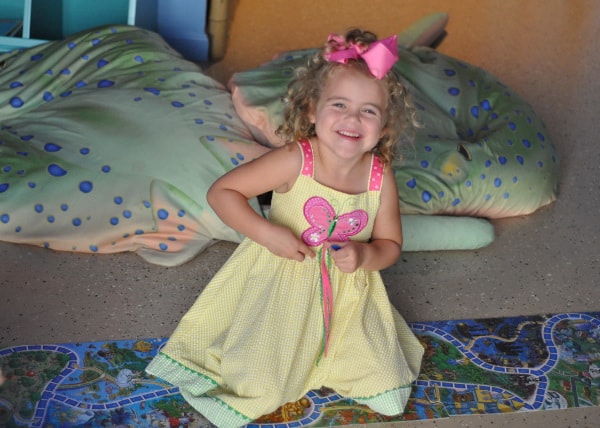 From the water and the pool deck, we could watch the family shows. It was during these movie times that we heard families chatter about the room glowing from the 15th floor. Everyone had theories about the room but we stayed quiet and smiled.
The room rates for this suites ranges from $359 to $499, and includes daily breakfast. It's not cheap but includes 2 full hotel rooms, 2 bathrooms and a whole lot of wow. I'd go again in a heartbeat. Learn more HERE.