Address:  Discovery Green, 1500 McKinney, Houston, Texas 77010
Appropriate Age:  Any age – Skates come as small as size 8 – Strollers are allowed next to the rink
Cost:  $12 includes skate rental and tax. Cheap Skate Mondays, Presented by Houston on the Cheap, is $5 for skates and skating.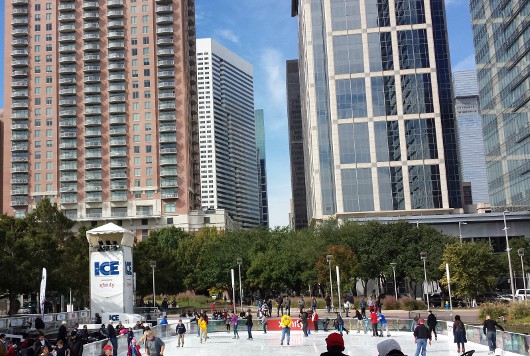 I really love when the ice rink is open at Discovery Green. From November to February, the model boat basin is transformed into an outdoor ice rink using water recycled from Kinder Lake.
Each winter we go multiple times and have gone twice this year already. And we have a brand new skater in the family (and it isn't the mom).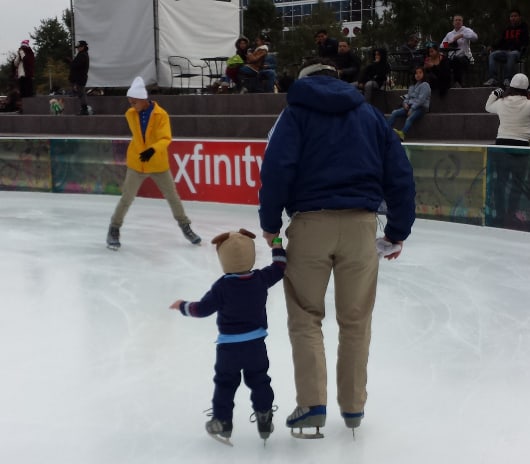 Skates come as small as size 8 and seem to run a little small. When available, the kids can get double bladed skates, making it easy to balance. That said, we were forced to get single bladed skates this year and the kids had no problem at all. Not even the fearless Baby James (now 26 months).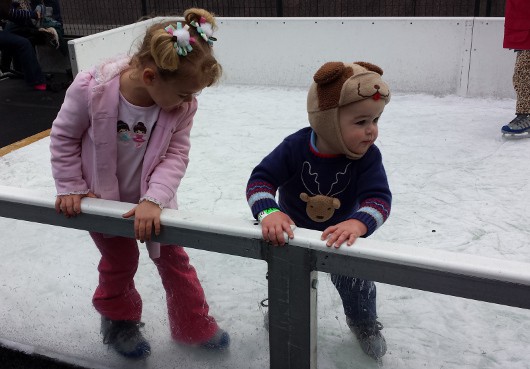 The rink has a small area for the youngest skaters (ages 4 and under) to practice. Brooke (age 4) loves this ice box. Sometimes bigger kids come in, but when the rink is busy, staff is by the ice enforcing the age restrictions.
Even the bigger rink is not too scary. Lots of new skaters, big and small, are learning along the wall. My big boy Joe (age 6) started off at the wall and was quickly speeding around the middle of the rink.
What I like best about the Ice at Discovery Green is that I have never had to get on the ice, even if I was the only adult with my kids. I could hold hands over the wall of the little rink or encourage from the side of the big rink.
If you want your kids to skate but don't want to skate yourself, just go anyway!
When you do, here are some tips:
Street parking is free all day Sundays and other days after 6:00pm. Metered parking or paid lots are available at other times. You can also ride METRORail to the Main Street Square Station and walk the 5 blocks east(ish) to Discovery Green.
Be sure to bring socks. I also suggest pants instead of shorts or skirts.
Bring some spare clothes in case you fall on Houston's wet ice.
If only your kids are skating, you can get in for free.
Small lockers are available for $1.50 or you can leave anything that is not valuable on the benches.
Skating time is limited to 1.5 hours (but they only seem to check when the rink is super busy).
Weekends, right at opening, and weekday afternoons seem to be the best times to go without the big crowds.
Be sure to check the calender for movies, concerts and special events on the ice.
Watch for cheap skate nights on Mondays from 4:00-10:00pm. Tickets are just $5 each.
The Ice at Discovery Green is open daily. Go HERE for the hours and updates. If the rink closes for weather or another reason, the website will have the announcement.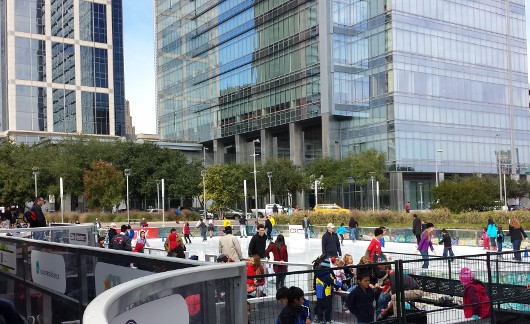 The Ice at Discovery Green, presented by XFINITY, is open daily, Friday, November 22, 2013 and continue with an extended skating season through Sunday, February 2, 2014.  Always check the website before going, just in case there is a special event or Houston is just too hot for the ice.
And let me end by saying that I promised my family that I would put on skates and attempt to skate this year. So please come teach me to skate or just enjoy the entertainment of watching me try!