My 8 year old son is the kid that says he does not like to go to the theater. I know this is absolutely not true, because at each and every show, he is the kid swaying to the music and laughing uncontrollably at the jokes.
Still, use this as a gauge for what I am about to tell you.
The Revels invited us to the show and my 8 year old son admitted to liking it. I'm pretty sure it is because they let us dance on stage and sing along. Oh, and there was a funny dragon scene.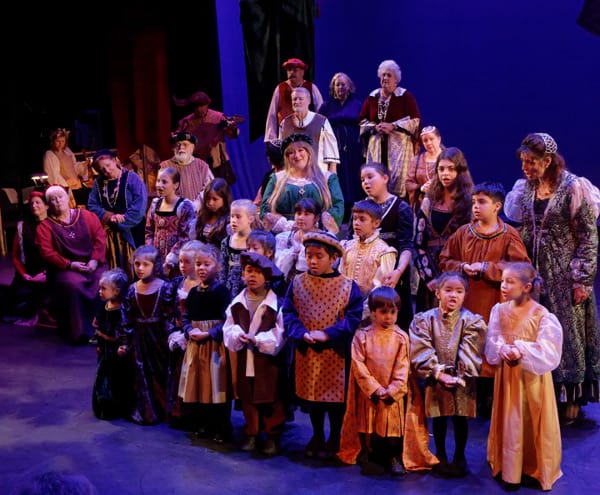 You can watch the
Revels
at the MATCH on December 18, 19 & 20, 2015. After that, you will wait until next year.
If you plan to go and see why my son liked it, let me tell you that this is not like most shows you see. It's an olde-tyme family-style celebration of the Winter Solstice in Medieval England. So it looks like the Renaissance Festival and has songs that you sort of recognize but need to double check your program.
Fortunately the program is very clear and helps explain the Yuletide carols, wassails, dances, play-acting and story-telling... and how they are the roots of our modern day traditions.
This show has a live orchestra, live brass band and lots of singing. There are also many songs that the audience is encouraged to sing... and a time when we all danced on stage.
The Christmas Revels is not your standard holiday show, and parts of the olde-tyme celebration are certainly a little odd and unusual, but this is probably why the kids liked it (and admitted it).
If you are up for something new, with a show full of some very talented musicians, get your tickets HERE!