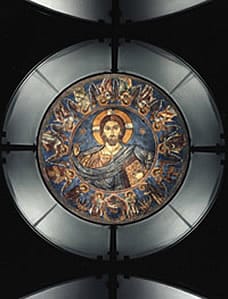 On Saturday, March 3, 2012, The Byzantine Fresco Foundation and the Menil foundation will have their farewell ceremony for the Frescos that will return to They Holy Archbishopric of Cyprus.
The Final Divine Liturgy in the Byzantine Fresco Chapel begins at 8:30am.
Saturday, March 3, 2012
8:30 Matins
9:00 Divine Liturgy
Reception to follow at the Menil Collection
Byzantine Fresco Chapel
4011 Yupon Street
Houston, Texas
Seating is first come, first serve
The final day to see the Frescos is Sunday, March 4, 2012.
See our last post on The Byzantine Fresco Chapel
HERE
.