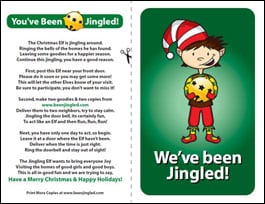 Remember We've Been Booed? Well now We've Been Jingled! Actually, we haven't been jingled, but we've been jingling our friends. I know it's not even December yet, but we wanted to get the jingle chain going now so there was time for all of our school friends to participate.
Jingling is easy and fun. Just fill a bag with treats, games, or some wonderful "treasure", leave it on your friend's doorstep, knock on the door, and run! Include THIS print out so the next family knows what to do.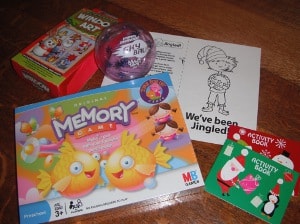 We filled our bags with the treasure we've collected over the last year. We included a couple of activity books, a bouncy ball and a Christmas craft that we picked up after the holiday last year. We also included Memory that we picked up for under $4 on Black Friday.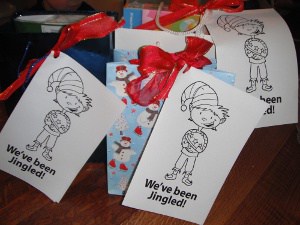 My son picked out a few friends to Jingle and we included enough loot for little brothers and sisters. I called the moms ahead of time so everything went smoothly with the pre-schoolers.
Brooke and Joe took the bags to the doorsteps, knocked, and ran back to the car. Brooke had to pick up every rock along the way, so it took a little time. Next we had to strap into the carseats, which takes extra long when you are so excited. Finally we were able to sneak away... and the kids were really excited that we did not get caught. 🙂