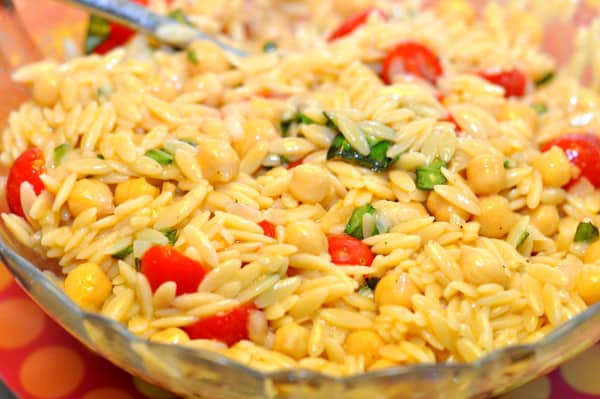 Hi this is
Pranika
! Italian food is usually failsafe in our home and 90% of the time, it's eaten up with no complaints. However, what happend if something burns or doesn't look as pretty as it should??! Read on…
I was again inspired by Giada de Laurentis. I used to cook her recipes often and now that my kids are venturing out a bit more, I have revisited her cookbooks a lot recently! My older daughter paged through the cookbook with me and chose an orzo pasta salad and since no one else chimed in, I picked chicken piccata (a personal favorite!).
The chicken piccata uses butter and at a higher heat, you have to watch that it doesn't burn. Despite my husband's assistance, the hungry/cranky kids, homework, and flying toy got the better of my attention and the butter got a bit too done – not burned, but a nice, gross, brown color, instead of the desired golden color. It still tasted good as sauces go, but the looks were definitely missing.
Despite its flawed coloring, it was still eaten up by all but one (and that "one" still ate a few bites – yay!). My older daughter said as long as it tasted good, she didn't mind at all even though "it wasn't pretty food." The orzo was a clean sweep and everyone devoured it, even as leftovers!
Happy eating!
 Chicken Piccata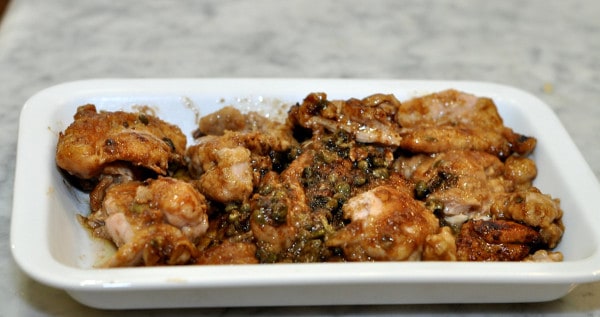 5 skinless, boneless chicken thighs
½ tsp sea salt
½ tsp black pepper
⅓ cup flour for dredging
4 tbsp butter
2 tbsp olive oil
¾ cup chicken broth
½ cup fresh lemon juice
¼ cup drained capers, rinsed
Season the chicken with salt and pepper. Dredge chicken in flour and shake off excess.
Heat a large non-stick skillet over medium high heat and melt 2 tbsp butter with the olive oil. When butter and oil start to sizzle, add the chicken and cook for 3-4 minutes. When chicken is browned, flip and cook other side for 3 minutes. Remove and transfer to plate. Into the same pan, add the lemon juice, broth and capers. Return to stove and bring to boil, scraping up brown bits from the pan for extra flavor. Taste for seasoning and add salt and pepper as needed. Return all the chicken to the pan and simmer for 7-8 minutes. Remove chicken to platter. Add remaining 2 tablespoons butter to sauce and stir vigorously. Pour sauce over chicken and serve.
Orzo Salad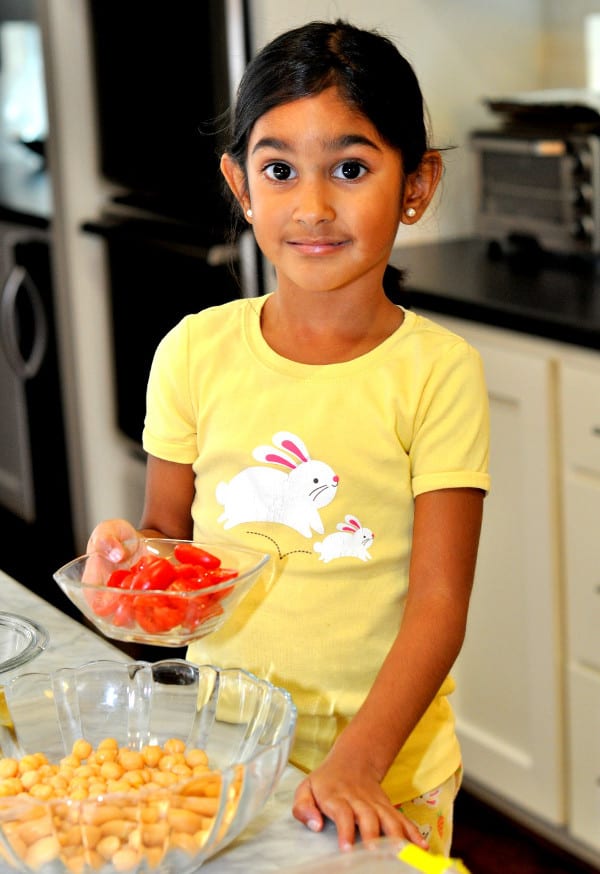 3 cups chicken broth
1 cup orzo
1 (15-ounce) can garbanzo beans, drained and rinsed
1 cups red grape tomatoes, halved
½ cup finely chopped red onion
⅓ cup chopped fresh basil leaves
About ½ cup Red Wine Vinaigrette, recipe follows
Salt and freshly ground black pepper
Red Wine Vinaigrette:
½ cup red wine vinegar
¼ cup fresh lemon juice
2 teaspoons honey
2 teaspoons salt
¾ teaspoon freshly ground black pepper
1 cup extra-virgin olive oil
Pour the broth into a heavy large saucepan. Cover the pan and bring the broth to a boil over high heat. Stir in the orzo. Cover partially and cook until the orzo is tender but still firm to the bite, stirring frequently, about 8 minutes. Drain the orzo through a strainer. Transfer the orzo to a large wide bowl and toss until the orzo cools slightly. Toss the orzo with the beans, tomatoes, onion, basil, and enough vinaigrette to coat. Season the salad, to taste, with salt and pepper, and serve at room temperature.
Red Wine Vinaigrette:
Mix the vinegar, lemon juice, honey, salt, and pepper in a blender. With the machine running, gradually blend in the oil. Season the vinaigrette, to taste, with more salt and pepper, if desired. Makes 1 ¾ cups. Reserve remainder for use later in a glass jar or other tightly sealed container and refrigerate.