Hi this is Pranika! My kids love to eat Lo Mein whenever we get Chinese Food, so I wanted to try a quick & easy version this week.
I think Rachel Ray called her recipe, No Pain Lo Mein…this is that kind of version, but instead I call it Stay Sane Veggie Lo Mein. I served it with Asian-inspired pork tenderloin. The result was happy kids with full stomachs and a very complimentary husband!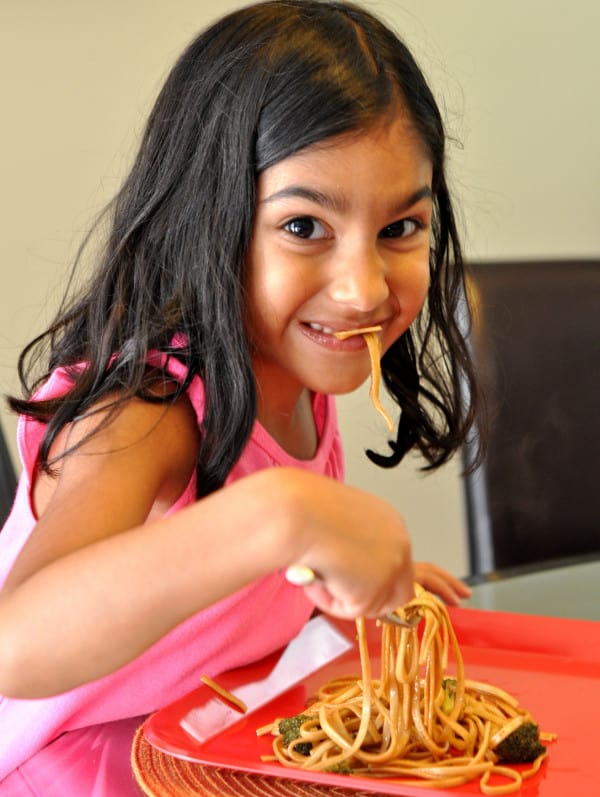 Happy cooking and eating!
Veggie Lo Mein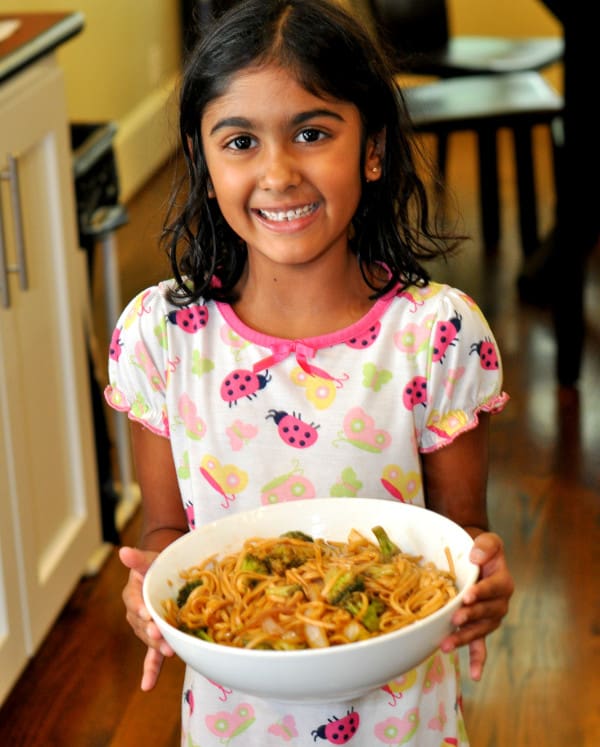 1 package lo mein noodles (8 oz.)
2 garlic cloves
¼ large onion, sliced
1 tbsp canola oil
1 tsp sea salt
½ tsp black pepper
2 tbsp teriyaki sauce
2 tbsp low sodium tamari
4 cups frozen broccoli florets
Cook noodles according to package directions. Place broccoli florets in a small pot with 4 cups of water and heat on high for 3-4 minutes. Drain and set aside.
Heat a stir pan on medium high heat and add canola oil. Add onion and garlic. Fry for 2 minutes and then add teriyaki sauce, tamari, and broccoli. Stir together for 3 minutes and remove from heat. Add to noodles, stir, and serve!
Asian Pork Tenderloin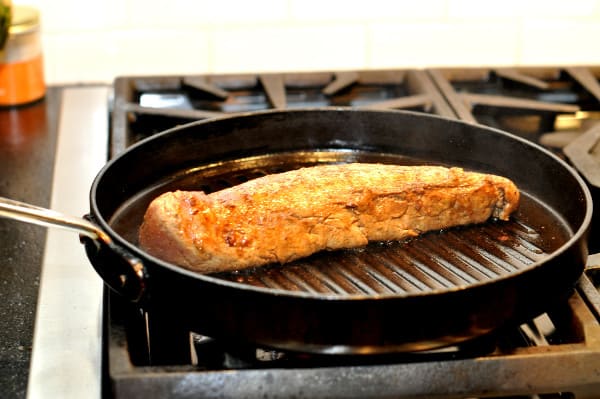 1 pork tenderloin, about 1 pound
¼ cup low sodium soy sauce
1 tsp sea salt
½ tsp pepper
½ tsp Chinese 5-spice powder
½ tbsp garlic powder
Mix all ingredients in a 1-gallon Ziploc bag and marinate pork tenderloin for 4-10 hours in the refrigerator. Pre-heat oven to 425 degrees.
Heat a non-stick grill pan to medium high heat. Remove tenderloin from bag, and discard bag and marinade. Add tenderloin to pan and sear for 2-3 min on each side.
Add 8 fl ounces of vegetable or chick broth to the pan and move pan to the top rack in the oven. Cook for 18-20 minutes total in the oven (depending on how cooked you like your meat); turn the tenderloin over after 10 minutes in the oven and then cook for remainder of time. Remove pan from oven. Leave tenderloin alone for about 7-8 minutes, then place tenderloin on a cutting board and cut into slices.
Our meat was ever so slightly pink (they way we like it and we cooked in the oven for 18 minutes). The grownups used Sambal for dipping sauce. Everyone loved the tenderloin, especially my older daughter who said, "This is sooooooooo good!".