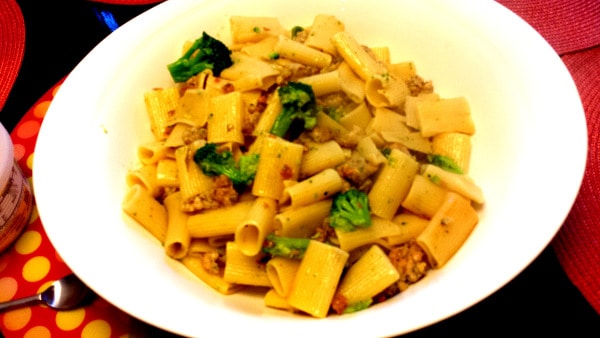 Hi this is
Pranika
! I am still working on my 4 year-old being open to food that is not deconstructed. When meal planning last week, I showed her a recipe with a picture of pasta with turkey and broccoli and to my surprise, she said okay.
I changed the recipe up a bit to accommodate our family and served it as a one pot meal, with no additional sides. It was quite simple, full of flavor and quick of course.
The family ate a ton of the dish and 2 days later, they finished all the leftovers too! Happy eating!

Rigatoni with Sausage and Broccoli
3 Tbsp. extra-virgin olive oil
3 garlic cloves, chopped
¾ pound rigatoni
0.7 lb Italian Chicken Sausage
3 cups broccoli florets
1 tsp sea salt and additional to taste as needed
½ tsp black pepper
½ cup pasta cooking water, reserved
Grated Parmesan cheese for garnish
Red pepper flakes (optional)
Cook the pasta according to the package directions, adding the broccoli during the last 2-3 minutes. Meanwhile, heat 2 tablespoons of the oil in a large skillet over medium-high heat. Add the chicken sausage, garlic, salt, pepper, and cook, breaking up the meat with a spoon, until browned, 4 to 6 minutes.
Drain the pasta and broccoli and toss it with the sausage, remaining 1 tablespoons of oil and ½ cup of pasta water. Taste and season with additional salt and pepper as needed. Serve with Parmesan and red pepper flakes. Enjoy!