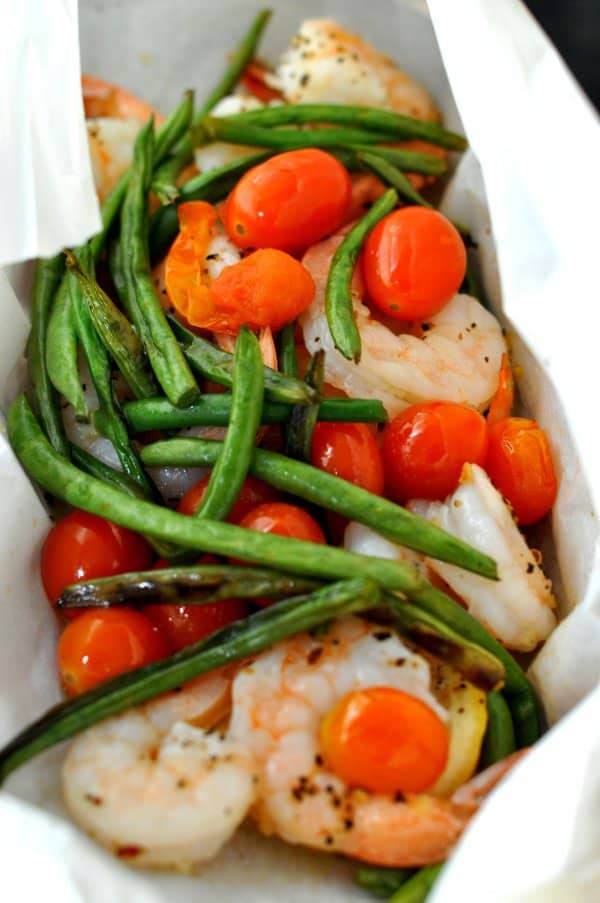 Hi this is
Pranika
! Our family is big into seafood these days, so I am trying to be creative instead of eating the same sautéed shrimp and fried fish all the time. I cooked fish in parchment paper with my mom years and years ago and it was fun, so cooking this with my girls was fun and nostalgic.
I cooked both fish and shrimp because one of my girls doesn't like fish…yet; we like to say she hasn't developed the taste for it!
A fish cooked "en papillote" is wrapped in parchment paper, and baked in the oven so it gently steams in its own juices. You can add a variety of aromatics, such as herbs, onions, and other vegetables to the parchment package to flavor the fish.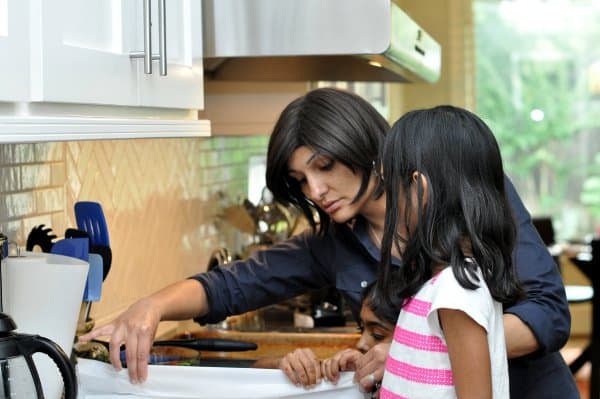 When the fish is done, the parchment will puff up. Basically, if cooking fish is intimidating and messy, then cook it this way because it really will cook itself! Just make sure to add a little liquid (such as lemon juice, wine, etc) and ensure that whatever you add to the parchment should cook in 12-14 minutes.
If you want to add something that needs longer to cook, then partially cook it beforehand as I will note below. On the side we had baby roasted potatoes with sea salt and broccolini with lemon, sea salt and a touch of olive oil.
Happy cooking and eating!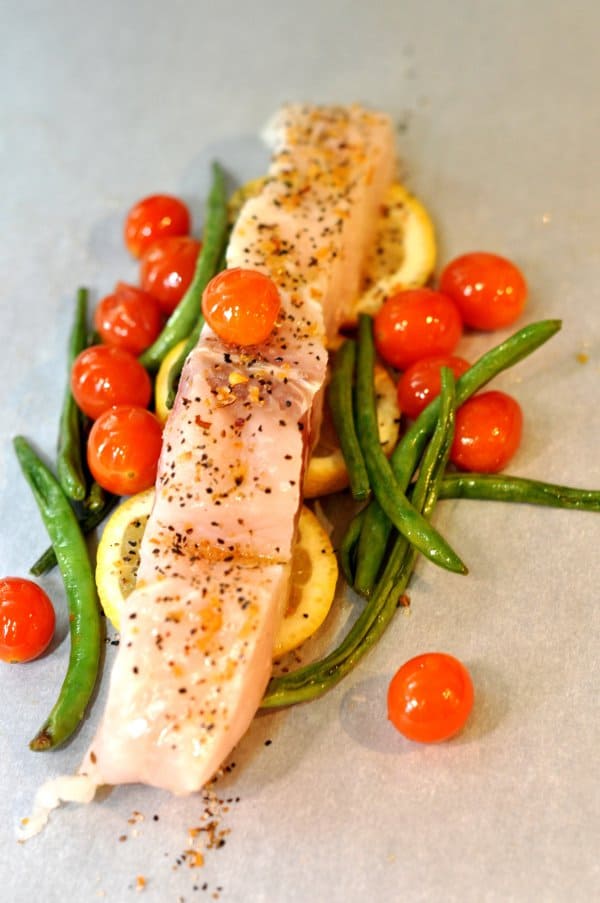 Fish & Shrimp En Papillote
3 fish fillets (~1 lb light, white, fish fllets such as tilapia, paiche, or halibut)
½ lb peeled & deveined shrimp
1 lb cherry tomatoes
4 ounces haricot verts
2 lemons, sliced into ½ - ¾ inch slices
Olive oil
Salt
Pepper
¼ cup white wine
Parchment paper
Grill seasoning
Preheat the oven to 425 degrees. Snap the ends of the haricot verts (green beans) off. Add about 4 ounces of the beans and the cherry tomatoes to a non-stick baking sheet. Drizzle with olive oil, salt, and pepper and roast for 10 minutes.
In the meantime, slice the lemons and tear the parchment paper into pieces about as long as a baking sheet. Place 3 slices of lemon on each paper. Add your seafood (we had 3 with fish and one with shrimp) and top with a drizzle of olive oil and a sprinkle of grill seasoning.
Remove the beans and tomatoes from the oven; transfer to a bowl and add ¼ cup dry white wine. Evenly add a few spoonfuls of tomatoes and beans to each package.
To seal, fold over the long sides of the parchment on top together twice and crease, then roll the short sides up like a rolling up blanket to form a pouch. Roast in the oven for about 12-14 minutes, until fish and shrimp are opaque.
Serve a package to each person, open and eat! In a short amount of time, the seafood and vegetables are gently cooked in a manner that is good for you and delicious.
The whole family had fun preparing this meal and eating it too. I used tomatoes and green beans to make the packages colorful and the lemon added amazing acidity and flavor. Enjoy!