Hi this is Pranika! One of my longtime favorite things to make is vegetarian chili. I first began making it a few years after college on Sunday night dinners with friends. I would make it during football season and many of my friends didn't eat meat, so I made it vegetarian.
I have experimented and made many, many different versions of it and I often change up the recipe depending on my mood. It's a Super Bowl favorite as well. I know there have been some requests for it, so below is the slow cooker version.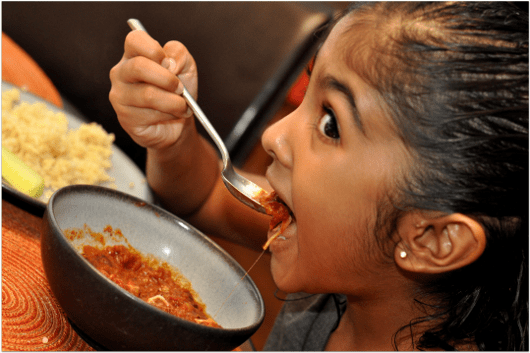 Enjoy and happy eating!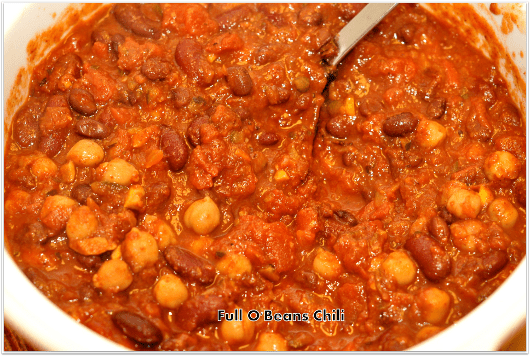 Full O'Beans Chili
1 can garbanzo beans, drained and rinsed
1 can kidney beans, drained and rinsed
1 can black beans, drained and rinsed
4 garlic cloves, peeled and chopped finely
1 tbsp olive oil
½ large onion, grated
3 tbsp chili powder
1 tbsp cumin
1 tsp dried oregano
¼ tsp pepper
½ tsp salt
1 tsp honey
1 tsp red wine vinegar
1 tsp sugar
⅔ cup vegetable broth
1 -14 oz. can diced tomatoes
1 – 14 oz. can fire-roasted crushed tomatoes
Garnishes & add-ons: chopped green onions, shredded cheese, and tortilla chips. We also mix in quinoa for added protein!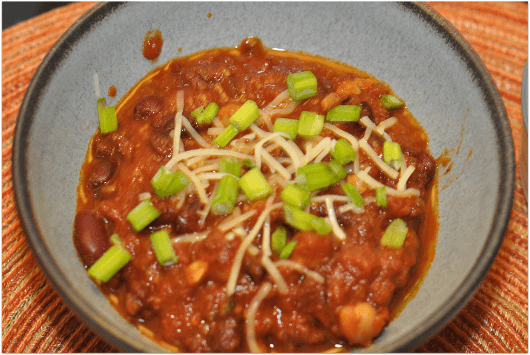 Add all ingredients to the slow cooker and mix well. Set timer for 5 hours on high or 8 hours on low.
Please note the fire-roasted tomatoes add more flavor in my opinion, but are not necessary. You can certainly use 2 cans of regular diced or crushed tomatoes if desired.
We top our chili with chopped green onions and shredded cheese and serve with tortilla chips. The kids eat the quinoa on the side and the adults usually mix it in, but it's completely optional.
See the recipe for quinoa below. This is one of our favorite meals as it gets cold and always delicious!
Quinoa
2 ¼ cups of water
1 tsp olive oil
½ tsp salt
¼ teaspoon pepper
1 cup quinoa (rinse in fine mesh strainer under cold water)
In a medium sized stainless pot, add water, olive oil, salt and pepper on high and bring to a boil. As soon as water is boiling, add quinoa and turn heat down to low.
Cook for 22-25 minutes and turn off heat. Water should be absorbed and you will see tiny spirals (the germ) separating from and curling around quinoa seeds.
This recipe is for white quinoa but may vary slightly for other varieties of quinoa.
The kids like to help wash the quinoa and help measure the salt, pepper, and olive oil. They sometimes garnish with a sprinkle of grated parmesan.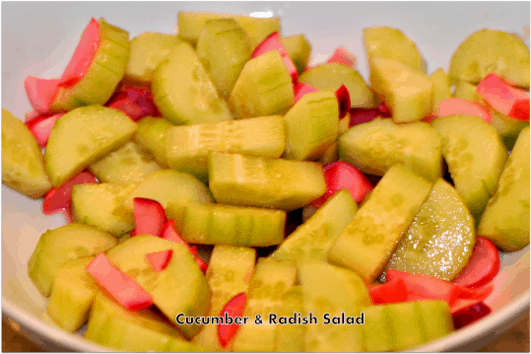 Cucumber & Radish Salad
1 English cucumber, peeled and cut into half moons
6 radishes, washed and sliced
Juice of 1 Meyer lemon
Salt to taste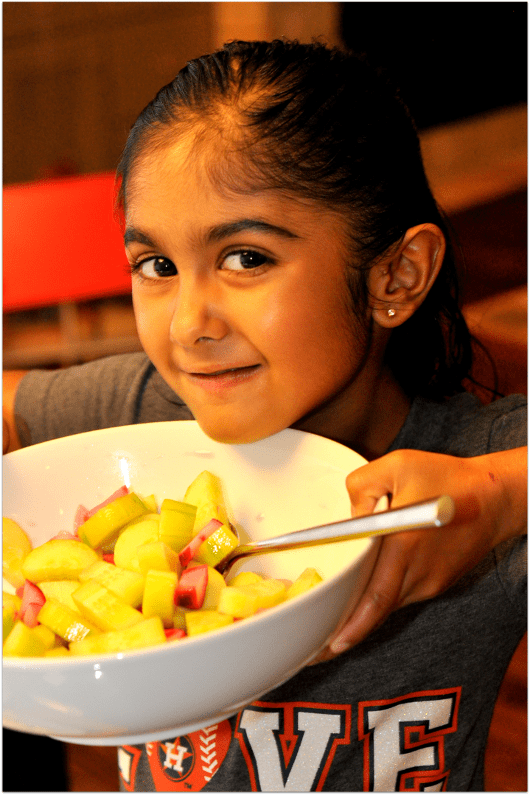 Combine the radishes and lemon juice and marinate while chili cooks in the slow cooker. Before serving, combine the radishes and marinating liquid with salt and cucumbers. Serve and enjoy the refreshing crunch! The lemon juice takes away the bite of the radishes.