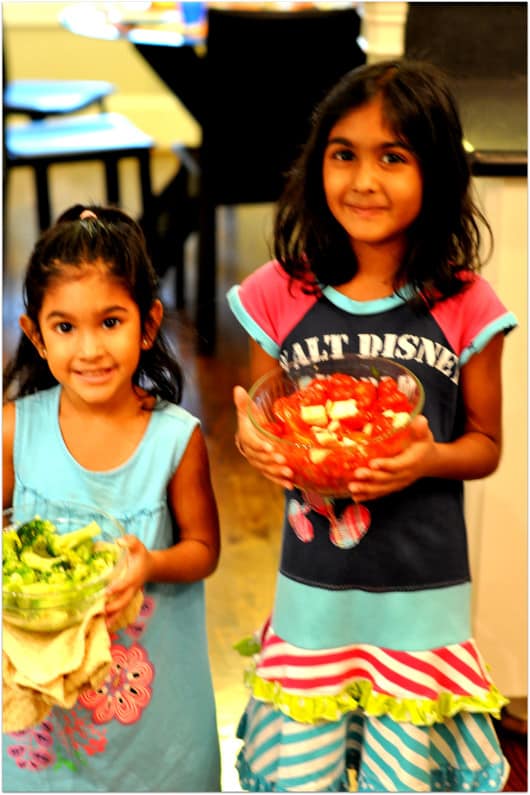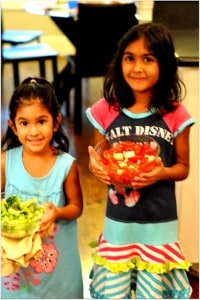 Hi from Pranika! We are a family of four that enjoys eating and cooking together. My girls ages 6 and 3 love to help in the kitchen as well.
I honestly think the kids like the food better when they help make it... makes my kitchen a bit more messy, but the cooking is much more fun and the memories are priceless.
Our entire family adores lemons and the flavor they bring to food. The following recipes all have some lemon in them! Pea Pasta, Lemon Broccoli, & Cherry Tomato Salad.
Hope you enjoy a taste of late summer and the fresh ingredients. Happy eating!

Pea Pasta, Lemon Broccoli, & Cherry Tomato Salad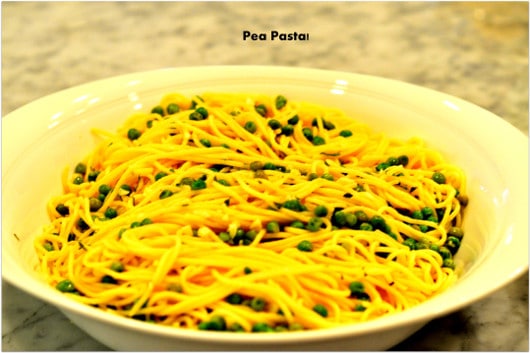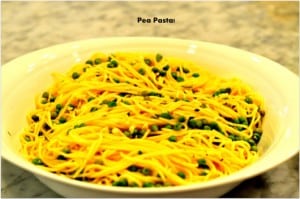 Pea Pasta
Adapted from Cooking Light SEPTEMBER 2013 recipe for Summer Pea Pasta
Ingredients
4 quarts water
8 ounces uncooked linguine or spaghetti
3 tablespoons butter
1 tbsp olive oil
4 garlic cloves, finely diced
2 cups frozen green peas
¾ teaspoon sugar
3 tablespoons fresh lemon juice
¾ teaspoon sea salt
6 tablespoons chopped fresh mint leaves
1 teaspoon grated lemon zest
Grated parmesan cheese (optional)
I read this recipe in Cooking Light and immediately decided to make it the same day! I am not a huge fan of peas, but my kids love them. I must admit thought that this recipe actually brings peas to life – they taste bright, refreshing, and tart!
Bring 4 quarts water to a boil in a large saucepan. Add pasta to pan; cook until almost al dente and reserve ½ cup cooking liquid. Drain pasta in a colander.
Melt butter in a large skillet over medium-high heat. Add garlic to pan; sauté 1 minute. Stir in peas and sugar; cook 2 minutes, stirring frequently. Stir in reserved ½ cup cooking liquid, olive oil and lemon juice; add cooked pasta and cook/stir for 2 minutes.
Remove from heat. Sprinkle with salt, mint, and lemon zest; toss to combine. Serve immediately. Add parmesan cheese if desired.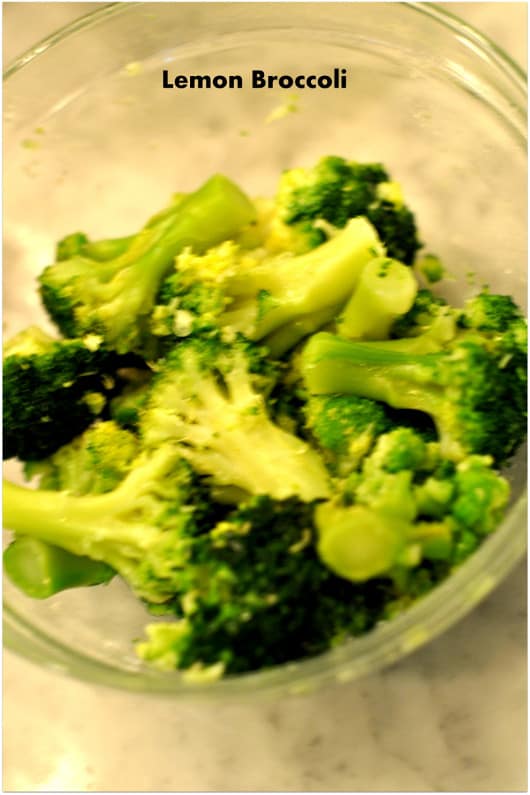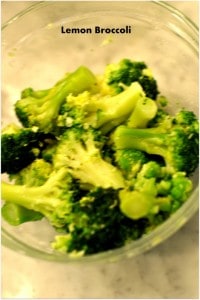 My kids assisted by juicing the lemon, measuring peas and adding them to the pot, adding the mint leaves and rind to the pot. The kids adore peas and this is one of their favorite pasta dishes. It's simple, quick, and delicious.
Lemon Broccoli
3 cups frozen broccoli
1 tbsp olive oil
1 tbsp lemon juice
Zest of ½ lemon
Sea salt to taste
Add frozen broccoli to pot and cover with water. Cook over medium heat for 11-13 minutes or until broccoli is cooked to your desired doneness.
Drain and add olive oil, lemon juice, zest, and salt to taste. Words thrown around at the table are: Lemony! Yummy! More please!
My kids help juice the lemon, and add zest and olive oil.
Cherry Tomato Salad
2.5 cups cherry tomatoes, washed and halved
2 tbsp olive oil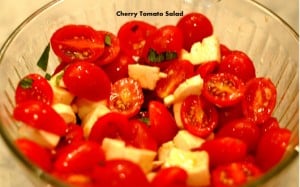 ½ large lemon juiced
5 basil leaves, washed dried, and chopped
Fresh buffalo mozzarella (¼ of an 8 oz package diced into bite-size pieces)
Kosher salt to taste
This salad might not make it to a weeknight dinner, but is a great add on for a weekend family supper.
Mix all ingredients and toss to coat. The kids really enjoy the tomatoes very much. They gave the mozzarella the evil eye, but at least tried it!