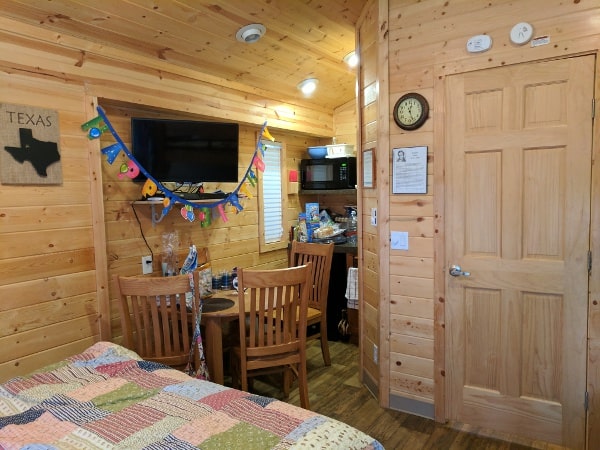 We were celebrating something BIG in our little
Petite Retreat
cabin at 
Thousand Trails Colorado River
. We had TWO birthdays last week!
We got to do all the fun camping things... but we got to come home to beds and plumbing.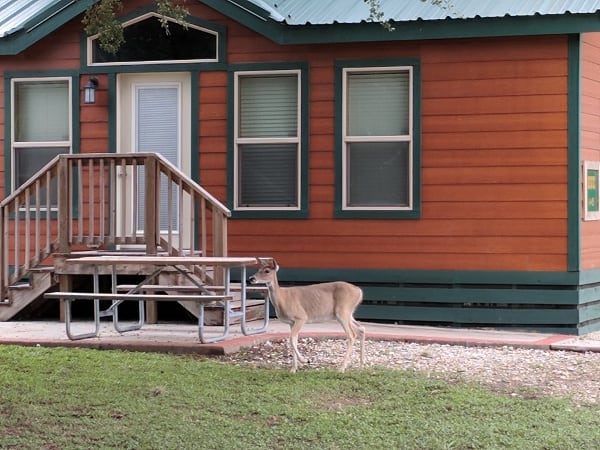 We've now been on several camping (and glamping) trips, and this is what I've discovered about campgrounds:
 No one looks at you like you sideways when you say you have four kids. They are not really surprised and they don't think you should pay for two hotel rooms.
Campgrounds are generally more reasonably priced than hotels, but with a lot of things to do.
Camping (and glamping) is a great way to connect. Even with the cabin amenities, everyone is within arms reach and everyone is working together on dinner and campfires and hiking and fun.
 Cabins let us do all the fun outdoor camping activities, but come home to showers and beds.
Thousand Trails invited us out and we found it right on the Colorado River... and with trails, a pool, fishing, mini golf, playground, basketball, volleyball, activity center and more. Not only this, but there are deer everywhere and armadillos roaming around.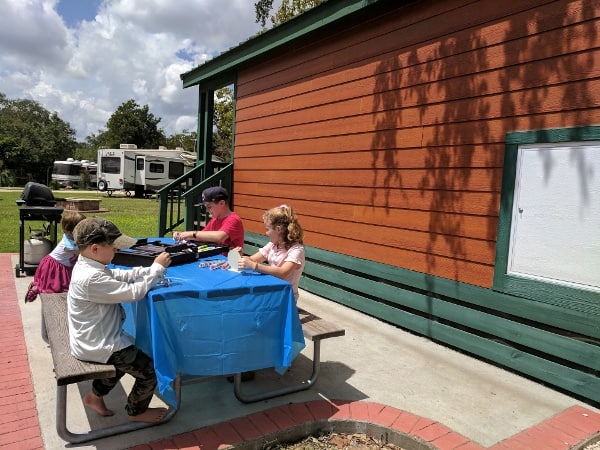 The activity center might have been the kids favorite spot. It's old and a lot like the activity centers at state parks or like grandma's house... it needs an update but is incredibly clean and tidy.
We played a dozen games of pool, table tennis and air hockey. In the kids room, there are games, toys and dozens of DVDs and VHS tapes. My 9 year old was fascinated by the VCR (with tracking and rewinding and all things VHS) and watched old Disney movies.
The activity center is also where we found a little library, exercise center and staff. The staff was very friendly and  helpful and happy to see us when we ran in during the rain storms.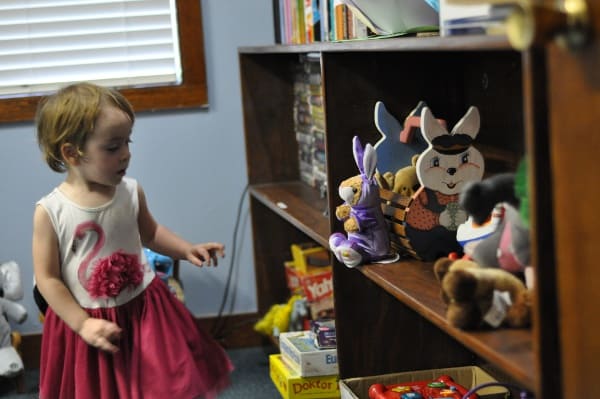 The kids and I also went swimming at the pool, played mini golf went for a hike, played basketball and pickle ball and surveyed the old damage from Harvey. (The water covered the buildings in the back half of the campground!)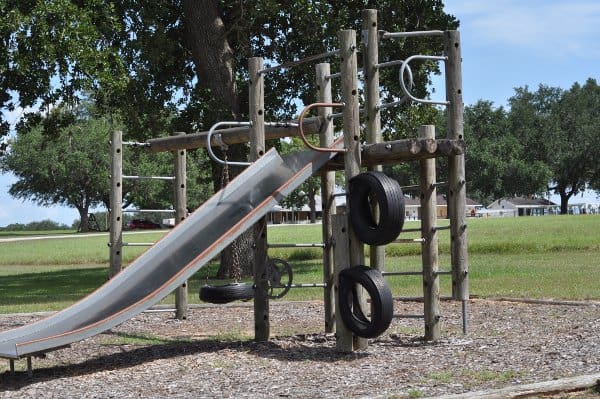 At
Thousand Trails
, some people stay for the season and some people stay for a few nights. The cabins are all clustered together with a common firepit and we quickly made friends with the kids next door.
(Also, there was a wood fire burn ban when we visited, but the cabin had a propane grill for our dinner.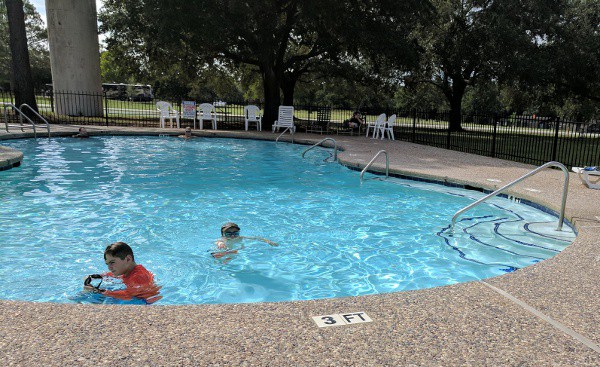 If you want to rent the cabins, more tips are below:
There are two sizes. One sleeps 4 and another sleeps 6. Ours was the small cabin and we were cozy... but the point of the trip was to be outside anyway!
The mattresses and pillows are covered in a slick cleanable cover and linens are provided.
The cabins are air conditioned and heated with a kitchenette, bathroom and satellite TV. A propane grill is outside.
Thousand Trails also has spaces for tents and RVs.
Soap and shampoo is provided.
Towels are provided.
The kitchen is fully stocked with pots and plates and silverware… but you need to wash and return everything you use!
The campgrounds have a lot of things to do! Hiking, fishing, playgrounds, games in the activity center, basketball, volleyball, pickleball, mini golf and more!
If you have room in your car, bring bikes and balls so you have even more to do!
The really cool campers seem to bring rope lights to decorate their cabins, RVs, golf carts and bikes… and one of these days we'll be the cool campers!
The campgrounds are pretty close to I10, so you can get groceries/gear if you forget anything.
See the video of the cabin:
If you need a list of things to bring, here's what we packed:
Maybe the most essential:

Bug Spray
Sun Screen
Water

For the cabin:

Shampoo and Soap. (Some is provided, but I like my own shampoo!)

For the Fire:

Firewood
Lighter/Matches
Lighter Fluid
Leather Gloves
Stick for roasting marshmallows

 Groceries:

Bread
Cheese and Turkey
Peanut Butter
Marshmallows
Graham Crackers
Chocolate
Water
Snacks (Granola Bars, Trail Mix)
Watermelon
Supplies for Foil Dinners

Foil
Tongs (for taking them off the fire)
Vegetables
Hot Dogs
Butter
Salt

Cooking Supplies:

Knife
Veggie Peeler
Cutting Board
Paper Towels
Paper Plates
Sporks
Cups/Water Bottles
Plastic Bags (for storing food)
Cooler

More supplies:

Flash Lights
Duct Tape
Pocket Knife
Hand Sanitizer
Trash Bags
Deck of Cards
Phone/Charger

For the pool:

Flip Flops
Swim Suits
Goggles
Beach Towels