Address: 1001 Bissonnet Houston, Texas 77005
Hours:
Monday 10 am – 5 pm (Law Building only)
Tuesday–Wednesday 10 am – 5 pm
Thursday 10 am – 9 pm (FREE Admission)
Friday–Saturday 10 am – 7 pm
Sunday 12:15 – 7 pm
Closed Monday, except Monday holidays.
Closed Thanksgiving Day and Christmas Day.
Cost:
Adult: $7.00
Senior/Youth: $3.50
MFAH Member:  Free
Admission on Thursday is free
Free parking is available in the street-level lot directly across from the Law Building at 1001 Bissonnet Street. The MFAH Parking Garage is also available for:
$6 all day with proof of museum admission
$3 for MFAH Members at the Patron level & above
Appropriate Age: Any age.

Our Review: The Museum of Fine Arts Houston (MFAH) is huge. The Beck and Law buildings have a total of 300,000 square feet of exhibition space. It has room for a lot of people to spend a lot of days exploring the halls. If you spend all day, check out the Cafe Express in the Beck Building. In addition to these halls, the MFAH includes The Lillie and Hugh Roy Cullen Sculpture Garden, Glassell School of Art, Bayou Bend Collection and Gardens and Rienzi.
I took my 4 year old, 2 year old and newborn for free admission Thursday at 2:00 while school was in session. We were able to easily park for free in the lot across from the Law building. We walked over to the Beck building and were pleased to find that we did not have crowds to fight.
Strollers are allowed, and for the most part, the museum staff was happy to see the kids in gallerias. We had some staff members making a big deal over the cute kids, and we had some watching us very closely... maybe envisioning statues crashing  domino style if we made a wrong move.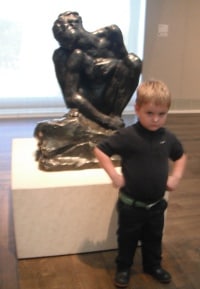 My kids toured around for 5 minutes before asking to go to the dinosaur museum. I convinced them to ride the elevator upstairs. Here we found European Art with people, animals and things my kids could better enjoy. We spent another 20 minutes here before heading out.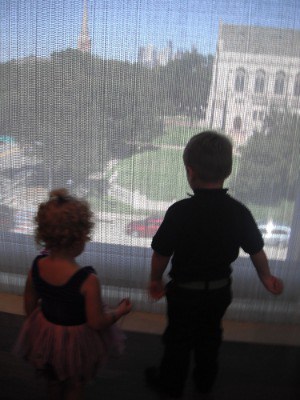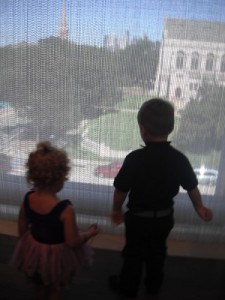 After our visit I learned of Family Packs. These include activities, looking games and books and can be rented for free during the museum visit and are free at the Membership Services desk in the lobby of both buildings. I plan to take my 4 year old back to try this activity. I also plan to go HERE before our next visit to download more looking activities. I think he will better enjoy the visit with a better tour guide.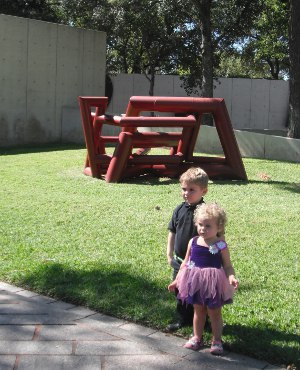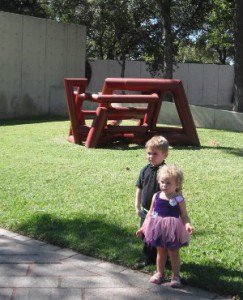 Overall, the MFAH was not a huge hit, but I do think it has a lot to offer. The Family Packs are sure to make the tour a better experience. Also, the CALENDAR is full of special family events that the kids will like. We also plan to watch the special EXHIBITS to see what captures our interest.
I suggest that you take your kids to MFAH, just go better prepared. At least for us, we can wondering aimlessly through the Houston Museum of Natural Science, but we need a better plan for The Museum of Fine Arts Houston.