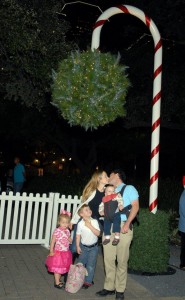 Mistletoe on the Go! is back in downtown Houston this year. The 150-inch ball of mistletoe, hanging from a 15-foot giant candy cane makes for a fun, holiday photo!
From now until December 18, the Mistletoe is in Market Square Park. From December 19 through January 2, it will be at Discovery Green.
Here is our picture from last year! —>
We had fun searching for it. When we got close to the park, the kids had to look all over for the kissing stuff. The 15 foot candy cane makes the game easy for parents but for fun for the kids!
If you snap a picture under the Mistletoe on the Go, share it using the hashtag "#XOmistletoe."
Send it to me too! @BigKidSmallCity on Twitter, BigKidSmallCity on Facebook or directly at Jill @ BigKidSmallCity.com!