At BigKidSmallCity, we believe the more we know about the people of Houston, the smaller our city feels. And who better to meet than a Houston Mom that lives life as an adventure?!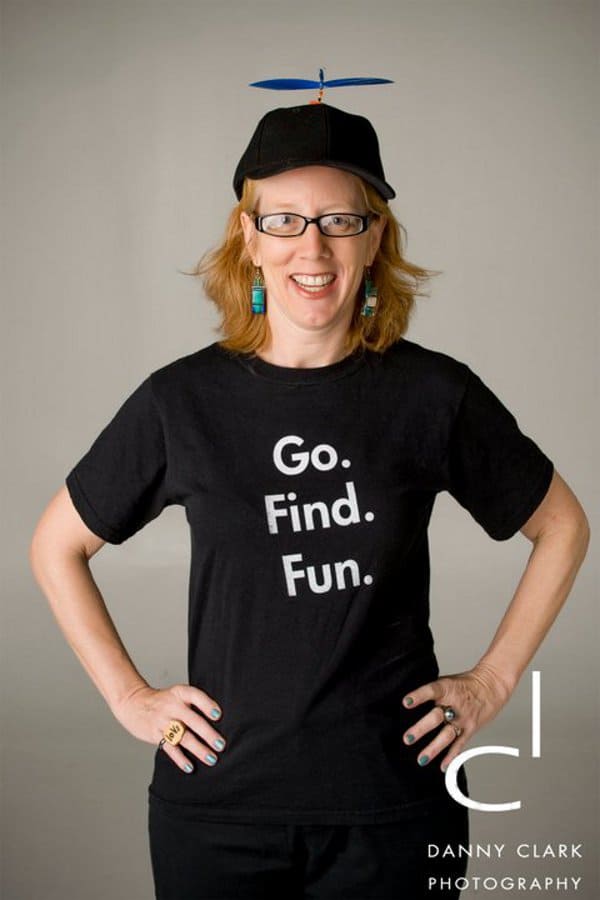 Sarah Gish is a Renaissance woman who calls herself an "artist.mama.connector.igniter" and has a gazillion projects she's working on and things she is doing. She is the owner of
Gish Creative
 which is a personal, family, and business enrichment company that champions culture, creates connections, and ignites lives.
Here's what she told me about herself and her commitment to Houston, to family fun, and to igniting lives:
I am pretty much a native Houstonian, having moved here when I was six months old, but my parents were born-and-raised Californians who met at UC Berkeley so I grew up with kind of a hippie vibe in the household. And with two parents who loved education and the arts, there was also an emphasis on art and culture.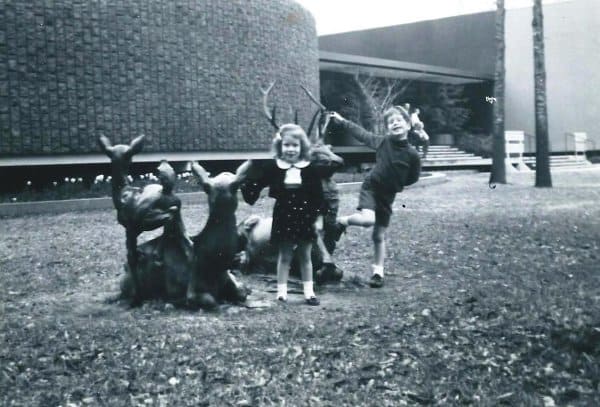 My childhood was spent going to museums such as the Museum of Fine Arts, the Houston Museum of Natural Science (see the picture of me with my brother Geoff), and the Contemporary Arts Museum; attending live music performances at places like Miller Outdoor Theatre and Jones Hall; and exploring Houston and Europe with my German professor dad and my psychologist mom.
I later lived in Paris and near Sendai and Tokyo (Japan) and spent time traveling in Thailand and Europe and going on many road trips around the United States, especially to California where my grandparents lived. All of those enriching experiences led me to raise my children with a sense of curiosity. From an early age, they learned to fill in the phrase that'd I'd start: (me) "Life is what?" (kids) "An adventure!" We definitely get out there and see the world!
I've traveled many places and lived here and there but I always love Houston the best because it's the most diverse city in the United States (90 languages are spoken here daily!) and because it's easy to navigate and easy to enjoy without spending big bucks. And I love exploring Houston with my kids.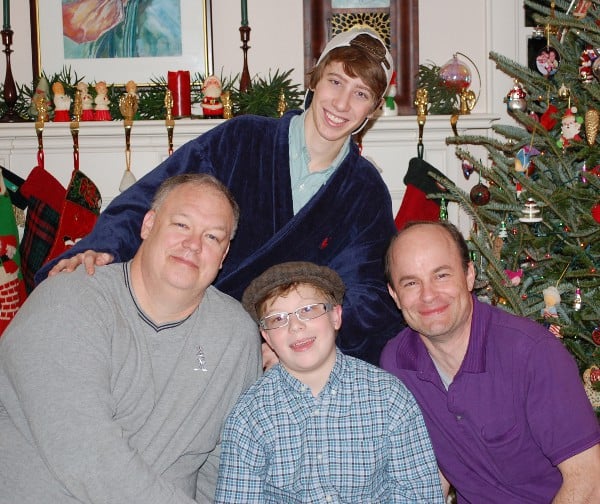 We used to do weekly field trips in the summer and on the weekends but now that they're older, it's harder – but we still explore whenever we can. I always have a pad of paper and colored pencils in the car as well as entertaining books for any stops and I bring a cooler of water and snacks on the days we might be running around longer. That way, we are always ready for an adventure! I also always have bottled water and peanut butter crackers in my glove compartment – we dig into those if I forgot to bring snacks and we share them with the street people we see while driving around – it's a great way to connect with those in our community at every level.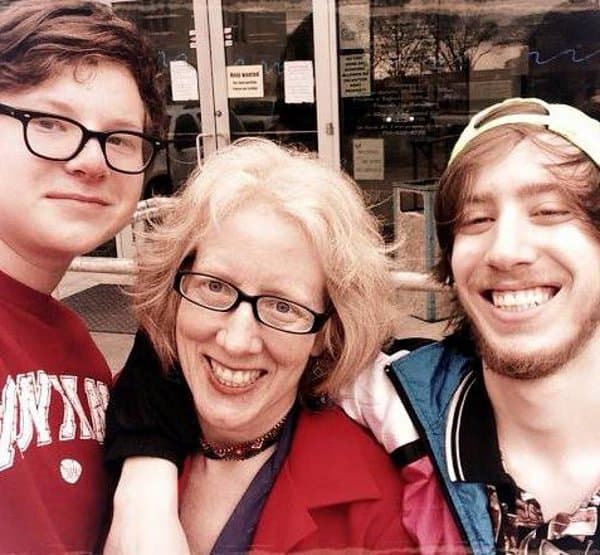 I have two boys – Alexander and Matthew Buchanan -- and I am married to Stuart Buchanan, someone I have known since I was five years old. He's the fun dad in the neighborhood! When my older son Alexander was born, I took him to work with me at the River Oaks movie theatre (I was the City Manager, overseeing the River Oaks and Greenway theatres). It was wonderful wearing him on my back in a backpack and nursing him whenever he needed it.
I was a member of La Leche League and nursed both my boys until they were three years old so it was important to me to stay close to them – at work or at play. When I became pregnant with Matthew, I couldn't work out a happy agreement about working at the theatre and keeping him nearby, so I quit my job to be home with my kids and thus my third "child" was born in 2000 – my company, Gish Creative.
From the beginning, I worked with arts and educational organizations to market their programs and then my business evolved as I began gathering information about cultural activities of all kinds and I became more of an "info-preneur." I created my e-newsletter/blog, GISH PICKS: A GUIDE TO CULTURAL ACTIVITIES FOR FAMILIES in 2003 to help my family and other families find fun. It's unique because I sort through the hundreds of events out there and pick only three events for the weekend.
It's been a blast recommending cool events to parents and the feedback that I've gotten is that I find the events that "hip" parents are looking for and that are unique and special and they wouldn't have found without my help. I branched out 2 years ago and created an e-newsletter/blog for adults, SPIRIT PICKS: A GUIDE TO INSPIRING EVENTS IN HOUSTON, in which I also curate a list of arts, cultural, and spiritual events. I pick six activities to recommend each month and I also highlight one "Spirit Spotlight" (a bricks-and-mortar inspiring place) and I include information on interesting workshops and other happenings around town. And for both publications, I feature a VIDEO PICK.
I struggled to find good summer day camps for my older son the first summer after kindergarten when daycare was no longer enough, so I began voraciously researching places for him to go. I realized I had a goldmine of information for all Houston parents so I gathered my research about camps and compiled it into a guide called THE SUMMER BOOK®: A GUIDE TO HOUSTON DAY CAMPS AND CLASSES FOR KIDS AND TEENS, which was sold at Barnes and Noble, Borders, and 20 other indie bookstores in Houston since its creation in 2003.
Last year, just after its 10th anniversary, I took all the information online as THE SUMMER BOOK® ONLINE: A GUIDE TO HOUSTON DAY CAMPS AND CLASSES FOR KIDS AND TEENS, a free searchable database for the community. I'm proud to say it's the biggest (over 200 camps!) and most accurate database of summer day camps in Houston! Summertime is a great time for kids to explore their passion and I am happy to help kids find theirs through my guide, which is searchable by several subject categories (arts, sports, cooking, etc.), dates, ages, area of town, and much more. It's my passion to encourage kids and adults to ignite their lives – as seen in my art project, IGNITE YOUR LIFE! – so THE SUMMER BOOK® ONLINE is a perfect extension of that.
My favorite things in Houston to do with kids are so many! For outdoor fun, I love Miller Outdoor Theatre because it reminds me of my childhood and kids can run all over the place. I love Discovery Green, too – and both places offer excellent free entertainment.
A great spot to visit for calm times is Glenwood Cemetery – it's one of the most peaceful hidden gems in Houston. And I love the Menil Collection park -- although my kids are bummed they can't climb the trees -- and "Pumpkin" Park (River Oaks Park) has one of the best trees to sit under.
Speaking of trees, I love the ancient one at Beck's Prime on Augusta – we go there sometimes to grab a snack and just hang out, communing with nature. That tree was the inspiration of the cd "Our Roots are Strong" that I co-produced with fab musician Leah White. I told her which Houston landmarks to feature and she wrote songs for each one – in fact, I'll list those here since they are some of my favorites spots to visit!
Julia Ideson Library - 500 McKinney Street - Original copies of Alice in Wonderland and Moby Dick are among their 7,000 rare children's books. Go see them! The library opened in 1904 and was named after the city's first librarian.
Live Oak Trees - Spindly live oaks can be found all over Houston. Great examples are at Rice University (6100 Main Street); the Menil Park (1515 Sul Ross); and Beck's Prime restaurant (2615 Augusta Drive).

Live oaks are the Southern symbol of strength and a perfect representation of Houston's hardiness. In 1912, Rice University opened and hardly any trees existed until they decided to plant live oaks in 1913. Their trees are almost 100 years old!

Vaquero Statue in Mood Park - 3725 Fulton Street - This statue is by Luis Jimenez and was part of the City's efforts to recognize the culture of the growing Latino population in Houston. Vaqueros are the first cowboys of the open range in Texas and they herded cattle from Mexico across Texas before the American cowboy we know today even existed.
National Aeronautics and Space Administration (NASA) and Johnson Space Center - 1601 Nasa Parkway - 450 million listeners, out of a then estimated world population of 3.6 billion people, were all tuned into Houston's Mission Control in 1969 when Neil Armstrong took the first steps onto the surface of the moon and said "One small step for a man, one giant leap for mankind." Sadly, the shuttle program ended with the launch of Atlantis on July 8, 2011.
The Heritage Society and Sam Houston Park - 1100 Bagby Street - The Heritage Society is a museum and grounds that house ten historic structures dating from 1823 to 1905. The historic buildings are in Sam Houston Park, which is next to the Heritage Society and was the first park in Houston. Take a tour here the modern way: text the number that you find in front of each structure and you'll receive a text back with valuable historic information.
Christ Church Cathedral - 1117 Texas Avenue - Founded on March 16, 1839, Christ Church Cathedral was Houston's first religious congregation and is the only one still worshiping on its original site from the days when Houston was the capital of the Republic of Texas. From the start, the Church welcomed all faiths and animals could be seen roaming the streets surrounding it.
The Rice Hotel - 909 Texas Avenue - In the 1920s and 1930s, the Rice Hotel's legendary "Rice Roof Dance Pavilion" became the spot where many jazz and swing performers played, including Tommy Dorsey. President John F. Kennedy, Jr. spent his last night alive at the Rice Hotel before driving to Dallas where he was assassinated. It is rumored that ghosts dance on the rooftop.
NRG Astrodome in NRG Park - 8400 Kirby Drive - The Astrodome opened in 1965 and baseball players immediately complained that the glare from the roof panels caused them to miss balls. They painted it to decrease the glare which killed the grass! "ChemGrass" was then put down as a solution which quickly became known as "AstroTurf." The Astrodome was the first covered, air conditioned sports stadium. Its future is uncertain – currently, three different options are being considered for the historic building, which are found in the "Reliant Park Master Plan."
Landmark River Oaks Theatre - 2009 West Gray - The River Oaks Theatre was opened in 1939 during the Golden Age of theatres when people would dress in their finest to see a show. In 2007, the River Oaks Shopping Center was declared a city landmark when the theatre was threatened with demolition. However, because of Houston's weak preservation ordinance, neither the shopping center nor the theatre is safe from the wrecking ball (the landlord must apply for a "protected landmark" status to make that happen). The River Oaks is Houston's oldest running theatre and serves as a great example of 1930s Art Deco architecture.
The Downtown Aquarium - 410 Bagby Street - The Shark Tunnel you pass through on the train ride is part of what used to be Houston's first Central Waterworks Building, an official State Archaeological Landmark. Historic Fire Station No. 1 houses the restaurant as well as an amazing variety of aquatic life.
Buffalo Bayou and Allen's Landing - 1001 Commerce Street - Known as our "Plymouth Rock," Allen's Landing on Buffalo Bayou was long considered the site where the Allen Brothers founded Houston in 1836 but recent research indicates they actually founded Houston a little ways upstream. There are many graveyards along Buffalo Bayou because of the 1839 Yellow Fever epidemic.
Freedmen's Town in Fourth Ward - Between Taft Street and I-45 and south of Memorial Drive and north of Tuam Street - After the Civil War, freed slaves were able to buy land cheaply near the Buffalo Bayou in an area later known as Freedmen's Town. The Rev. Jack Yates lived in this community and was instrumental in motivating black youth to strive for education. His home is in now in Sam Houston Park. There's now a labyrinth in Freedman's town!
The Orange Show Monument - 2401 Munger Street - The Orange Show is a monument created 25 years ago (in 2012) by retired postal worker Jeff McKissack who got a permit to build a beauty parlor on an abandoned East End lot but instead made his now-famous whimsical structure. Comprised mainly of found objects, the site was inspired by his favorite fruit, the orange. He was certain it would become one of the "Wonders of the World"! The Orange Show is open to the public for touring and its Foundation oversees not only that site, but also the Beer Can House, the famous Art Car Parade, and the newly built Smither Park.
We also always enjoy museums – when my kids were younger, we spent many hours and had birthday parties at the Children's Museum but now we go to the Museum of Fine Arts, which has a TON of programs and will soon have a huge new, multi-million dollar campus with a second movie theatre complete with concessions as well as a huge space for the Glassell School of Art! We'll drop into the MFAH just about any time as there is always something going on. I recommend starting your visit at the Kinder Foundation Education Center and before you go, you can prepare in advance with activities and ideas they have online here.
And Houston is hot, hot, HOT in the summertime so we have found some great water spots: Discovery Green and Hermann Park have fun fountain play areas and "Noah's Ark" pool at the Quillian Recreation Center is a blast and perfect for all ages since there is a water play area for young ones and a pool for older ones. We love our neighborhood YMCA pools – there is such a huge variety! I would never move where I wasn't close to a Y because not only do they have great pools but they also have great summer programs, specialty sports programs, after school care, and exercise classes. And the one at the Trotter Y has a yummy, healthy café that I take my kids to if I didn't have time to make dinner (it's close to us, thankfully).
I have an art car – the PHOENIX RISING ART CAR – so my favorite annual event in Houston is, of course, the Art Car Parade, presented by the Orange Show Center for Visionary Art. Thankfully they moved it to the second Saturday in April so it's much cooler. I'm now offering tours in my art car to see quirky Houston: we'll meet up at the River Oaks Theatre and then head to the Orange Show, Smither Park, the Art Car Museum, the Beer Can House, and back to the River Oaks Theatre. Along the way, riders will get refreshments and a tour – it's part of my IGNITE YOUR LIFE! art project and it's one more way I am able to introduce people to the many sides of Houston!