At BigKidSmallCity, we believe the more we know about the people of Houston, the smaller our city feels. And who better to meet than a Houston mom  with a truly one-of-a-kind business that is a haven for new parents.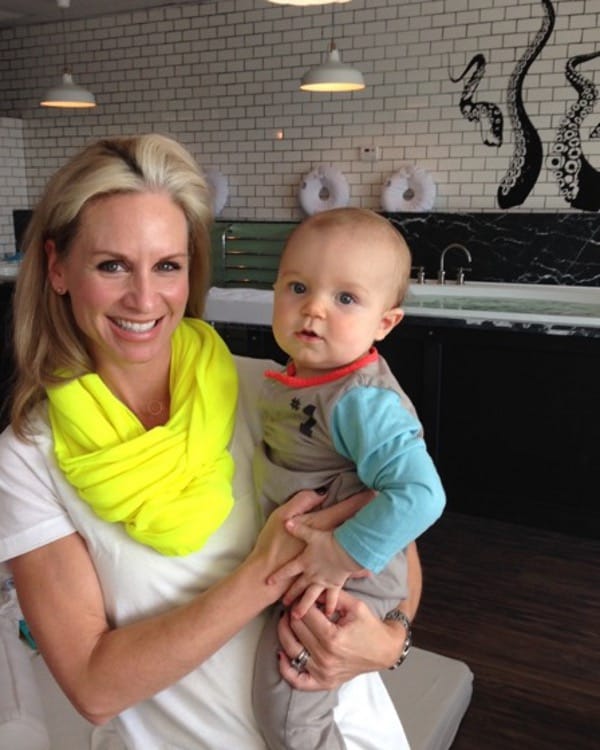 Meet Kristi Ison of
Float Baby
, a community of mothers that can share stories, sympathize and laugh at the trails of motherhood, all while stimulating their newborn's brain and encouraging development, good eating and long periods of sleep. In her own words, she tells us about her family, her business and what she likes about Houston!
I have been married to my husband, Stuart for almost 19 years, We have two children, Olivia Stuart (14) and Ben (12). We like to spend our free time together participating in sports, socializing, or having "Big Movie Night" ("Big" being the size of the television as perceived by a smaller version of my son at a much younger age). We are so lucky to have family living nearby in the Houston area.
I love Float Baby. It's hard to call it a business when the days are spent soaking up the sweet smiles and curiosity of infants and their new parents. It's an incredible honor to spend time with these friends during this very special time in their lives. I say "friends" because truly, they are all people that I would honestly spend time with socially.
I want people to know that Float Baby is an amazing start to the experience of parenthood. Whether you are seeking an outing with your baby, or you are frazzled and desperate for something to help your baby sleep, or maybe you are bored at home (it's okay to be bored! no one admits it, but seriously, we all need to get out of the house in the first six weeks before we go crazy staring at our adorable bundle of joy… no judgement and no shaved legs necessary for entry).
Houston is such a small town and I think that is what I love most about it. The longer I'm here, the harder it is for me to meet someone who doesn't share a common acquaintance. I find it comforting to raise a family here knowing that it takes a village and my village gets smaller every day.
Sports. Sports. Sports. This is a favorite for me to do with kids for a few reasons. Sports build such character in a child and whether we are playing or attending, there is always a learning opportunity.
Sports lead to lunches with friends afterwards, they lead to playdates and sleepovers for the kids. We talk a lot at Float Baby about which schools are the best to apply to (and when.. NOW!!) or the benefits of public schools, which neighborhoods are best socially for young families looking for their first home, what's important for your child socially, and what can wait… and we always talk about never letting friends convince us that their baby has been sleeping through the night since day one, nurses like a champ, and that they have enough time in the day to apply make-up while preparing a gourmet meal…(please). But we also talk about the importance of sports and I encourage all my clients to consider starting early for all the wonderful life lessons that sports can provide.
Favorite annual event in Houston is anything Christmas. My favorite movie is Elf. I love the feel of our city during December. People seem happier, stores seem shinier, and I love shopping for the perfect gift for those on my list. Getting Christmas cards in the mail are at the top of my favorites.
This past Christmas was extra special~ I received cards from some of my Float Baby families. It's so fun to see how much they have grown.. and don't even get me started on the joy of receiving a 1 year birthday party invite!!!!
Truly, it is so hard to say goodbye when one of my little friends graduates from Float Baby. I love this photo of Graham and he was quite possibly one of my biggest babies. I loved having him come each week and his mom was hysterical, adored her. We are starting a graduation board at the store so that we can post all of our adorable clients when they move on to bigger and more challenging waters. This will be one of the first ones we put up!!