At BigKidSmallCity, we believe the more we know about the people of Houston, the smaller our city feels. And who better to meet than a Houston mom letting your kids  explore movement in a safe and nurturing environment?!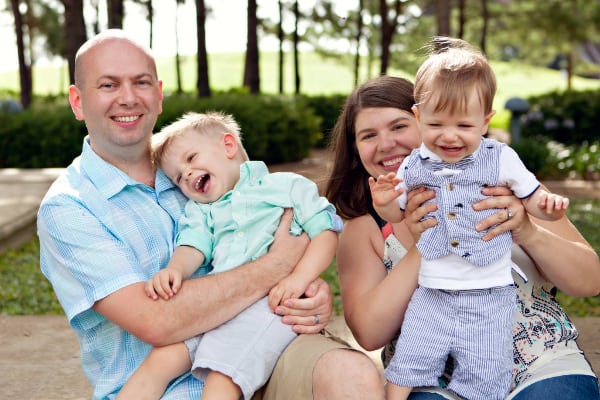 Meet Amanda Barrett Hayes of
Creative Moves for Tots
. In her own words, she tells us about her family, her business and what she likes about Houston!
We are a funny mix! I'm originally from North Carolina and my husband is from Aberdeen, Scotland, we lived abroad in Australia for six years and moved to Houston 2 years ago when my oldest son, Ethan was 6 months old! Our youngest son Liam is our only proper Houstonian, born here last June! The boys are 15 months apart and life is never boring with these two munchkins to keep me on my toes!
With a background in dance, I trained professionally in the US and then the UK, I received an MA in Movement Studies: Teaching & Directing Actor Movement in London. Upon completing my Masters we set out for Perth, Australia and I manged to keep myself very busy, some of the highlights being working with the Young Artist Program at the WA Opera Company as a director and teacher and doing a number of residencies in remote and regional Western Australia working as a movement artist on many collaborative residencies!
Professionally I took some time off from work when my boys were born and my time in Houston has been spent mostly in their company! I've enjoyed sharing my teaching practice with them and it felt like a natural progression to share our fun with other kids and their parents! Thus, Creative Moves for Tots was born.
Creative Moves is very much a mixture of all forms of movement and provides girls and boys alike the opportunity to explore movement in a safe and nurturing environment. This 45 minute class gives little ones an opportunity to use their body and imagination to explore the space around them in a new way!
I've been welcomed with open arms to the Nia Moves studio at 508 Pecore Street in the Heights. Class runs on most Thursdays from 10:30-11:15am and are available for drop-in or can be booked monthly with a discounted rate. The best part of Nia Moves is that classes are booked at a family rate, as a mother of 2 myself I love offering other multi-children families a class option that is not double the price!
For the latest class information, visit the Facebook page HERE!
One of our favorite things about Houston is how warm and inviting the people have been! It's not easy transplanting to a new place as we know from experience but it feels easy to make new friends here! As a family we love going to the Zoo, it's definitely our top attraction to take our out of town visitors.
To my dismay (kidding, but not really) my boys also love nature and all things creepy crawly so we also frequent the Nature Discovery Center which is very close to our house and recently started attending the Houston Arboretum Tyke Hikes on Monday mornings.
Our new favorite annual event will definitely be the ArBOOretum Fall Festival which we attended for the first time this year, it was fantastic! I have to say we are suckers for Zoo Lights as well, my oldest especially loves the section with all the awesome train sets!