Hi from Pranika! We are a family of four that enjoys eating and cooking together. My girls ages 6 and 3 love to help in the kitchen as well.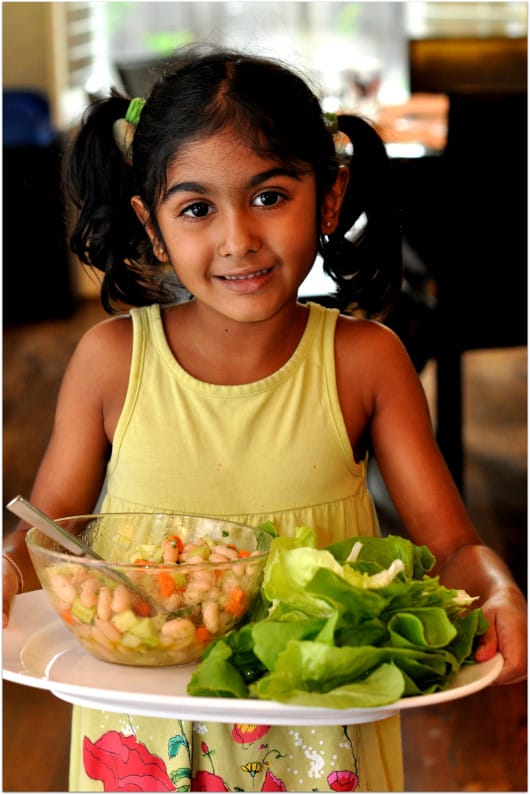 I used to think that lettuce was a total wash. Why eat lettuce when you can eat spinach or arugula and they are much healthier? Then...I ate lettuce cups and I have re-kindled my love with lettuce.
We get a delivery of local produce and vegetables once every two weeks and one of the items that has been included for the last few months is butterhead lettuce.
We would use it sometimes in salads, but then I got the idea to make our own lettuce cups. Throw some stuff in there that you have at home and voila! The lettuce cups are simple, delicious and take about 10-15 minutes to make!
I serve the lettuce cups with a variety of things - pasta, quesadillas, grilled cheese, but this week it was roasted chicken. While the chicken cooks for 45 minutes, I usually make the lettuce cups, help with homework, set the table, play with my kids, or even get inspired for dessert! This week we added dessert to the mix and made some chocolate covered strawberries. Its messy, delicious, and best of all - quick!
Happy cooking & eating!
Lettuce Cups, Roasted Chicken, & Chocolate Strawberries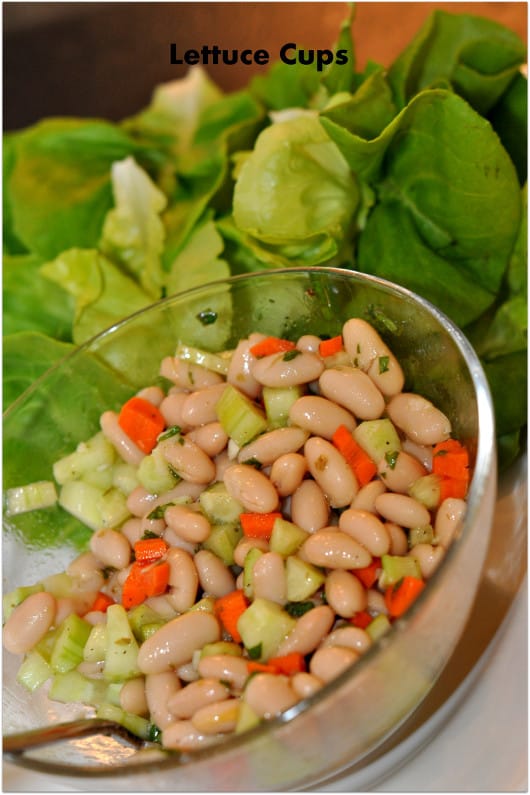 Lettuce Cups
1 head butter lettuce, washed, dried and leaves separated
1 can cannellini beans, drained and rinsed
2 mini cucumbers, peeled and diced
½ carrot, peeled and diced
Juice of 1 ½ lemons
2 tbsp olive oil
¼ tsp dried oregano
1 garlic clove, minced
⅛ tsp of pepper
½ tsp kosher salt
5 fresh basil leaves, washed and dried, then chiffonade (pretty word for slice finely)
Remove roots and wash lettuce. Peel apart lettuce leaves from root. Dry by patting gently with paper towels or use a salad spinner.
Arrange leaves on plate. Peel cucumber and carrot and dice. Add to a medium sized bowl. Drain and rinse can of cannellini beans. Combine with cucumber and carrot.
Make the dressing for the lettuce cups in a separate bowl. Cut lemons and squeeze lemon juice into bowl and add olive oil, oregano, salt, pepper, garlic, and basil. If you don't have fresh basil, not to worry, go without it.
Whisk together until combined and add to bowl with beans, cucumber and carrot. Mix together in bowl and serve in the lettuce cups.
My kids love to help make the dressing. Complements for this dish at our table are "delectably delicious", juicy, crunchy, and yummy. Everyone always eats at least 2 or 3!
***For variations or to use what you have at home, we substitute bell pepper for carrots, and chickpeas for the cannellini beans if need be. My husband and I sometimes top ours with a fresh jalapeno slice as well ***
Roasted Chicken Legs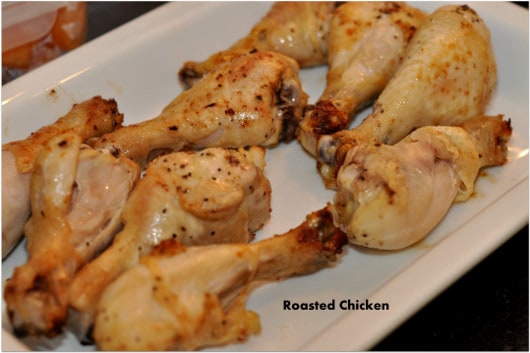 2 lbs chicken legs, skin on
16 ounce bottle of Italian salad dressing
1 gallon sized ziplock bag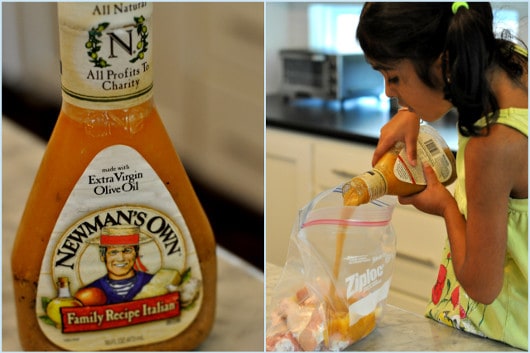 Yes – that's all the ingredients! Add the chicken and dressing to the ziplock bag, shake well to coat, and marinate for anywhere from 2-24 hours.
Pre-heat oven to 375 degrees. Take bag of chicken out of refrigerator at least 15-20 minutes before cooking.
Spray Pam on a non-stick cooking sheet and using tongs remove chicken legs from bag and place on cooking sheet; do not add the marinade to the pan.
I set the timer for 45 minutes. Bake for 25 minutes, then flip chicken. For the last 10 minutes, I increase the temperature to 400 degrees and flip once more if needed.
Serve, eat, and smile. Kids can easily help with the marinade. (For a quicker dinner, I used chicken wings, a ½ bottle of dressing and roast at 400 degrees for 20 minutes.)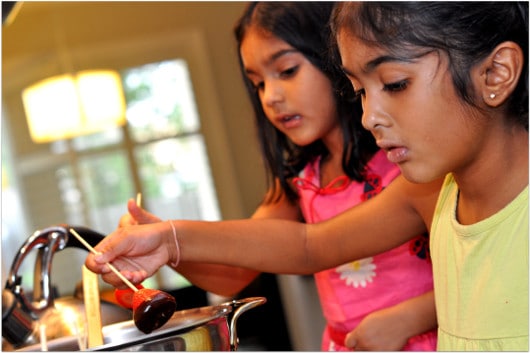 Chocolate covered strawberries
½ of a 16 oz carton of strawberries, washed, dried, and tops cut off
>1 cup milk chocolate morsels
Wooden skewers (toothpicks can work but will be messier)
⅛ cup of milk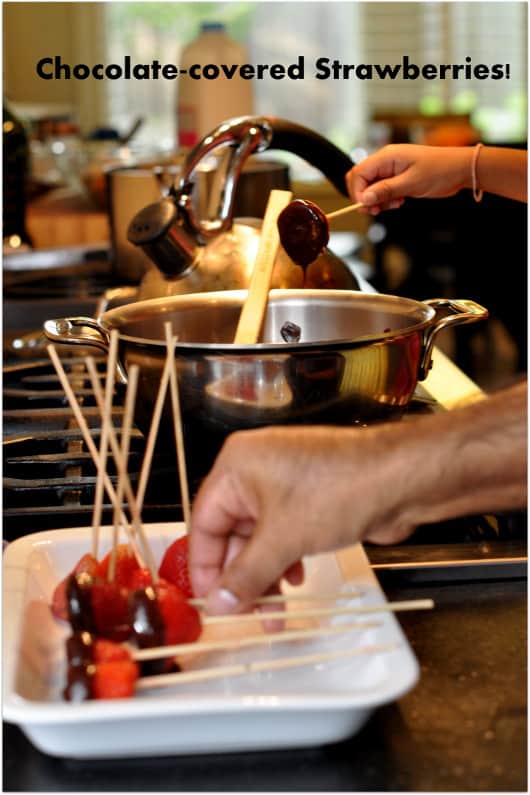 Skewer the strawberries. Create a double boiler by adding water to a large pan; I usually fill it up ⅔ of the way. Sit another pan right on top – water can touch the bottom pan, but be careful no overflowing!
Turn on the heat to medium high. Add chocolate chips and milk to the top pan and stir constantly. It will be a goopy mess at first, but will begin to liquefy slowly.
Add a few teaspoons more of milk if it's too thick to stir! After 2 minutes, turn the heat down to medium low and keep stirring for about 3 minutes more.
When the chocolate is a nice consistency that stirs easily, but is not too runny, remove the top pan to another burner and let cool for a few minutes. My kids then took over and dipped their skewered strawberries into the chocolate.
Set skewers on a serving tray. Eat and enjoy!