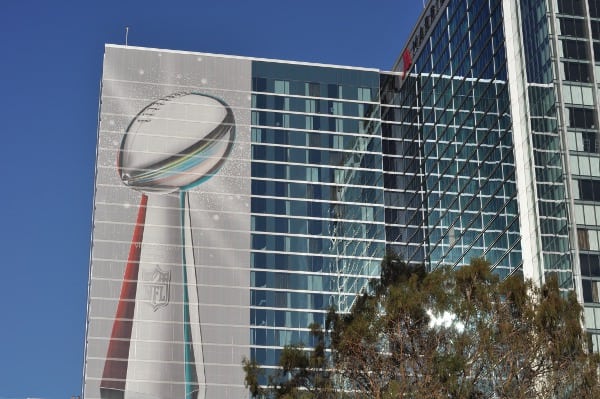 Houston has been buzzing with Super Bowl talk for months... and suddenly the big event is here!
The city will certainly be busy for the next couple weeks and there are parties, concerts and events all over the place. If you want to be a part of the excitement, many of the events are family friendly.
Here are family friendly Super Bowl events (and HERE are all the Houston events!):
NFL Experience – January 28-February 5, 2017 – George R Brown - $25+
Interactive games, youth football clinics, merchandise from NFL Shop, player autograph sessions and more. This is pro football's interactive theme park and your chance to be a part of the game... without having to purchase game day tickets.
Super Bowl Live – January 28-February 5, 2017 – Discovery Green - FREE
A FREE nine-day fan festival in downtown Houston celebrating Super Bowl LI. It features live music and performances, interactive exhibits, great food and a 90-foot tall virtual reality trip to Mars. With so much to do and so many great performances, there is something for everyone who visits.
Budweiser Clydesdales – January 30-February 5, 2017 – Anheuser-Busch Tour Center - FREE
The brewery will host the iconic Budweiser Clydesdales as part of Super Bowl celebrations. Guests will have daily opportunities to see these gentle giants up-close and take photos. The Budweiser Clydesdales hitch team, with red wagon in tow, will parade around the brewery grounds Feb. 4 and 5.
Budweiser Clydesdales Photo Opportunities: Monday, Jan. 30 through Sunday, Feb. 5: 11 a.m. to Noon & 3 to 4 p.m. (except Friday Feb. 4)
Hitch Team Parade on Brewery Grounds: Saturday, Feb. 4 and Sunday, Feb. 5: Noon to 2 p.m.
Super Bowl Opening Night –January 30, 2017 – Minute Maid Park - $20+
Super Bowl Opening Night is the first time the players and coaches meet with the media in Houston. Fans are invited to watch media from all over the world interview the Super Bowl players. There is also live musical performances from premiere talent, special appearances and autographs by NFL Legends, cheerleaders and team mascots and a Red Carpet fan photo opportunity.
In It To Win It – February 4, 2017– Children's Museum of Houston - Included in General Admission ($12)
The Children's Museum of Houston will score a win for Houston families in celebration of Super Bowl LI. You're invited to tackle tough numbers and celebrate football along with its well-played calculations.
Super Bowl LI – February 5, 2017 - NRG