From Houston mom, Angelle:
We've recently joined Free Forest School of Houston and it has been an absolute blast! The essence of Free Forest School is nature-based, child-led play and emergent learning. Their motto is "Letting kids be kids, outdoors."
Parents get a chance to unplug and step back while kids and their imaginations take the lead!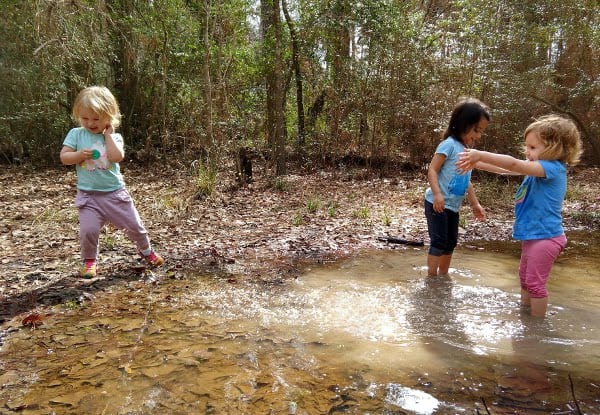 Free Forest School of Houston is a FREE group, open to children aged 0-6 years and their parents or caregivers. They meet weekly throughout the year at nearby wilderness areas. They've currently got locations in the Heights, NW Houston, NE Houston, SW Houston and SE Houston and they are adding more as they grow!
Most events run 9:40am-12pm but they are working on different times as well.
A basic Free Forest School trip goes something like this: We share a snack, the facilitator gives a safety talk, and we head into the woods for exploration, discovery, play and fun! We usually end the day with circle time where we read books and sing songs. It's as simple and as wonderful as that!
I can't begin to tell you how much we've gotten out of Free Forest School – my daughter absolutely loves it and we learn something new every time we go. I've seen kids climb onto a log and 'ride a train to the zoo' together, play kid-initiated hide and seek, go 'fishing' in a puddle, and create a makeshift pulley! That is all in addition to making new friends, spotting lots of wildlife, and exposing my daughter to the wonder, beauty and joy of playing in nature.
For more information visit their website and to join, visit their Facebook group.