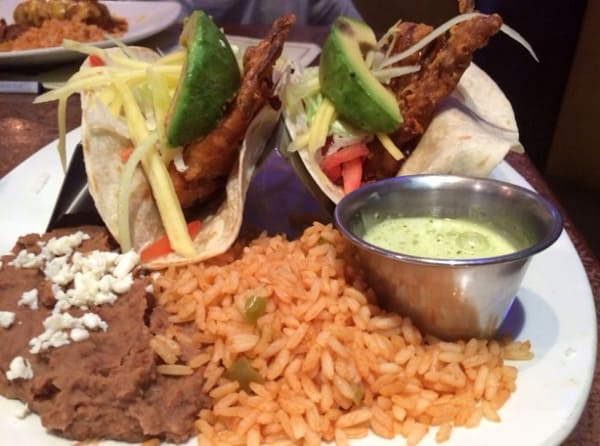 Houston has no shortage of good Mexican food... but which restaurants are the best for families? I asked the BigKidSmallCity community and this is what YOU told me.
If you have more suggestions, please let us know!
100% Taquito (I59 near Buffalo Speedway) - Very cool and fun interior with "food truck" windows for ordering food and funky decorations all over. See are very old review HERE!
Last Concert Cafe (North Downtown) - Good food, big patio and welcoming staff.
El Real (Montrose) - Tex-Mex in an old theater. Check out our review HERE.
Skinny Ritas (Main Street/Heights) - Vegetarian, Gluten-Free Friendly and kid friendly.
Tacos A Go Go (Heights, Midtown) - Funky, fresh and fun. See our review HERE.
La Hacienda (Memorial, Cypress) - Mexican food and a playground!
Chuy's (Multiple locations) - This funky fresh Tex-Mex restaurant was recommended by many parents. It's also one of my favorites and you can see me here each May, for my birthday, eating the white sauce by the gallon. (Because calories don't count on my birthday.)
Pappasito's Cantina (Multiple locations) - Family owned and family friendly.
Escalante's (Multiple locations) - Fine Tex-Mex
Lupe Tortilla (Multiple locations) - Some of the play areas have disappeared but the location in Stafford, off Hwy 6, still has a play area for kids.
Jimmy Changas (Katy, League City, Pearland, Pasadena)- Tex-Mex with large Patio and playground.
Las Ventanas (I10 & 6) - Beautiful outdoor garden area with a moonwalk and a playground for kids.
Casa Imperial (Jones & 1960s) – Live music on Friday night. Kids can't go nuts but it's definitely a fun atmosphere and they like kids.
Margaritas (Conroe, Huntsville) - Family Friendly Tex-Mex.
Mario's (Spring) - Family Friendly Tex-Mex.