Houston Area Light Displays by Location, Cost and Amenities!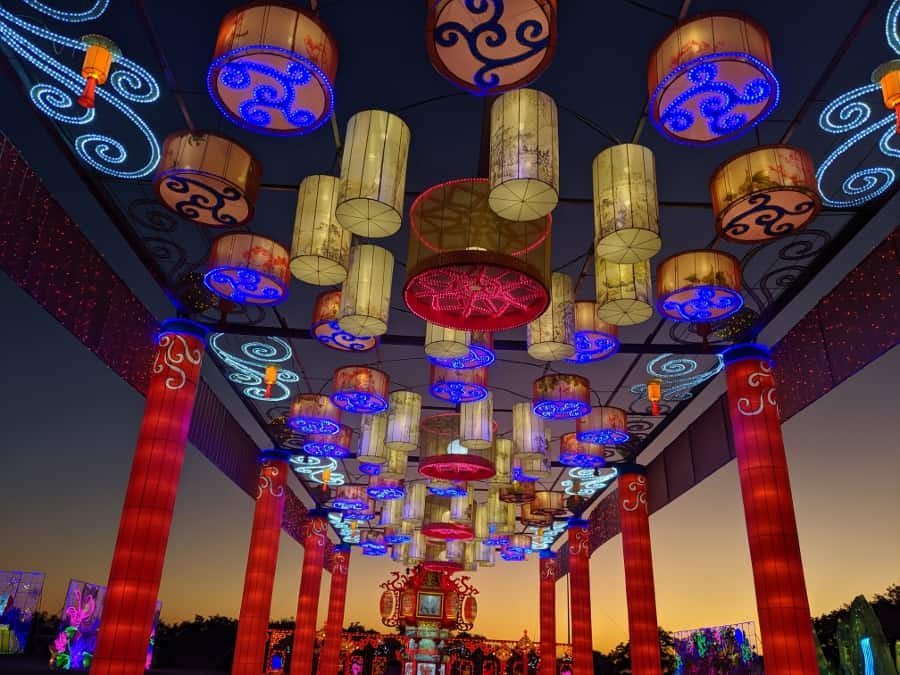 It's holiday light season in Houston!
There's not enough time or money to do everything in Houston during the holidays. If you are thinking about going to a big light display this season… but aren't sure which one to try… here's a quick (and rough) overview of the big Houston area shows.
Prices vary, so always check before you go. Also, if you have more to add, let us know!
And for more Houston holiday resources, go HERE!
Light Display
Description & 2 Cents
Santa's Wonderland
in College Station
Biggest Christmas attraction in the state of Texas!
Around $40.

It's a drive from Houston but it's a holiday tradition!

We have NOT been this year.
Magical Winter Lights
at Gulf Grayhound Park
This is a 20-acre lantern festival with themed lantern sections, nightly acrobatic performances, carnival rides and games, an interactive dinosaur area and lots of holiday fun!
Around $13-$22. Look for some discounts online, at Costco and at affiliat Groupon.

This is our favorite because it's unlike any other display. There are hundreds of lanterns and there is so much to see.

I don't love carnivals, so I'd personally skip it… but my boys disagree.

See our post HERE.
Galaxy Lights
at Space Center Houston
Embark on a festive adventure and start a new Space City tradition this holiday season during our all-new experience Galaxy Lights.
Around $20. On Reliant Wednedsays, take a canned good for $5 off.

This is brand new and I always am happy to see new lights. Space Center fans will be happy to see most of the exhibits open, just after dark.

We liked the kinetic light display the best. (See the video in our post!)

People keep asking for comparisons, so I'd say it's a lot like Zoo Lights… you get to see a cool venue lit up for the holidays.

See our post HERE.
Festival of Lights
at Moody Gardens
Eight attractions in one location.

Find more than 1 million lights, live entertainment, ice skating, pictures with Santa and the Arctic Slide.
There is a lot going on at Moody Gardens. Ice Land is different and cool (pun intended!).
Around $30-40.

We have NOT been this year.
Sugar Land Holiday Lights
at Constellation Field
Enjoy a night at Constellation Field surrounded by beautiful light displays!
Around $16.

The field is all lit up and the lights move to music. Plus, the stadium has a playground. There is also a carnival, but we did not go last year.

We have NOT been to the lights this year.
Zoo Lights
at Houston Zoo
Stroll through the beautiful Houston Zoo grounds and take in the sights and sounds of the season.
Around $18.

It's always fun to walk through the Zoo at dark. You don't get to see the animals… but we like the lights.

They add to it each year, but it's also a lot the same. So if you went last year, maybe try somewhere new. Or do it again… up to you!
Trail of Lights
at Dewberry Farm
Hop on a wagon for a ride through the woods to see over one million light displays and music.
Around $20.

This is also one of our favorites because it is so different.

You take a tractor ride through lots of lights… plus you get to play at the farm (many attractions are open) without all the crowds and without the fall heat!

See our post HERE.