I say green, you say food: Green! Food! Green! Food! Do you ever hear that chant in your house? We do everyday!
Kidding.
But on the whole, I am lucky as my kids do eat some green stuff, especially broccoli, broccolini, asparagus, and cucumbers. But, when I first cooked kale about two years back, my older daughter scrunched up her face and yelled "that stuff looks disgusting".
Fast forward and now (faint!) she actually asks for it! My sister taught me a recipe a few years ago that combines kale and spaghetti and it has served us well. Plus a fellow mom friend also told me about eating peas, not cooked, but frozen. Frozen?!?! The kids now eat them in their lunch boxes everyday and ask for them otherwise too.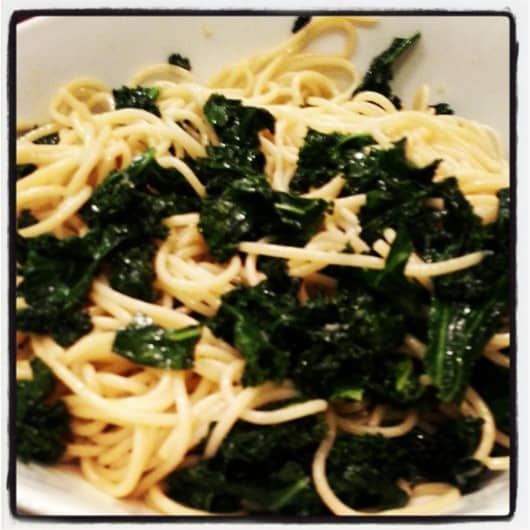 Happy cooking and eating!
Kale, 3 large leaves chopped into bite-sized pieces
3 cloves of garlic, finely chopped
2 tbsp olive oil
½ cup water
1 tsp sea salt
1 tsp pepper
1 box spaghetti
Sprinkle of nutmeg (optional)
Parmesan cheese
Cook the spaghetti according to package directions. Then heat olive oil in a non-stick pan to medium heat. Add garlic and saute for 2 minutes. Add kale, salt, pepper, and ½ cup water. A sprinkle of nutmeg tastes great mixed in too!
Cook until slightly wilted and softer and most of the water has evaporated. This will take about 10 minutes, depending on the strength of your burner.
Drain spaghetti and add 1 tbsp of olive oil, plus a sprinkle of salt and pepper. Combine kale mixture with spaghetti. Serve with parmesan sprinkled on top. And on the side, frozen peas of course!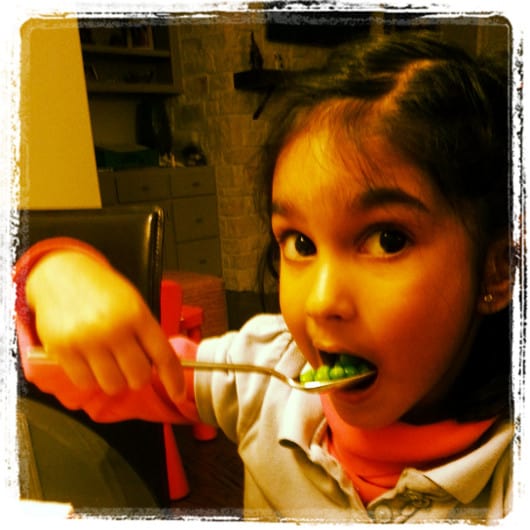 My younger daughter sometimes picks out the kale and puts it aside, but she makes up for it with a few servings of frozen peas.
On the other hand, my older daughter actually asks for more kale on top of her spaghetti 🙂 This is a very loved meal in our house. Enjoy!