From Toddlers to Adults-that-Never-Learned-to-Skate… Everyone Can Enjoy the ICE at Discovery Green! November 24, 2015 – February 7, 2016
Look here for 2016 Holiday Festivals and Shows!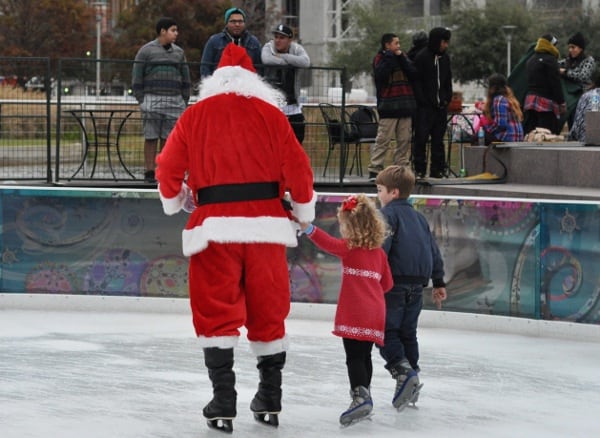 Upadte:
Look here for 2016 Holiday Festivals and Shows!
I LOVE the ICE at Discovery Green!  For years I took my young kids to skate at the toddler rink with double bladed (easy to balance) skates, while I stood on dry land.  Two winters ago, I was brave enough to try the ICE myself!  We all did a lot of wall-holding… but now the entire family cannot wait to get on the ice!
Each November, Kinder Lake is drained and replaced by the ice.  There is a large rink for all to enjoy, as well as a toddler rink for the littlest ones to practice.  Parents can hold the little hands from the edge… so you only have to wear skates if you want to!
Also, some of the toddler sized skates come with double blades, making it easier for kids to balance.  (And even on single blades, the kids seem to balance better than me!)
Ice skating at Discovery Green will be open November 24, 2014 through February 7, 2015.  Look for weekly events, including Cheap Skate Nights, Flicks on Ice and Skate with Santa, on the BigKidSmallCity Events List, HERE, or get them in your inbox, HERE!
BigKidSmallCity will be at the rink at the weekly Skate with Santa event, on Saturdays, 4:00-5:00pm.  Come to skate and stop by our table for an activity!  Also, to celebrate the season, Discovery Green is giving our readers a chance to win a family 4 pack of tickets each week until winter break!  Enter for a chance to win!
Skate with Santa, November 28
Skate with Santa, December 5
Skate with Santa, December 12
Skate with Santa, December 19
ICE Rink Admission is $14 and includes skate rental and tax.  Skating time limited to 1.5 hours all school holidays and weekends. Note that on Fridays at 11:00am or other weekdays, right at the 4:00pm opening, the crowds are smaller!