This is Pranika. I love to experiment in the kitchen and try different things. I make up my own recipes quite often, including this week's! I hope you enjoy these Asian-inspired recipes. My family sure did.
I try and keep the spice on the milder side, but definitely not the flavor. Adults please add sriracha and sambal at leisure for some extra spice. Happy eating!
Fried Rice, Thai-style Chicken, and Asian-Inspired Mushrooms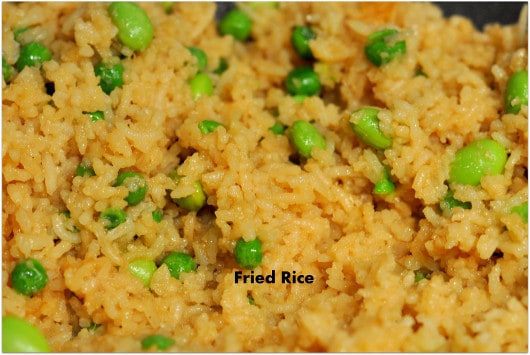 Fried Rice
2 tbsp soy sauce
½ tsp ginger/garlic paste
1 tsp rice vinegar
1 tbsp canola oil
½ cup frozen peas
½ cup frozen, shelled edamame
4 cups rice, cooked
I use leftover rice for this recipe. Add the soy sauce, ginger/garlic paste, and rice vinegar to a small bowl and stir to mix. Heat oil in a wok on medium heat, add rice and soy sauce mixture and stir fry until the rice is coated with the soy sauce mixture – at least 3-4 minutes. Add frozen peas and edamame, stir, and cook until veggies are warmed through, about another 3-4 minutes.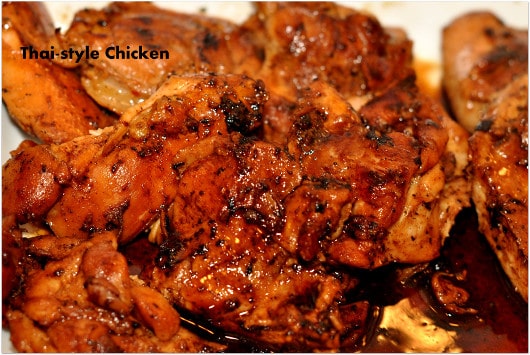 Thai-style Chicken
1.4 lbs chicken thighs
2 cloves of garlic, peeled and finely diced
⅛ cup fish sauce
1 tbsp Thai red chili sauce
2 tsp wok oil
1 ½ tbsp soy sauce
¼ tsp Chinese spice
Pam
Combine all ingredients into a ziplock bag and shake. Marinate the chicken for however long you want – an hour or 24 hours. Turn stove to medium-high heat. Spray non-stick grill pan with Pam.
Take chicken out of bag and place into pan. Discard marinade & bag. Cook chicken for 5 minutes on each side. After cooking each side, add ½ cup of water to deglaze pan. Cook chicken for 3 more minutes each side. Then serve!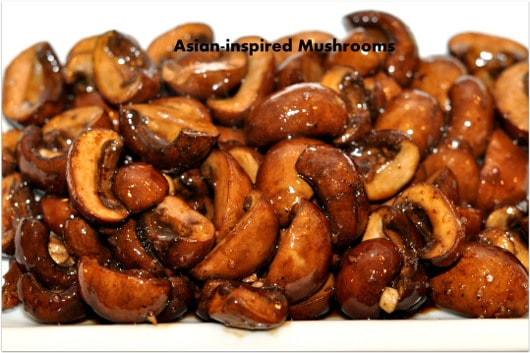 Asian-Inspired Mushrooms
1 large package baby bella mushrooms (remove stem and cut in half)
1 tbsp soy sauce
2 cloves of garlic, peeled and diced finely
Pinch of salt
⅛ tsp pepper
Couple of splashes of wok oil
1 tbsp canola oil
Combine all ingredients except canola oil and in a bowl or tupperware and mix thoroughly. I usually let ingredients marry for at least 10 minutes. Add canola oil to non-stick pan. Heat to medium. Add mushrooms and cook, stirring often for 10-12 minutes.