FREE Things to Do in Houston, with Kids, for the Holidays 2019!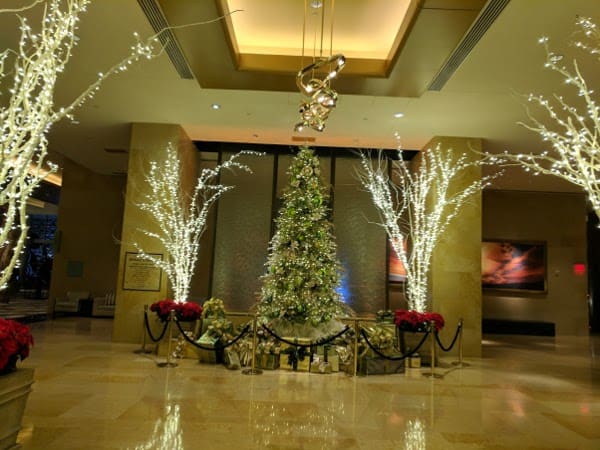 The holidays can be EXPENSIVE… but Houston has a lot of FREE holiday things to do, with kids!
If you have more ideas for FREE holiday fun, let us know.
The FULL list of holiday lights, shows and festivals is HERE. And if you want this list emailed to you each week, sign up for the free newsletter HERE.
Holiday Lights:
Take a walk or drive through these neighborhoods and parks!
(We've been asking for more suggestions over on Facebook. Go HERE to follow along!)
Festivals/Family Fun:
Home for the Holidays – November 9-December 22 , 2019– Old Town Spring – 403 Main St, Spring, TX 77373
The local shops come alive and visitors encountered strolling performers and festive exhibits!
Trains Over Texas– Daily Staring November 15, 2019 – Houston Museum of Natural Science
Create holiday memories by travelling across Texas by model railroad in this scratch built "O" scale model. (See our post HERE.)
NOTE: Exhibit is included with general admission. Admission is NOT free… but you can get free admission on Thursday afternoon.
Holidays at the Children's Museum of Houston – November 23, 2019 to January 5, 2020 – Children's Museum of Houston – 1500 Binz St, Houston, TX 77004
Experience celebrations from around the world including Christmas in Norway, Kwanzaa, Diwali, Las Posadas, Ramadan, Hannukah and Lunar New Year in our holiday exhibit, Seasons of Sharing. Walk beneath thousands of glistening lights in New Kids' Hall. Witness indoor mini-blizzards every hour as you journey into Kidtropolis and PowerPlay!
Do you want a build a snowman? Now you can during REAL Snow Days!
NOTE: Activities are included with general admission. Admission is NOT free… but you can get free tickets with the Houston Public Library's Flip Kits.
HEB Thanksgiving Day Parade – November 28, 2019 – Downtown Houston
Thanksgiving Day Parade in Downtown Houston. Arrive early for parking!
Uptown Houston Holiday Lighting – November 28, 2019 – Post Oak Boulevard – Uptown Park
The event is back for 2019!
Mayor's Holiday Celebration – November 30, 2019 – City Hall – 901 Bagby Street, Houston, Texas 77002
Tree lighting, music, Santa and family fun in Downtown Houston!
Gingerbread Build Off – December 7, 2019 – Hermann Square by City Hall – 900 Smith St, Houston, TX 77002
Architecture Center Houston will host the Annual Gingerbread Build-Off at City Hall's Hermann Square. Competing teams will create their masterpieces using 100% edible materials.
All Aboard the Christmas Trains – December 7-29, 2019 – Second Baptist Woodway – 6400 Woodway Dr, Houston, TX 77057
All aboard! Experience childhood nostalgia and experience delightful train displays that will capture the imagination of all ages. Miniature trains will wind their way through enchanting town centers and villages all month long. Children of all ages will enjoy the experience.
Tomball German Christmas Market & Festival – December 13, 14, 15 2019 – Tomball Train Depot – 201 S Elm St, Tomball, TX, 77375
Great family festival just outside Houston.
Holiday Party at Kinder Station– December 14, 2019 – Hermann Park Train Station – 1700 Hermann Drive, Houston, Texas
Come and enjoy free crafts and face painting. Park members also enjoy free train rides.
Christmas Boat Parade – December 14, 2019 – Kemah Boadwalk – 215 Kipp Ave, Kemah, TX 77565
Hundreds of boats cruise along Galveston Bay.
New Year's Eve Family Celebration – December 31, 2019 – Kemah Boardwalk – 215 Kipp Ave, Kemah, TX 77565
Live music and fireworks at 10:00pm.