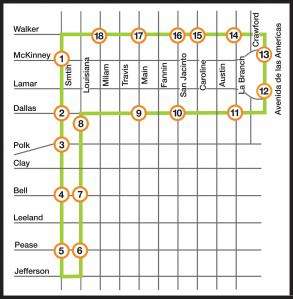 We love Downtown Houston. We frequently take METRORail and visit Discovery Green, eat lunch or just explore.
While we are there, Joe is always asking me to ride the bus. As adventurous as we are, I've never figured out the downtown bus schedules and we've never taken a ride on the bus.
This just got a lot easier. Greenlink is a new FREE bus service in downtown! Starting June 11, 2012, the buses will run Monday through Friday, 6:30am to 6:30pm.
Get more details HERE.
Okay Joe, we're finally going to ride that bus!