Hi this is Pranika. Hope you are having a wonderful holiday season so far. It's the time of year for cookies and sweet and I have spent the last week making cookies with my girls. The recipes below are in order from easiest to a little bit more time-consuming and messy!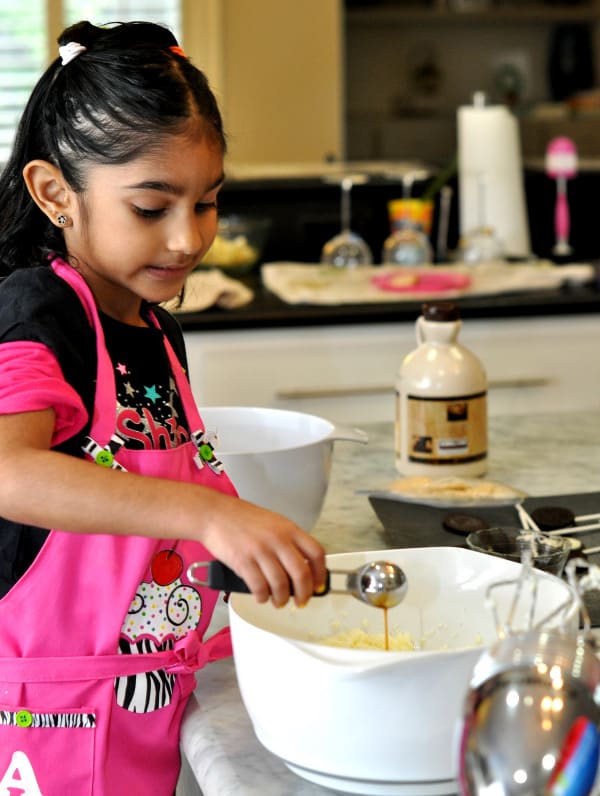 Everything turned out delicious according to my family and friends, though not quite so perfect. The best thing is that I had fun with my girls and loved the smiling faces and happy tummies that followed.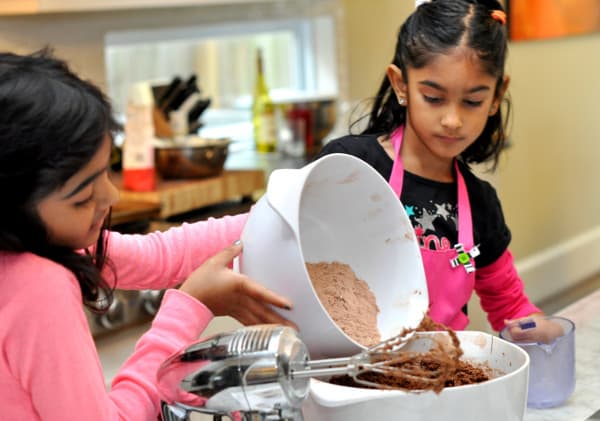 My personal favorite is the nutella cookies with "sea salt snow". They are quite easy and my favorite cookie so far this year. I readily admit that I have made them twice already! Peanut butter lovers will enjoy the reindeer and the oreo snowman are a total mess, but oh so fun to decorate and eat after.
Happy holidays to you and yours and happy baking!
Nutella Cookies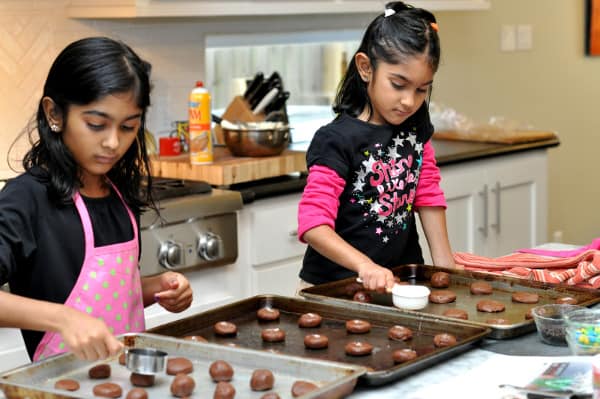 1 ½ cups flour
1 tsp baking powder
⅓ cup cocoa powder
1 stick butter, softened
1 cup granulated sugar
1 tsp vanilla
⅓ cup Nutella
⅓ cup milk
Sea salt, for sprinkling
Whisk together the flour, baking powder, and cocoa powder. Set aside.
Using an electric mixer or stand mixer, cream together the butter and sugar. Add in the vanilla extract and nutella, mixing until smooth.
Add the dry ingredients half at a time alternately with the milk until well-combined. Wrap the dough in plastic wrap and let chill in the refrigerator 15 minutes before baking.
When ready to bake, preheat the oven to 325 degrees. Line a baking sheet with parchment paper or spray pan with Pam for Baking. Roll the dough into 1″ balls. Place 2″ apart on the baking sheets. Press down gently and sprinkle with sea salt.
Bake 10-12 minutes until just starting to set (I baked mine for 10 in my oven). Let cool for 3-4 minutes on the baking sheet before removing to a cooling rack to cool completely. Makes about 3 dozen cookies.
Peanut Butter Reindeer Cookies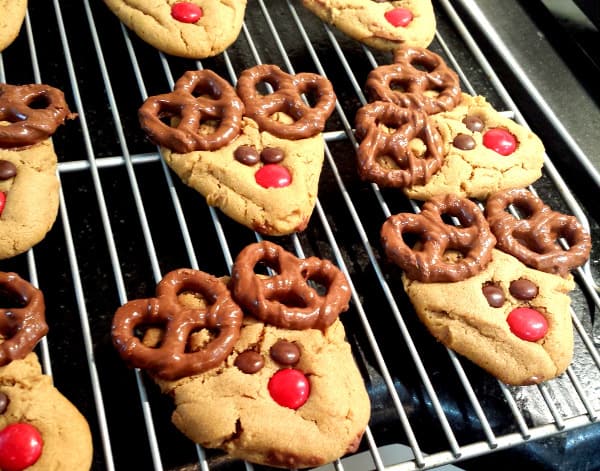 ¾ cup peanut butter
1 ¼ cup firmly packed brown sugar
½ cup shortening
3 tablespoons milk
1 tablespoon vanilla
1 egg
1 ¾ cup all-purpose flour
¾ teaspoon baking soda
¾ teaspoon salt
Chocolate-covered mini pretzels
Mini brown M&Ms
Regular-sized red M&Ms
Preheat oven to 375°F.
Combine brown sugar, peanut butter, shortening, milk, and vanilla in large bowl. Beat at medium speed until well blended. Add egg; beat until just blended.
In a separate bowl, combine flour, baking soda, and salt. Add to creamed mixture at low speed. Mix just until blended.
Form dough into 1-inch balls. To make reindeer-shaped cookies, pinch the bottom of the ball slightly to form a point, then gently flatten with your hand. Space cookies about 2 inches apart on a greased cookie sheet and bake for 7 to 8 minutes, until set or just beginning to brown.
Remove from oven and immediately (and gently) press two mini pretzels into the tops of the cookies for the reindeer's antlers. Press two mini brown M&Ms in for the eyes and one red M&M for the nose (or any other color... some of mine ended up with green noses. They might be South Pole reindeer.).
Allow to cool 2 minutes on the baking sheet and then transfer to a wire rack or paper towel to cool completely.
Makes about 40 reindeer cookies. These were fun to make and not too time-consuming. The girls loved putting on the m&ms and many chocolate covered pretzels and m&ms were eaten along the way for a very happy cookie decorating process.
Oreo Snowman Pops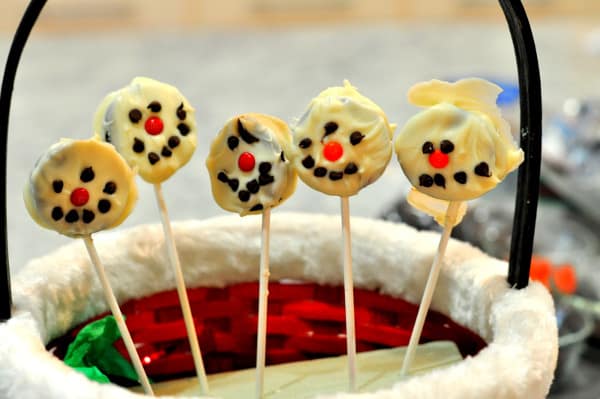 1 package Oreos
1 package candy sticks
2 bags white chocolate morsels
Mini semi-sweet morsels
Mini orange m&ms
1. Loosen the tops of the Oreos and insert the candy stick
2. Melt white chocolate wafers (about 2-3 cups) using double boiler, stirring constantly.
3. I should have done this step: Once the chocolate if melted, dip a candy stick into the chocolate, getting a little dab on the end of it. Place it on the inside of the Oreo and put the top back on. Repeat with all cookies, and let them cool and set in the fridge for approximately 10 mins.
4. Once they're set, drizzle white chocolate onto the cookie pops, turning them to take off any excess. Lay flat on waxed paper.
5. Get some help! While you continue dipping the cookies, have your helper begin placing the chocolate chips and M&Ms on the faces.
6. Once they're dipped and smiling back at you, put them in the fridge to cool.
Also, I found out later from my friend Olivia Hooper, baker extraordinaire, that if you add some vegetable oil or Crisco to the chocolate or use candy melts instead the snowmen won't be quite so goopy as mine were. There were only pictures at the end because this process was incredibly messy! I was disappointed in how they looked but the girls thought they were hilarious and enjoyed them for dessert after dinner. Our neighbors kids helped and they loved them too. The best part: the next day, my older one mentioned how much silly fun she had making the snowmen and they were delicious too. Perfection need not apply