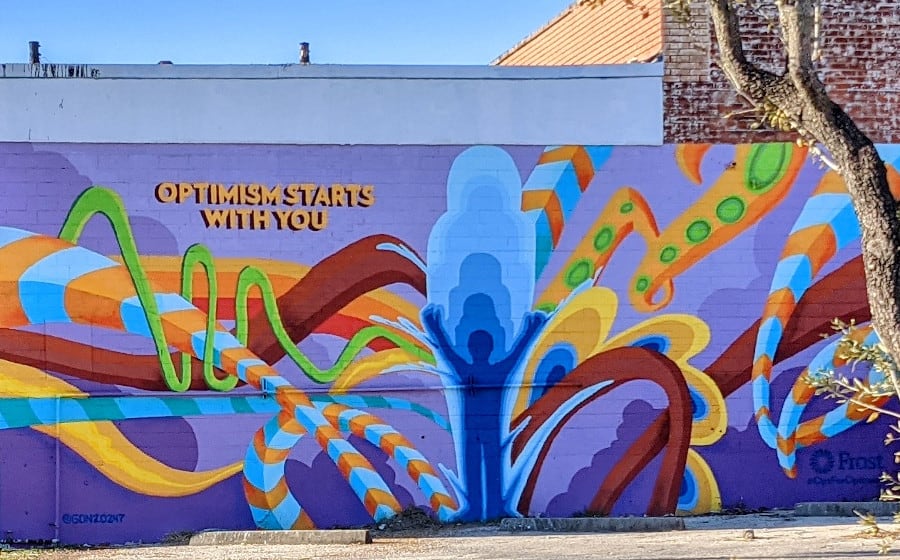 "Optimism Starts with You" is a mural in East End Houston by GONZO247. It's right at Canal Street and Navigation Boulevard on the southeast-facing wall. This mural is part of the Frost Bank Opt for Optimism campaign.
You are to stand in front of the blue silhouette, take a picture and share it with #optforoptimism! Learn more about the Frost Bank campaign HERE.
You can learn about the Houston artist, Mario E. Figueroa Jr., HERE. I bet you will recognize his work all over the city (like the Houston Is mural by Market Square Park in Downtown).
Navigation Boulevard has lots of art to see on your drive. Also, this East End Houston mural is a five minute drive from the Houston Graffiti Building, so you can easily see even more street art. Go HERE to see all the art in the area!
Also, Discovery Green is less than ten minutes away, so you can easily stop there to play or walk around. Or you can stop at Phoenicia Specialty Foods for lunch.
Street parking around the mural is available, just check the signs before you leave your car.
Optimism Starts with You #OptforOptimism in East End:
Address: 2219 Canal Street, Houston, Texas