Hello again! I know my dear friend Pranika is our food guru on Big Kid Small City but this time of year crafting and baking kind of merge for me so I'm bringing to you a simple recipe for a snack mix I created as well as a free printable tag that you can use to package all your goodies! So grab a few simple ingredients and let's get making!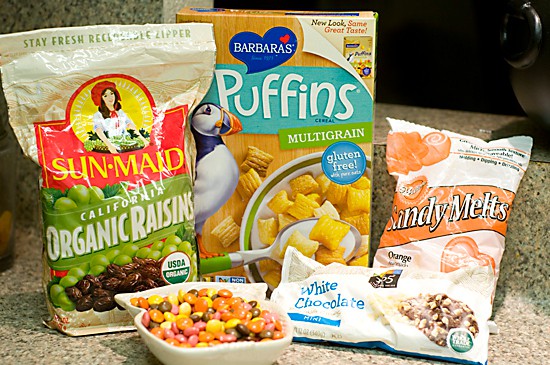 Here is what you will need:
A box of Puffins cereal (this can be found at your local Whole foods or in the health food section of your grocery store).
I chose Puffins because it is verified to be GMO free by the Non GMO Project and it is also happens to be gluten free, made from oats, corn, and brown rice. My kids also love the crunch which is an important element in a good snack mix!
½ a cup of white chocolate chips (or almond bark)
½ cup of orange candy melts (if you aren't into food coloring you can use chocolate chips instead)
one cup of  chocolate candies (you can use M&M's but I used chocolate Sun drops from bulk bins at Whole Foods because I really likes the colors for this mix)
optional: ½ cup of raisins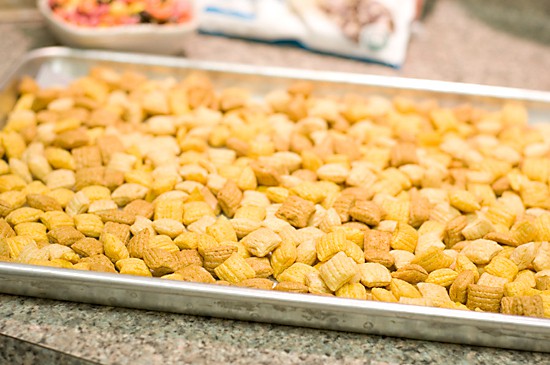 First, spread your puffins across a baking sheet, lined with a Silpat or parchment paper to help later with clean up.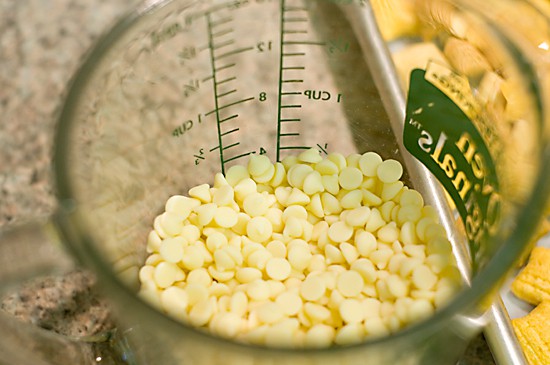 Next, we are going to melt the white chocolate. Place your white chocolate chips in a microwaveable bowl. I always use my Pyrex glass measuring cups for this. The heat from the glass helps in melting the chips. Microwave the chips 1 minute on 30% power.
Take the bowl out and stir. If the chips aren't melted all the way, microwave for another 30 seconds on 30% power, and stir. You don't want to overheat the chocolate or else it will get clumpy. You want it just melted enough where when you stir it becomes creamy and smooth.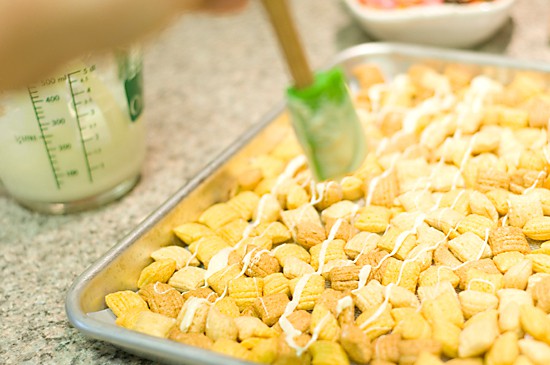 Next, drizzle the puffins with the melted white chocolate in one direction across your pan.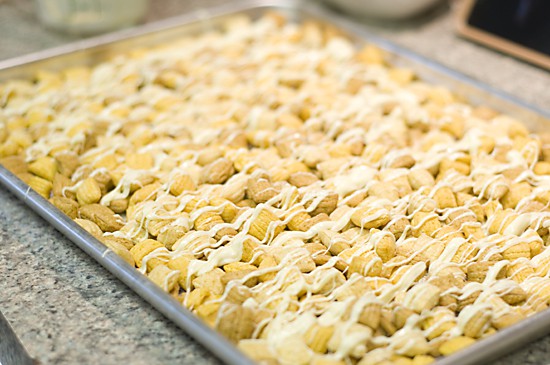 Do this all the way across your pan until some chocolate has touched most of the puffins.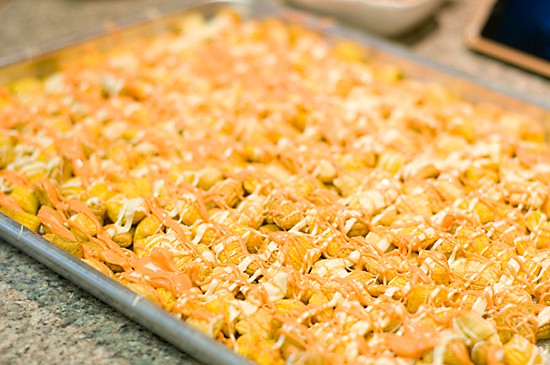 Next, take your same bowl that you melted the white chocolate in and pour in your orange candy melt. Yes, SAME bowl! 😉  Less dishes! I promise the residual white chocolate won't affect the color of the orange much at all.
Melt the orange candy melt in the same manner as you did the white chocolate. When the candy melt is smooth and creamy (sometimes if the candy melt is not "drizzly" enough you can add a teaspoon of vegetable oil in at a time to smooth it out) drizzle over the puffins, across the pan in the opposite direction. Give it a nice coating.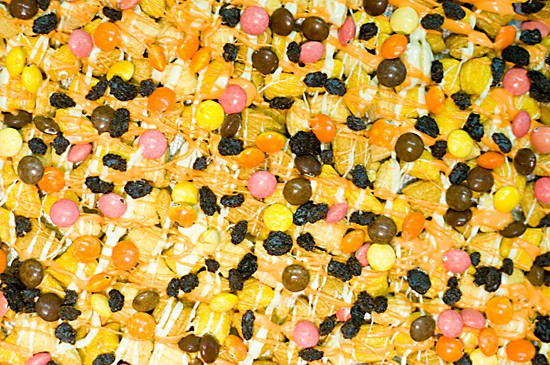 Take your candies and raisins and sprinkle across the top of everything evenly.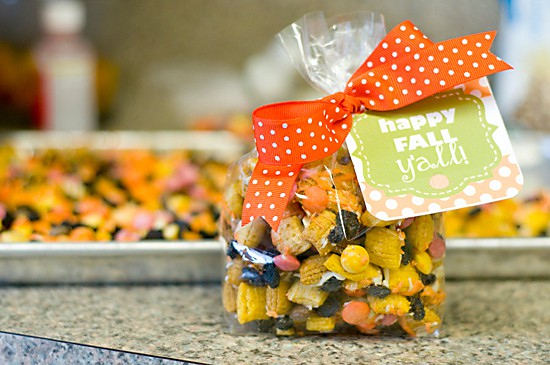 Allow all the chocolate to cool and harden. When it does break it into large pieces like brittle and it's ready to package up and give away….that is if you don't eat it all first! And don't feel confined to this recipe mix, add in whatever you want, nuts, other candy, other cereal, pretzels…possibilities are endless.
 Print
THIS
free downloadable for a sheet of 6 tags!
Happy Fall y'all!