It is time for the holiday shows around Houston… but with lots of kids, the ticket prices add up quickly! Below are the discounted shows and activities we've found so far… and will keep updating it as we find more. Just know that some of these deals and dates sell out quick!
Affiliate links included.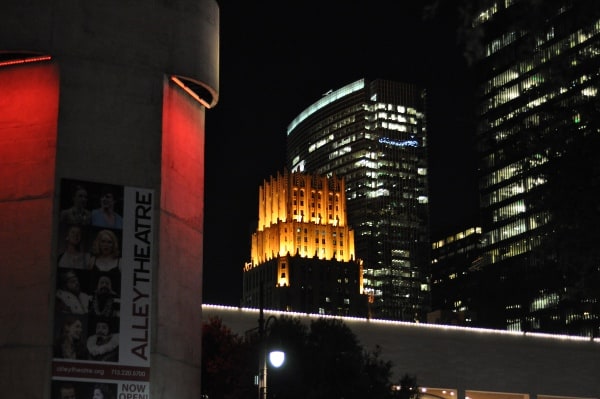 Admission for Two, Four, or Six to Festival of Lights and the DaVinci Exhibit at Moody Gardens
(Up to 44% Off)
Choice of:
Admission for Two to Festival of Lights and the DaVinci Exhibit
Admission for Four to Festival of Lights and the DaVinci Exhibit
Admission for Six to Festival of Lights and the DaVinci Exhibit
Great Wolf Lodge Grapevine – Grapevine, TX
Daily water park passes for each registered guest, up to the standard room occupancy, are included in all options. (Additional guests up to the maximum occupancy may be added for $50 per person per night.)
Best Christmas Pageant Ever: Delinquent Kids Put On a Chaotic Christmas Show – A.D. Players Theater (Houston, TX) – November 30, 2017-December 23, 2017
Christmas is a time to be good and spread holiday cheer — unless you're a part of the Herdman clan, in which case your goal is to partake in enough delinquent behavior to end up on a permanent naughty list. When the rowdy and rambunctious Herdman children show up at a local Sunday school in search of free snacks, they wind up getting cast in the annual snooze-fest of a Christmas pageant. The kids wreak havoc on the show, scaring off other cast members, offending the congregants and even setting fire to the church. But one way or another, the Herdman herd is determined to put on "The Best Christmas Pageant Ever".
Frosty the Snowman: A Family Musical – Salem Lutheran (Houston, Texas) – December 2, 2017-December 23, 2017
Frosty and his young friends learn valuable lessons about the true meaning of friendship when family musical "Frosty the Snowman" comes to Salem Lutheran in Houston. You and your family can watch the magical hat in action this holiday season.
Sleeping Beauty and Her Winter Knight: Modern Take on Fairy Tale With Pop Music, Magic & More – The Hobby Center for the Performing Arts – Sarofim Hall (Houston, TX) – December 12, 2017-December 23, 2017
A storybook kingdom of beautiful princesses, evil fairies and infectious pop tunes — the whole family will be delighted by this updated version of the classic European fairy tale. "Sleeping Beauty and Her Winter Knight" follows the princess Aurora, who has been cursed into a 100-year sleep by a dark fairy named Carabosse. Under the protection of her beloved companions Silly Billy and Nanny Tickle, Aurora waits in slumber until she is awakened by true love's kiss. This interactive show features plenty of magic, humor and contemporary pop music — including songs by Blondie, Bruno Mars, Jessie J, Katy Perry and more — that'll have audiences of all ages cheering and singing along
Lone Star Flight Museum – Lone Star Flight Museum (Houston, TX) – Any Available Date Through Dec 31, 2018
Take a tour of man's greatest aerial feats at the state-of-the-art Lone Star Flight Museum in Houston, boasting a 130,000 square-foot facility with a renowned flying collection of historic aircraft, a high-tech Aviation Learning Center and dynamic hands-on exhibits. The museum is all about preserving and honoring the history of Texas aviation, featuring everything from a Boeing B-17 Flying Fortress and North American T-6 Texan to an anti-tank attack helicopter. The museum displays over 40 historically significant aircraft and over 1,500 artifacts that demonstrate the quantum leap in technology over the past century. The museum's collection of award-winning aircraft annually logs more than 40,000 cross-country air miles to participate in flying displays and air shows. The museum's P-47 Thunderbolt participates in the United States Air Force "Heritage Flight" program.
Harlem Globetrotters: Insane Hoops & High Comedy – NRG Arena (Houston, TX) – January 27, 2017
With their amazing athletic, acrobatic and clowning skills, the team of insanely talented men and women known as the Harlem Globetrotters is sort of like the greatest circus troupe you've ever seen — but with way more slam dunks. And Hi-Lite, Too Tall, El Gato and the others know how to do more than just shoot hoops — they'll wow you with ball-handling wizardry, rim-rattling jams and four-pointers shot from 30 feet away, not to mention their clever comedy bits.
The Texas Tenors: Deep in the Heart of Christmas – The Grand (Galveston Island, TX) – Friday, Dec. 15, 2017
With their Emmy Award-winning PBS special now airing across the country, and Billboard chart-topping albums, it's easy to see why The Texas Tenors are America's favorite tenors. Since their whirlwind debut on NBC's "America's Got Talent", The Texas Tenors have accumulated a long list of awards, accolades and excited fans. They have performed more than 1000 concerts around the world, including a 24-city tour in the United Kingdom, Shanghai, China and collaborations with some of the most prestigious symphonies in the US. Now they make their way to The Grand in Galveston Island.
The Sound of Music – Jones Hall for the Performing Arts (Houston, TX) – Friday, June 1, 2018 – Sunday, June 3, 2018
The hills are alive in this brand-new production of "The Sound of Music". The spirited, romantic and beloved musical story of Maria and the von Trapp Family will once again thrill audiences with its Tony-, Grammy- and Academy Award-winning score, including unforgettable songs like "My Favorite Things," "Do-Re-Mi," "Climb Ev'ry Mountain," "Edelweiss" and more. Enjoy "The Sound of Music" at the Jones Hall for the Performing Arts in Houston.
TAO: Drum Heart – Jones Hall for the Performing Arts (Houston, TX) – Saturday, April 14, 2018
Direct from Japan, the performance group TAO will get your heart pumping with their intense choreography and extreme athletic prowess. A massive international sensation, the group's toured all over the globe, combining thousands of years of traditional Japanese drumming with high-energy martial arts movements. Their all-new spectacular, "TAO: Drum Heart", is the perfect display of their otherworldly precision, energy and stamina. Find out why they've performed hundreds of sold-out shows in front of millions of people when "TAO: Drum Heart" comes to Houston's Jones Hall for the Performing Arts.
Alvin Ailey American Dance Theater – Jones Hall for the Performing Arts (Houston, TX) – Friday, March 16, 2018
Alvin Ailey American Dance Theater, one of the world's most beloved dance companies and a favorite with Houston audiences, returns for another exciting performance. The company is celebrated not just for their exquisite performance of beloved classics, but also for their commitment to bold, new dance styles, offering something for every taste. Artistic director Robert Battle has created a program that spans pulse-racing contemporary favorites to spirit-lifting beloved classics, serving as America's cultural ambassador to the world. Don't miss these dynamic and artistic dancers hailed by "The New York Times" as "sleek, athletic masters of the universe" in this special pre-sale opportunity.
Cirque du Soleil: CORTEO – Toyota Center (Houston, TX) – March 8, 2018-March 11, 2018
Clowns have gotten a bad rap in the last few years, but they aren't all bad! Some are just lovable humans looking for hope — like the main character of "Cirque du Soleil: CORTEO". In the company of flying angels, a beloved entertainer imagines his own funeral procession in the form of a festive and lavish parade. They say write what you know, so as he passes from this life, the comedian imagines what he already knows and adds a little heaven to it. His dreaming creates a spellbinding world brought to life under the bigtop by dazzling costumes and sets. The drama of the real lives of traveling performers merges with the surreal to create "Cirque du Soleil's" trademark visuals and a mysterious journey you can't forget. This amazing show is packed with "Cirque"'s seemingly impossible acrobatics, "for a display of human physicality that defies the laws of physics" ("LA Weekly"), as well as lyrical and playful music that will fill the Grand Chapiteau, bringing you into the mystical borderlands where illusion teases reality at the Toyota Center in Houston.