Back when I was a Navy wife, I lived and worked in San Diego, California. I still travel there frequently for work and I've always wanted to take my kids with me. Generally, it just doesn't work, but last week, the moon and the stars aligned.
Knowing that summer days were quickly running out, I was determined to not miss out on my kids while I was away. I did not have anyone to travel out to California with me, so I got a recommendation and reserved 3 spots at Scripps Exploring Academy and booked 3 plane tickets to San Diego.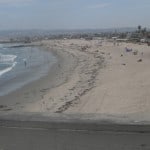 Our trip included flying to San Diego, staying in a hotel, sending kids daycare/school, working and exploring. This post reviews what we did. I'll follow up with more details on each mini-adventure (including Seaport Village, Ocean Beach, Sea World and Legoland).
Two weeks ago, my 3 kids and I headed to the airport. Check out our airport strategies HERE. Like usual, we got a ride to the airport and dropped our bags off at the curbside check. The plane trip went fine but hit our first snag when we arrived in San Diego. On most trips, we have someone waiting to pick us up. This time it was just us vs. the world.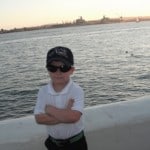 In San Diego, Joe and I had to get 3 car seats/boosters, 1 giant bag, 1 stroller and 1 baby, strapped to my chest, to the rental car bus, on the bus and then into the rental car. We rented a cart for $3 (available in baggage claim) and said a little prayer. It was quickly answered by a couple who was headed the same direction and wanting to help.
Fortunately we are enrolled in Avis Preferred so we had a car waiting for us and we just had to jump off the bus, with our many bags, and jump into our car. To enroll in this free program, go HERE. We had a monster of a Lincoln Town Car and there was plenty of room for our car seats. And, it made people laugh when they saw a 5'2", 30 something mom, with 3 kids, driving her grandfather's car.
The San Diego airport is right next to downtown and the water. Since we had arrived in the morning, we had to decide if we should swing by downtown or head to the beach first. Having lived in Ocean Beach (or OB) for many years, I decided to make the quick drive over the hill to Ocean Beach.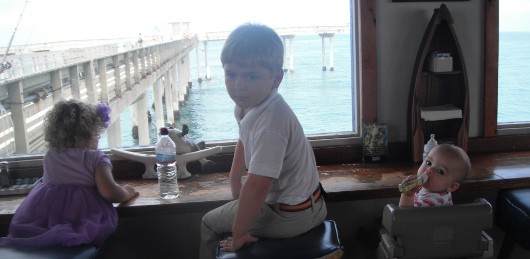 Ocean Beach is the most laid back beach in San Diego (and that is saying something). Not a lot has changed since the 1950s and that is how OB residents like it. Hippies and Yuppies seem to get along fine as they enjoy the surf, beach, restaurants and bars.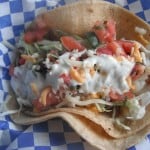 The kids and I walked out to the Pier Cafe. The Ocean Beach Pier is about ½ mile long and is one of the longest in Southern California. About 200 yards out, is the Cafe. It looks like a dive, but has had great food for as long as I've been eating there. On the pier the kids watched the fisherman, the surfers, and even a sea lion in the water. In the restaurant, the kids enjoyed the view and ate their grilled cheese sandwiches. I ate my giant lobster taco and waddled back to dry land.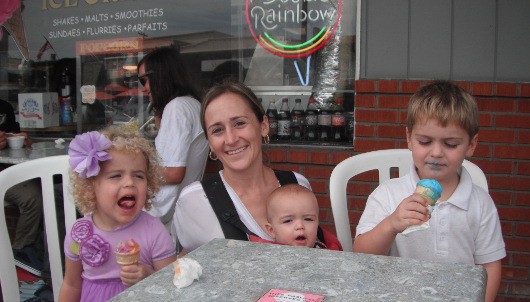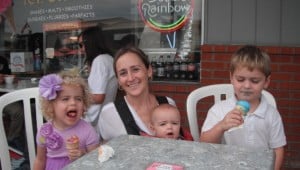 The kids apparently had more room in their bellies, because they insisted that we stop at Lighthouse Ice Cream. I used to go here weekly, so I gave in.
Afterwards, I was expecting to play on the beach but the kids were so excited to get to the hotel that we just-had-to-leave. I was secretly happy because in my 5 years living in Ocean Beach, I had only been in the ocean 1 time. I really don't like sand and seaweed and much prefer the hotel pool. (In case you are concerned, I do like long walks on the beach and drinking margaritas as I watch the sunset.)
In the La Jolla area we checked into the Holiday Inn Express. My kids love hotel rooms. I'm not sure why, but the rooms are usually a highlight of any trip we take. I like the Holiday Inn Express for kids because they are usually renovated, they are nice enough but not fancy, they have free breakfast and they like kids.
After jumping on beds and running circles around the room, we headed to Target to get provisions. To hold us over for the week, we got Ready to Feed Formula
(for convenience, not for the price!), Baby Food
, Baby Soap
, Bottled Water
, and some odds and ends for making school lunches.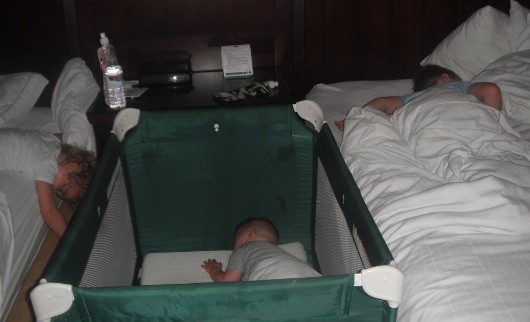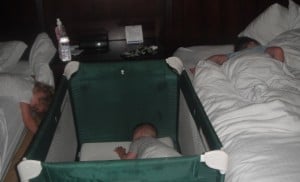 After our 1st of 10 trips to the pool, we called it a night. Everyone had their own bed at the hotel, but only James, in the crib, seemed to sleep alone each night. (Lucky little guy.)
The next day our "work" began. I had to go to the office and the kids had to go to daycare. My kids have had several caregivers and hoped from house to house and babysitter to babysitter, but they had never been to a daycare. I was nervous about how they would like it.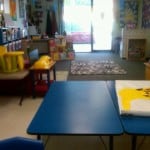 Let me just tell you that I left my kids at daycare for 9 hours each day, and when I went to pick them up, they complained because they still wanted to play. Scripps Exploring Academy is really well run and a lot of fun for the kids. Baby James was not too sure about it at first, but after a couple of days, he was an old pro.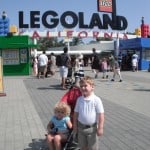 When the weekend rolled around, we headed out on more adventures. On Saturday it was Legoland and then Seaport Village downtown. We don't usually do theme parks, but I was happy to take my Lego enthusiast. Fortunately my kids are young so there was no interest in waiting in the 45 minute lines for the roller coasters. The kids played in the play zone, rode a few rides and admired the Lego sculptures.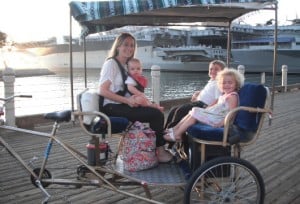 We finished around 3:00pm and wanted to fill our day with more fun. We headed down to Seaport Village (one of my favorite San Diego attractions). Here we admired the Navy ships across the water in Coronado and took a pedicab over to see the Midway. Joe was very proud that his daddy used to work on these giant ships.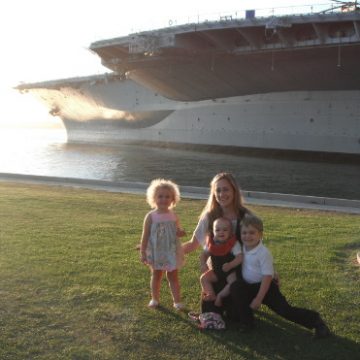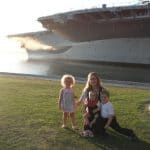 On Sunday, we went to Sea World. This trip was sort of an afterthought, but turned into the highlight of the trip. We had never been to Sea World but were delighted to find all the exhibits that let you interact and touch the animals. Here we petted dolphins and stingrays, held starfish and got soaked by Shamu. It was awesome.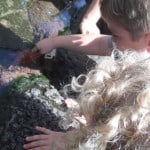 Again, we finished around 3:00pm, and we had a special request to ride the horse and carriage in Seaport Village. We made the short drive from Sea World to downtown and rode the princess carriage. $30 was a little high for our short trip, but Princess Brooke was elated.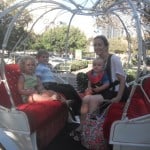 Monday meant back to work and back to Scripps Exploring Academy. And it also meant the flu. Brooke caught it first. On Monday night I was wondering how on earth I would go to work and take care of my sick girl. By Tuesday morning, I had the answer. I also had the flu and knew we'd be staying at the hotel together. And, then it got better. Daycare called and both James and Joe were also throwing up. Somehow we managed to get everyone back to the hotel, lock ourselves in, and do our best to take care of each other.
By some miracle, we all survived and rewarded ourselves with work, daycare and the mild Pho Ca Dao Vietnamese noodles on Wednesday.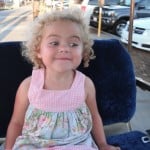 A few days later, our trip came to an end and we headed back to Houston. You may have seen me at the San Diego airport. I was the single mom, with 3 kids, getting the full pat down at security. With this, I felt that I had given my kids the full travel experience!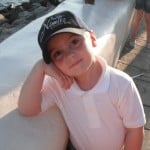 The hardest part about this working trip was the evenings. My work does not usually wrap up at 6:00pm, but after 6:00pm it was just me and the kids. We usually ate dinner, went swimming and headed to bed. Once the kids were asleep, I'd get back online and do some more work.
Even with the late nights and with the flu, I'd do this trip a hundred times over. I just love my 3 little kids and am happy for all of our little adventures. Missing them for another couple of weeks, while on yet another business trip, would have been far worse than the lack of sleep and the flu combined.