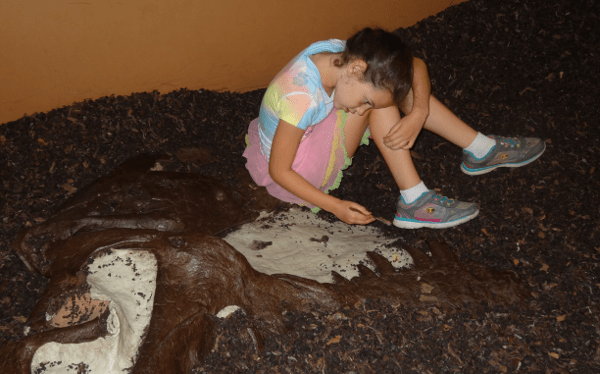 The Houston Museum of Natural Science at Sugar Land
13016 University Blvd
Sugar Land, TX 77479
There are so many wonderful places to take kids here in the heart of Houston (museums, the zoo, amazing parks, etc.) that I find myself rarely venturing outside of my few mile radius comfort zone. All that is about to change though, at least for the next few months.
Every summer I set a goal for myself of doing a different adventure every week with the kids. Last summer it was visiting a new park. This summer we're going to be exploring the greater Houston area by going beyond the Beltway.
Our first excursion for this new project was to the Houston Museum of Natural Science at Sugar Land. When we first arrived it was immediately obvious that the satellite location is much smaller than the main museum near Hermann Park in Houston. However, we spent the better part of a morning leisurely exploring it and the kids would have been happy to stay even longer.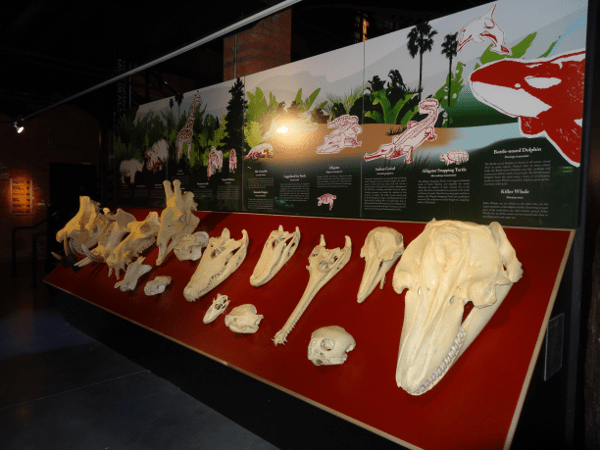 First we spent some time looking at the exhibits on the first floor. These included petrified wood (much more interesting than it sounds!), live frogs and toads, an array of skulls, giant geodes, and florescent minerals.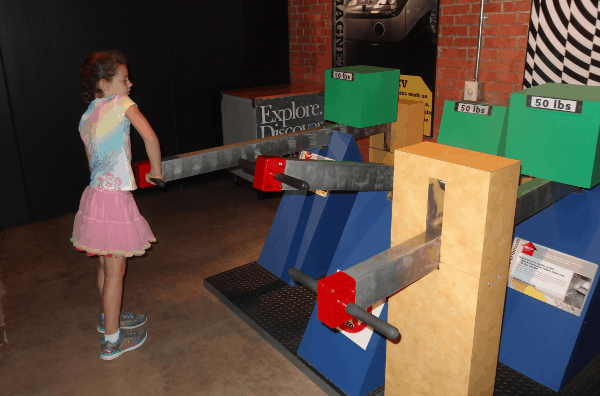 Then we headed upstairs. This is where the kids got to do some hands-on science to in the Discovery Works area. They experimented with levers, pulleys, gears, electricity, light and sound and hopefully learned something in the process!
Upstairs is also where the dome theater is located. Sit back in chairs or relax on the floor as your show is projected onto the ceiling of the dome. Shows are scheduled every half hour and there is a variety to choose from. One neat thing we learned is that if your group is the only one there at a particular show time, or if there are just a few groups and everyone agrees, you can request to watch a show other than the one scheduled.
Off to one side is a small hall of Paleontology. This features a giant sloth, Megalodon jaws, and several dinosaurs. At the end are numerous trilobites and other marine fossils.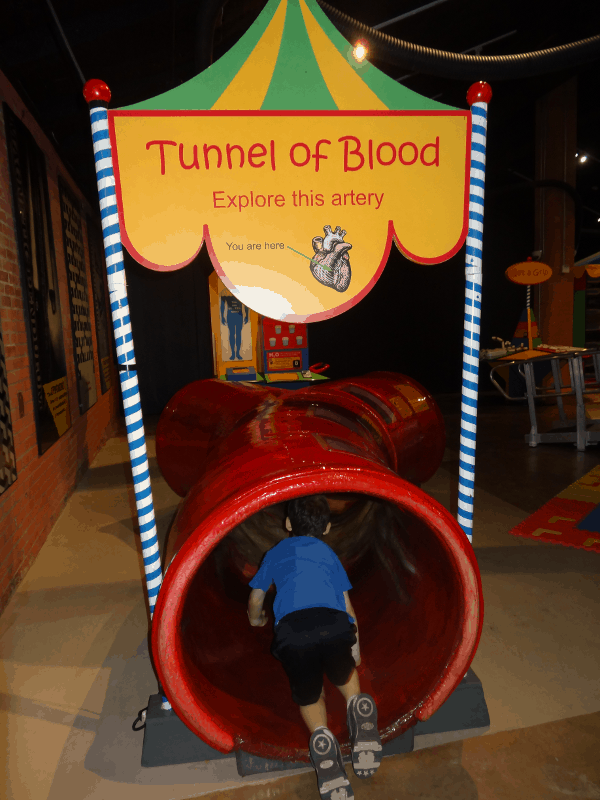 We also purchased tickets to the temporary Body Carnival Exhibit and had a great time trying everything out. We put on goofy glasses that changed our perception then tried to walk along a path, balanced while walking a plank that got thinner and thinner, pulled strings to see how our fingers flex, walked through a dizzy tunnel and more.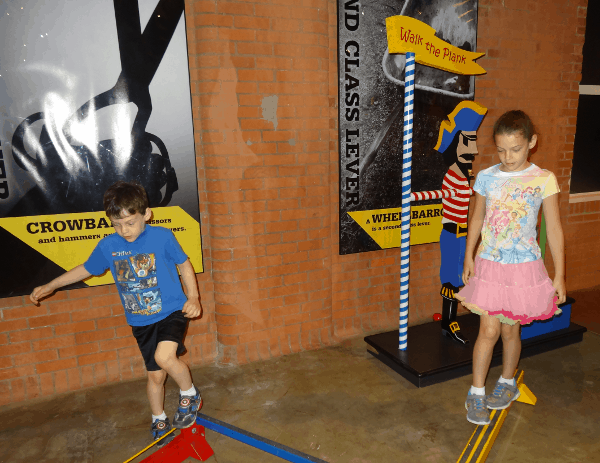 While we were upstairs we also enjoyed looking at the pictures on the walls. At one end are images from the Hubble telescope, and at the other are fun optical illusions.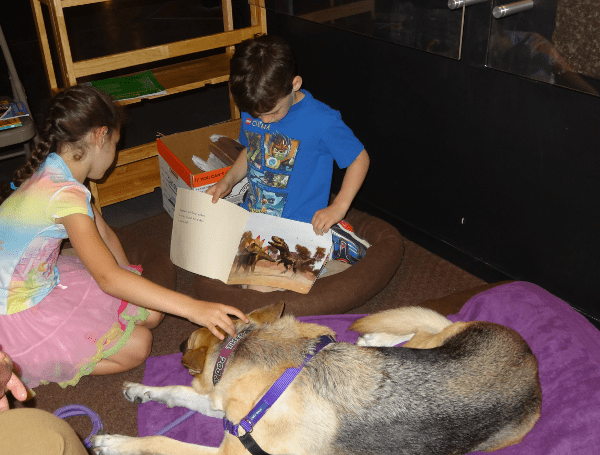 That about covered it as far as exhibits go, but on way out the kids saw a dog in the museum and we had to go find out what that was about. It turns out that every Friday and Saturday from 10AM until 11AM trained therapy dogs are brought in so that kids can read to them. This is done to help the kids become more confident readers because the dogs aren't critical of any level of reading ability. My daughter thoroughly enjoyed reading to Jasmine while my pre-reading son simply showed her the pictures and told her what his interpretation of the story was.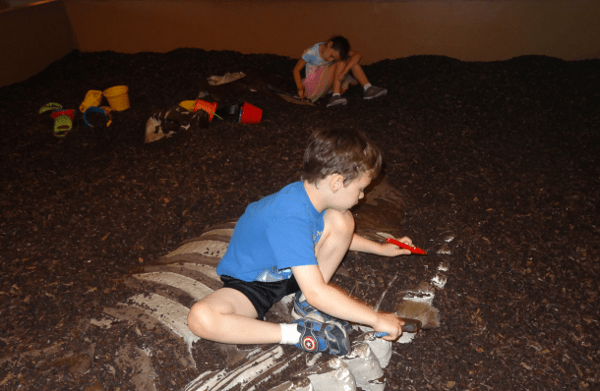 After that the kids asked if they could go to the dig pit. I hadn't planned on paying an additional fee so that they could go "discover fossils," but they talked me into it and I'm glad they did. The dig pit is a large walled-in area full of rubber mulch (there is a different area for ages 2 and under that has plastic balls instead).
In a few areas the replica fossils are sticking out a bit and this is where they started their excavations. They used shovels, buckets, and brushes and managed to find the three fossils shown on the laminated page we were given. We also found a few others that weren't marked. Even though we were there for quite a while, it was still difficult for me to convince the kids that we really did need to leave.
So, in summary, HMNS Sugarland is a lot smaller than the main museum, but there is plenty to do there. The many hand-on activities for the kids were definitely our favorite part. Also, it wasn't crowded at all. When we arrived just after it opened on a Friday morning there were only a couple of other families there so it felt like our own personal museum. When we left at lunch time there were definitely more people, but it still wasn't too crowded.
One final comment: If you are thinking about visiting HMNS Sugarland and would like to also visit the Hermann Park location sometime in the next year, I highly advise getting a museum membership. Not only are the permanent exhibits in both locations free to members for an entire year, but the temporary exhibits are also discounted and so are tickets to the giant screen, planetarium and butterfly center at the main museum. For a family of four the membership pays for itself in just one visit to each location. For more information about memberships go here.
I hope your summer is off to a great start; ours certainly is! Look below for the HMNS Sugar Land Giveaway!
Members:
Main exhibits: free
Body Carnival: $2
Dig pit (ages 3 and over): $5
Dig pit Jr./ball pit (ages 2 and under): $3
Non-members:
Main exhibits: $12/adult, $9/child
Body Carnival: $15/adult, $12/child
Dig pit (ages 3 and over): $5
Dig pit Jr./ball pit (ages 2 & under): $3
The Houston Museum of Natural Science at Sugar Land has generously donated a 6 pack of tickets, which include the Dig Pit and Body Carnival!
Sign up to win them below!
**Update:  Congrats to Maria T! She won 6 tickets to HMNS Sugar Land!!**
Giveaway closes on June 13, 2014 at 9:31pm.
Official Rules: http://wp.me/P2efXF-5lj