Hi from
Pranika
! We are a family of four that enjoys eating and cooking. My girls ages 6 and 3 love to help in the kitchen as well.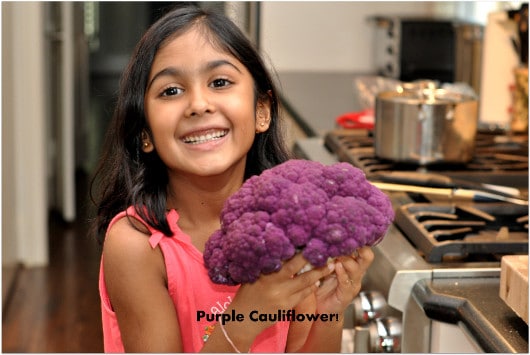 Now that school has started back up again, I need some delicious, nutritious meals that my kids will eat. But I also need some "super" type foods to help fight all those germs and colds that school seems to bring.
We call this one of our "super meals." Bean soup and the super sides! It is gluten free and can be vegetarian depending on the broth, not to mention chockfull of vitamins. I usually use Pacific brand broth in my cooking as its the most flavorful broth out there, not to mention organic.
This is a nice Sunday meal for us as its not quite as fast as weeknight dinners, but not overly involved either.
Start on the soup and once it's cooking, then work on the sides, cauliflower first, then broccolini. When the soup is done, you can turn off the heat and leave it on the stove until the sides are ready.
My girls help peel garlic, throw stuff into the soup pot, mix the cauliflower, juice lemons, and stir! They also LOVE to taste test along the way.
Happy cooking & eating!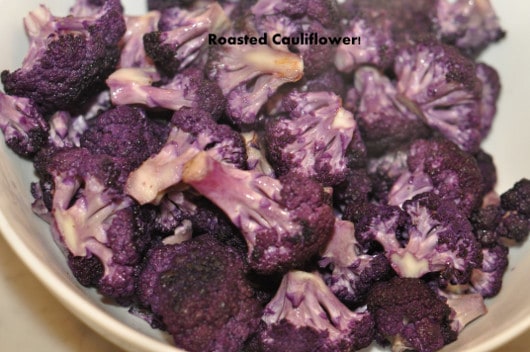 Sautéed Broccolini with Lemon
2 heads Broccolini
½ tbsp olive oil
Juice of 1 lemon
Rind of ½ lemon, grated
⅛ cup water
½ tsp salt
Pinch of pepper
Wash broccolini and cut into florets. (Stems can be peeled and eaten raw; usually this is too time consuming and I just compost them!). Heat pan to medium heat and add olive oil, salt, pepper, lemon juice, and grated lemon rind. Heat for 1 minute. Add water and broccolini and cover pan. Cook for about 6-8 minutes or until broccolini is to desired tenderness. Serve & eat! Serves 5-6. This is a favorite side dish in our house. We almost never have leftovers and my big girl always has seconds or even thirds!
Roasted Cauliflower
1 head cauliflower
⅛ cup olive oil
¼ tsp salt
⅛ tsp pepper
Pre-heat oven to 375 degrees. Wash cauliflower and pat dry (cauliflower should be mostly dry so that olive oil and s&p stick to the florets). Combine florets, olive oil, salt, and pepper in a large bowl. Spread cauliflower in a non-stick cookie sheet and put on the top rack of the oven. Roast for 15-18 minutes. Roasted cauliflower has great, natural sweetness and doesn't need a lot of stuff in it! You can use any color you want. My girls absolutely love purple and I happened to see it at Central Market; they thought the color was very cool. Usually, we just use the regular old kind. Serves 6-8.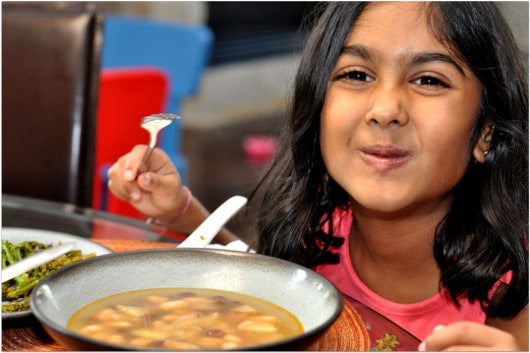 Bean Soup
1 can cannellini beans (15.5 oz), drained and rinsed thoroughly
1 can black beans (15 oz), drained and rinsed thoroughly
1 32 oz box/can chicken or vegetable broth (my favorite brand is Pacific)
2 ¼ cups of water
1 ½ tbsp olive oil
⅔ tsp salt
¼ tsp pepper
¼ tsp fennel seeds (optional; I feel the fennel seeds give a unique depth and flavor to the dish)
¼ teaspoon chili powder
1 clove of garlic, finely chopped
½ small onion, diced
2 medium sized red potatoes, diced into bite-sized pieces
In a medium sized stainless pot, heat oil on medium heat. Add onions and garlic and cook for about 3 minutes. Stir often to prevent burning or sticking. Add spices and potatoes and cook for 1 minute. Add beans, broth and cover. Turn heat to medium low. Cook for 10 minutes. Uncover and check thickness of soup. I usually add ½ cup of water at this point so the soup is not overly thick. Cover, turn heat to low and simmer for about 7-8 minutes more (spoon a potato out, taste and turn off the heat when it tastes delicious to you.) Serves 6-8. Optional: for a little acidity and a tiny punch of flavor, we add a few drops of Louisiana hot sauce as we sit to eat. It's not very spicy at all; the girls eat it as well and the flavor is even better!