Address:  140 Heights Blvd, Houston, Texas 77007
Cost:  Free!
Appropriate Age:  Any Age!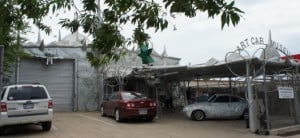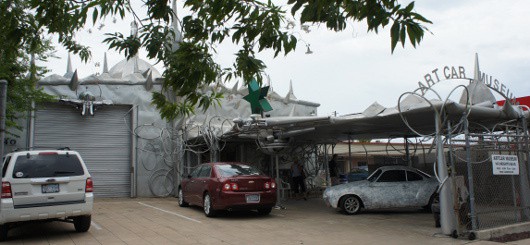 This is Alex!  My kids, ages 6 and 4, and I are on a mission to discover fun things to do in the Heights area. This week we visited the Art Car Museum and boy am I glad we did!
I can't believe I've put this trip on hold for so long! It's amazing and you can always expect to see something new. If you haven't been here yet, I strongly suggest you go. First of all it is FREE!
They are open Wednesday through Sunday, 11-6pm. From the moment you enter the gates you can see how they've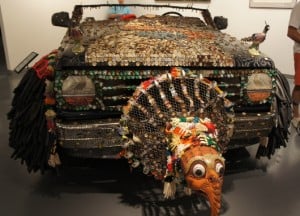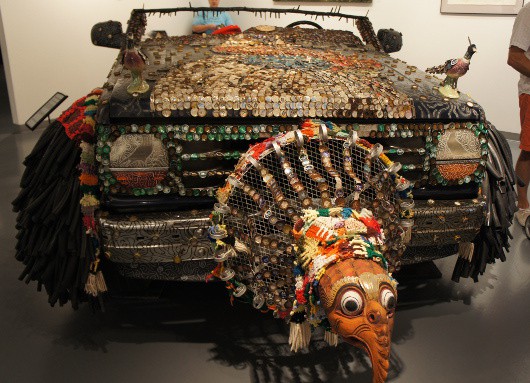 turned ordinary medal into creative pieces. From the skeleton biker to the design of the car port.
As you walk in to the museum you are greeted by a volunteer who will introduce you to the current art being displayed. They not only have art cars but they also have about 3 other artists' paintings and sculptures on display throughout.
The day we went we saw 2 of the 4 cars that took first place at the 2013 Art Car Parade. The 1 my daughter was a huge fan of was called "Tired & Feathered" by Joe Haden. This car was unbelievably detailed. The exterior was decorated in bottle caps, while the interior was decorated in colorful quilts and pillows. The tires looked to be covered by the inner tubing of bicycle tires. And I cannot forget the big turkey on the front bumper. I could totally see why this car took 1st place.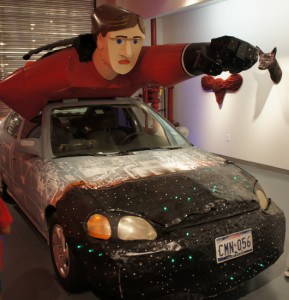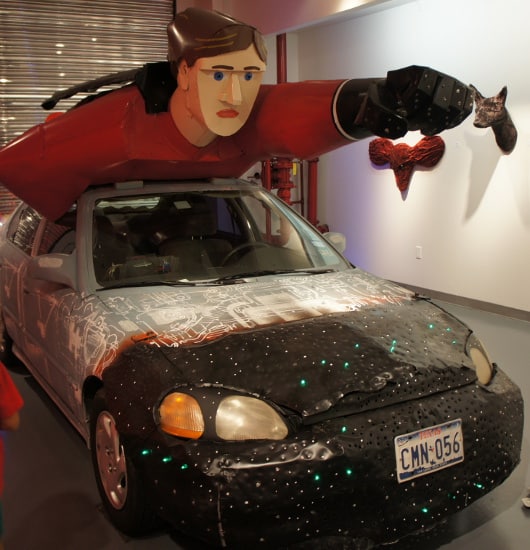 The car my 4 year old son loved was the superhero car. This was a superman inspired car called "Heroicar" by Andy Hazell. The huge superhero sits atop a '96 Honda Civic. I can only imagine how difficult it was to drive this along the parade route.
The 3rd car we saw was called "Gartenzwedgland" by Magda Boltz-Wilson (aka the Gnome car). The garden gnomes took over a 1979 VW Beetle and it looks so effortless. This car walked away with 2nd place.
You also do not want to miss the interesting set up of the televisions in the back. While the arrangement of the tv's give a kaleidoscope effect, you will see a short film on how some of the artists were inspired to create their cars and some will even take you through the steps of creating these cars. Yet another very interesting aspect of the museum.
You will never get bored visiting this place again and again. This is because they change out the cars every three months. I was told to come back in September to see a whole new exhibit. Also for those aspiring artists they have open call shows once a month, where artists are able to come and display their art work.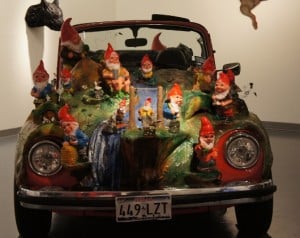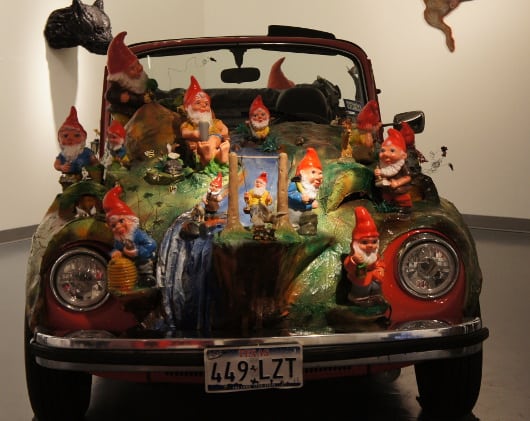 One downside to the museum is the very limited parking. They only have three spots in front, with another couple spots along the street. We ended up parking in the parking lot on the other side of Heights and walked along the jogging trail to the museum. It wasn't raining so no big deal.
All in all, this trip was awesome, my kids realized that art isn't just painting and clay work, it comes in all sorts of forms and made with anything. This is one unique museum with something interesting to see every time you visit.
This is a definite must – do this summer! It's FREE and it's FUN!  To see more reviews on the Art Car Museum, go HERE!