Easy to Assemble Activities for Kids… All Made with Dollar Store Supplies!
We are really good at getting out into Houston and exploring the city... and really bad at making our own fun at home. I'm not at all crafty or creative and often run out of ideas for at-home entertainment. If it's not Legos or books, I usually don't have any new ideas...
But recently I was challenged by Kat Cosley at ABC13 to see what I could create with supplies from the Dollar Store, and I suddenly have 9 ideas that are new, fun, reasonably priced and easy enough for me to make.
Nine Easy to Assemble Activities:
Ice Eggs
Hula Hoop Tents
Pool Noodle Hurdles
Noodle Sprinkler
Doll Swing
Treasure Boxes
Coke Explosion
Tic Tac Toe Frisbees
Doorstep Surprises
Look below for easy instructions on how to put these together in just minutes... And Watch ABC13 for the video clip!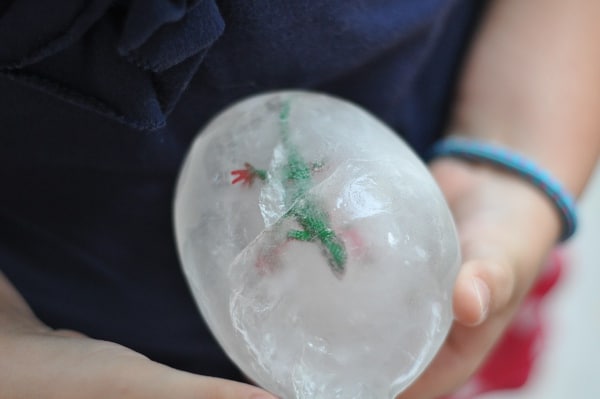 1. Ice Eggs
Supplies: Balloons, Small Toy & Water
To make these frozen eggs, just squeeze a small toy into a balloon. (I used little lizards and frogs.) Fill the balloon with water, tie the top and put in the freezer.
Once frozen, cut off the balloon, and let the kids play with the ice eggs outside!
2. Easy to Assemble Hula Hoop Tents
Supplies: Hula Hoop, Twine, Safety Pins, Bed Sheet
These tents are much easier to make than I expected! Just take the bed sheet, loop it up and around the hula hoop, and safety pin the sheet to itself. (You're make a little pocket like a curtain... the sheet is the "curtain" and the hula hoop is the "curtain rod".)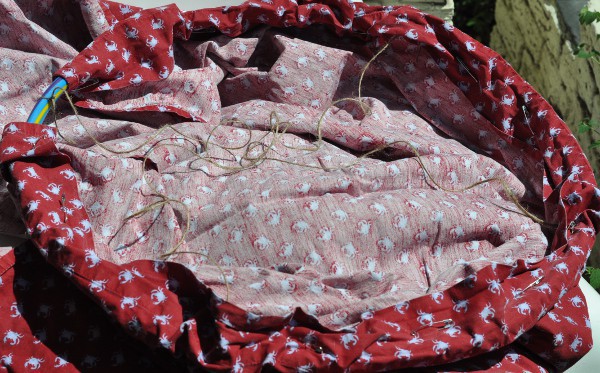 Use the twine to make an "x" on the top of the hula hoop, and tie it in 4 places to the hula hoop. This will hold the tent up.
Have a picnic or read a book in the tent.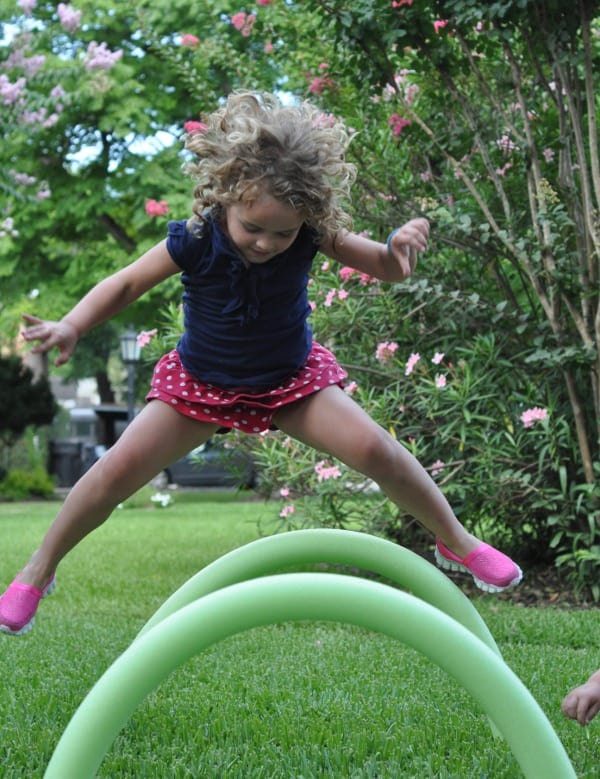 3. Pool Noodle Hurdles
Supplies: Pool Noodles, Kabob Sticks
This is easy and fun. Put two sticks into the grass and loop the noodle up and around the sticks.
These make a great obstetrical course and you can jump over or crawl under. (Just be careful no one will fall on sharp sticks!)
4. Noodle Sprinkler
Supplies: Pool Noodle, Bottle Cap & Hose
Poke holes in the pool noodle with a pencil or pen or screw driver or... On one side, use a cork or water bottle cap as a stopper. Connect the hose on the other side.
The water does not spray super high, but the kids loved playing with the sprinkler.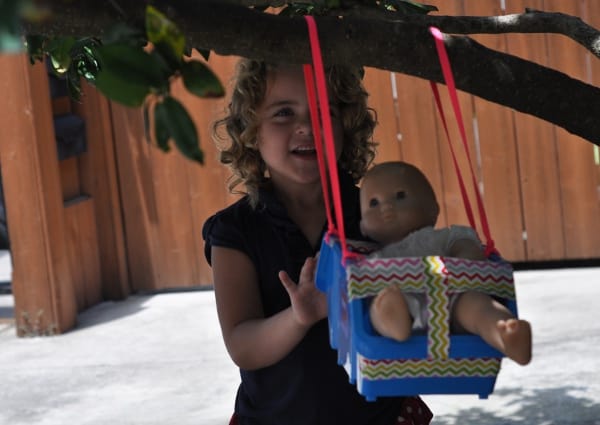 5. Easy to Assemble Doll Swing
Supplies: Stackable Bin, Duct Tape, Shoe Laces
Use the duct tape to make the seat belt for the swing. Loop the shoe lace through the holes in the bin (which are already there because it is a stacking bin), and hang it to a pole or branch.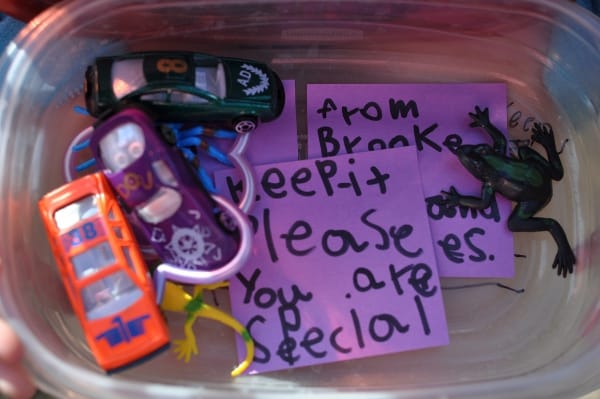 6. Treasure Boxes
Supplies: Plastic Containers, Markers, Small Toys
Teach the kids about random acts of kindness with these treasure boxes. Just put together little boxes with Dollar Store toys, write a special note, and bury them at the local park. Just think how excited someone will be to uncover treasure at the park! Read more about these HERE.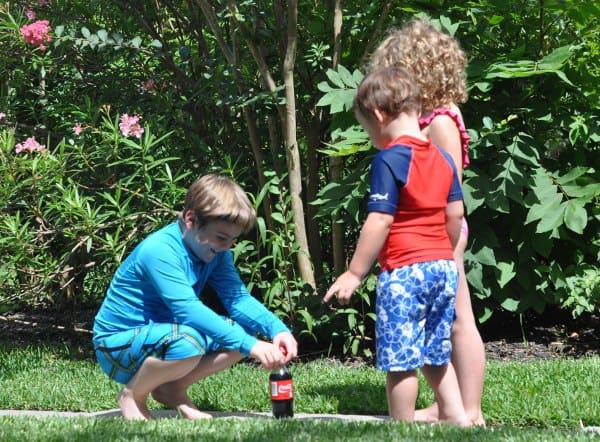 7. Coke Explosion
Supplies: Diet Coke, Mentos, Sheet of Paper
This science experiment is really fun! Diet Coke and mint flavored Mentos work best.
Roll up paper to make a tube. Fill it with the entire pack of Mentos. Open the Diet Coke, drop in all the Mentos at one time... and watch out!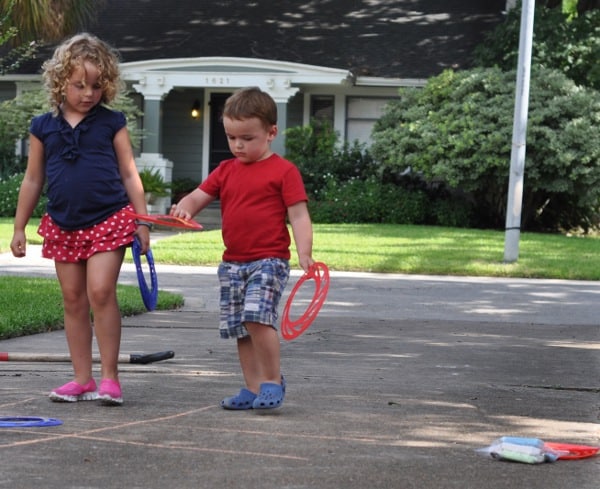 8. Tic Tac Toe Frisbees
Supplies: Sidewalk Chalk, Frisbees
This is easy. Draw a tick tac toe board with chalk and use frisbees as the pieces.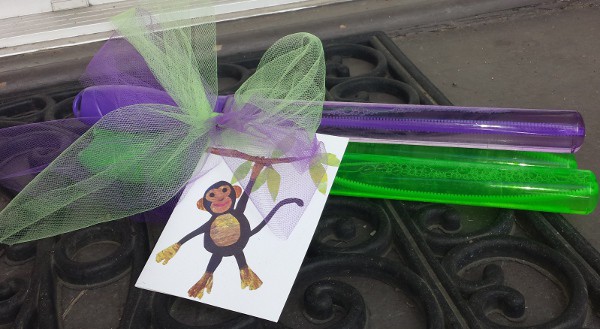 9. Doorstep Surprises
Supplies: Bubbles (or Small Gift) & Note
Just like "Booing" friends at Halloween, leave a special surprise at your friend's doorstep this summer. Have the kids write a nice note, attach it to your bubbles or small toy, and leave it for your friends to find!