Are you planning to visit Space Center Houston? Houston mom, Ashley, just took her kids and has tips for strollers, lunch and exploring this giant place!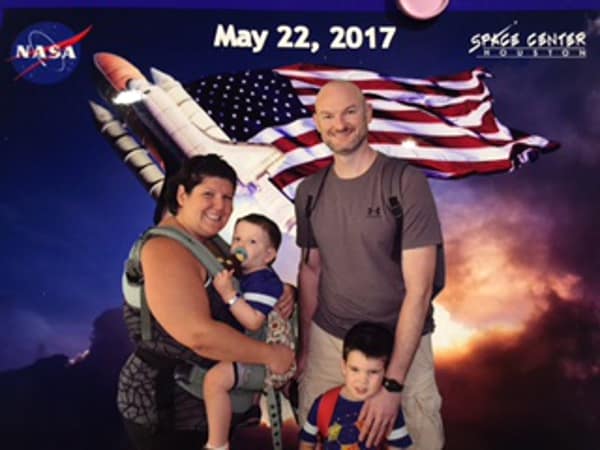 Depending on who you ask in my family (husband, Patton 4 and Crosby 2), the best part of our
mini staycation
is a toss up! First we spent a whole day on the
Kemah Boardwalk
, riding rides and eating too much food.
We stayed the night at the Kemah Boardwalk Inn which was a nice hotel within walking distance of everything you could want to do on the Boardwalk.
The next day we went to NASA and it was truly awe inspiring!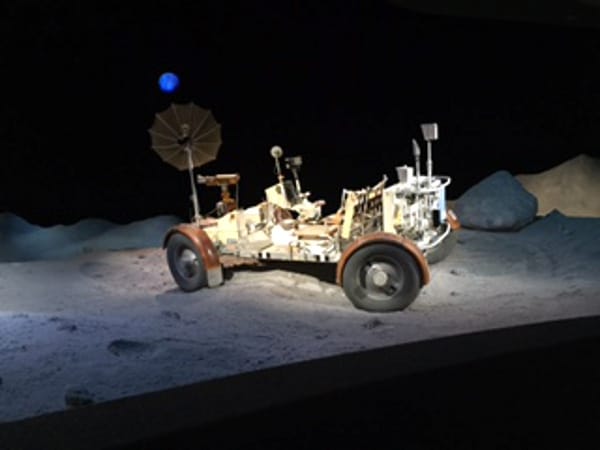 The Space Center entrance fee is by far one of the more expensive things we paid for during our mini staycation. Luckily our sons were both free (because 4 and under are free).
My husband and I had not been to NASA in over 8 years. At first we thought it was going to be a bust until my son Patton lead the way. We walked (or should I say ran) through most of the exhibit areas until he saw the virtual reality simulators. So after promising he could ride after lunch, he finally slowed down and allowed everyone else to enjoy the surroundings.
We had an overly expensive lunch in the food court because outside food is not allowed. If it had not been raining off and on all day we could have picnicked at the tables located by the front entrance. We did however bring in water bottles with no issue.
There wasn't really anything specific that I would say stood out as extraordinary because it was all pretty interesting. We rode the blue tram tour and saw the historic mission control and the Saturn V rocket. My husband said that if you haven't seen the Saturn V it is a must! The tram ride was a long (a little over an hour) for an overly tired 4 and 2 year old but they hung in there.
A few pointers:
Arrive at opening so you can see everything!
There are lockers outside the building but there is no stroller storage or anything like that. So if you ride the tram you can either park the stroller unattended or you can bring it to your car. I harness my 2yr old on my back instead of messing with a stroller.
No outside food is allowed (but we did bring in bottle water). You can picnic outside.
You can buy either size drink cups and they are free refills but if you buy the souvenir cup it can be used every time you go to NASA.
Make sure you plan ahead and schedule the tram tour you want. If you do a walk on, your wait could be an hour or more.
If you want to skip the gift shop like we did, pre-purchase space themed books and toys to be given during the trip. We bought Patton a rocket backpack, dye-cast space shuttle, and 2 books. Crosby got a lego Duplo rocket set. They were so happy with what they already had that they never even thought to ask for anything from the gift shop.
Our favorite spots were the old displays with the moon rock samples, the astronaut suits, and the lunar lander display. It caught our 4 year old's imagination!
It was a very long day that seemed to end in a rush to see everything. Next time we will come at opening instead of 11:30am when we arrived.
At first glance it seems very overwhelming, but as you travel to each area you find there are a lot of little things going on. There are displays, videos and a few odd and end activities in each area.
I know our children are younger than the target audience but my husband and I were disappointed in the corporate sponsorship of the angry birds area with tablets. It took away from the reason we were there... SPACE EXPLORATION!
Next time we will be sure to look for the old displays with the moon rock samples, the astronaut suits, and the lunar lander display. This was the one area that really caught Patton's imagination! It didn't have all the bells and whistles and electronics of some of the other areas, so it left more room for discussion and reflection. You would be surprised how much a 4yr old can retain about a topic when his interest is peeked!
With all the interference from technology (cellphones and tablets), NASA was surprisingly a great place to unplug, unwind, and enjoy traveling to a different world. We will definitely go again!