Are you heading to Kemah for some waterside family fun? If you are like me, you'd rather get advice from another parent than from advertising pamphlets... So when Houston mom Ashley came back from her little roadtrip, we asked her to tell us about it!
In her own words, here are Ashley's tips for visiting Kemah, with kids!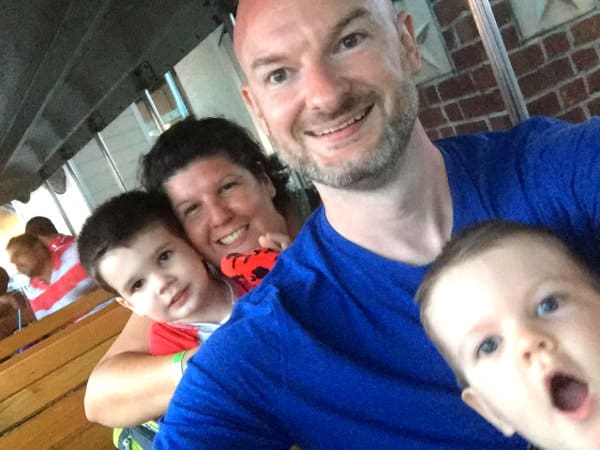 My family (husband and 2 sons, Patton 4 and Crosby 2) went to
Kemah
on Sunday and stayed at the
Kemah Boardwalk Inn
. We bought a Groupon for 2 all day ride passes and a $50 meal card to any Landry's. ($172 = 4 all day ride passes + $100 meal card). Let me tell you, it was AMAZING!)  Be watching
Groupon
for when it pops back up!
It was a mellow rainy off and on kind of day. We requested early check in with not problem. So instead of checking in at 4pm, we checked in at 11am! (Being nice goes a long way!)
We had lunch at the Cadillac Grill. The food was good, the staff was okay. But let's face it, you only eat outside on a patio for the view, not the service.
After a brief nap in the hotel, we rode rides until around 4pm. The carousel and the train were the only things I brought Crosby (2) on but they do have a small ferries wheel as well. My husband and Patton (4) rode almost all the rides he was tall enough to ride (over 48").
We had dinner at the Aquarium Restaurant with a great view of the tank and by a window so we could see the rain and the waves. The food was great and our server was very accommodating and attentive. Patton decided he didn't want to pet the stingrays because rides were more important.
So round two of the rides included more train and carousel rides for Crosby and myself, and more of everything else for Patton and my husband. We ended the night at the ice cream shop located a few doors down from the hotel entrance. We sat outside on the patio and listened to the band finish up for the night.
On a side note of extra goodness in Kemah.....There was an attendant sweeping by the ferris wheel while Crosby and I watched my husband and older son Patton ride. The attendant saw Crosby was interested in the broom, so the man said hello. I apologized and explained that Crosby is autistic and nonverbal and probably wouldn't acknowledge him.
The man smiled, said that was okay, and went along with his business. I looked up to watch the ferris wheel again and when I looked back down, the man was on his knees talking to Crosby. They played and made sounds at each other while giggling. It was a wonderful feeling to have a stranger take the time to not only acknowledge Crosby, but to go out of his way and play with him.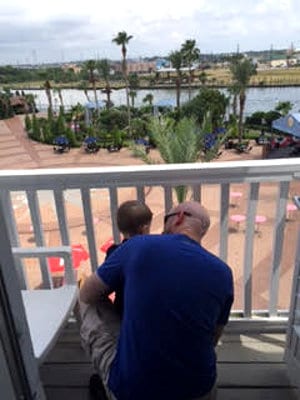 We woke up Monday morning and walked next door to the little restaurant and had a wonderful breakfast, loaded the car, and set off for our next adventure,
NASA
!
We spent more money than we do on a typical day, but but it was our one night staycation splurge... And pretty small splurge for a vacation. We are already planning our next trip to Kemah in the fall after school gets back in session!