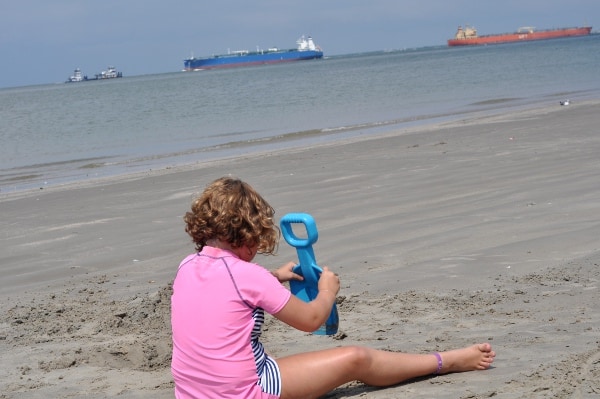 What in the world is the
Texas City Dike
and why is there a sign off I45?
I've been asking this on every trip to Galveston, so we went to find out.
Well, now I know that the Texas City Dike was built to protect the Texas City Channel from cross currents. It's over 5 miles and has boat ramps, picnic shelters and beach.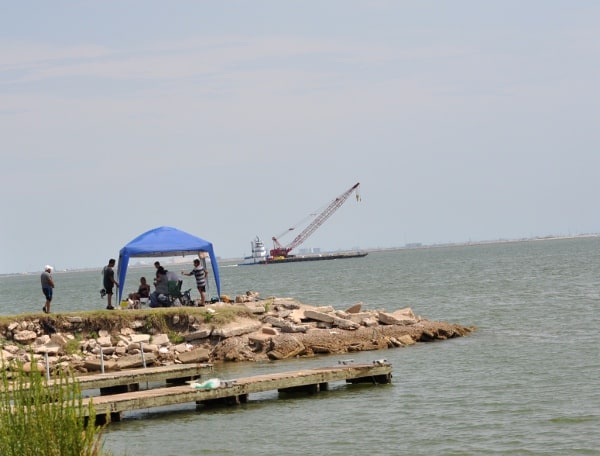 We went on a weekday afternoon and just drove up, paid $5 for our day pass (because we are not Texas City residents) and asked for some tips.
We learned that the beach is at about mile 3, not to park too close to the water if we drove on the beach… and when we went, we were told there were a lot of jellyfish.
As we drove out, we saw a whole bunch of boats, a whole bunch of fishermen and, in the distance, a lot of cargo ships.
At about mile 4, we pulled on to the beach with just a few other cars. Here we found a lot of room to play and a whole to of shells (and a crab!) for our favorite
Swap Shop
!
We did not plan to swim because of the jelly fish, but there were other families splashing in the water. And as we were digging a giant hole and ignoring the water, the wildest thing happened… and my kids have been talking about it for days.
As we were digging and the baby was crawling, we heard the people next door squealing and a big wave crashing. We turned around to see the tide rushing up to us.
We were parked at least 20 feet from the wet sand, but the tide came well past the car. I had been able to grab the baby and get the kids out of the way… but it was memorable!
Just before this happened, two cargo ships were passing, so I suspect this had something to do with the tide. (And if you know, tell me!)
After this, we moved the car to the very farthest point from the water and went back to look for shells… and found a ton. (But there were also new jelly fish on the beach, so we wore shoes and stuck together.)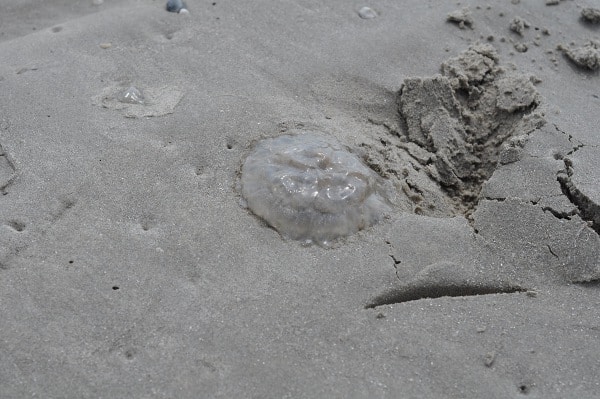 We did not stay more than an hour, but the kids have been talking about that tide ever since. If we went back, I would park far far away from the water and stay on the sand. It was a fun place for finding shells and the
Texas City Museum
is very close by!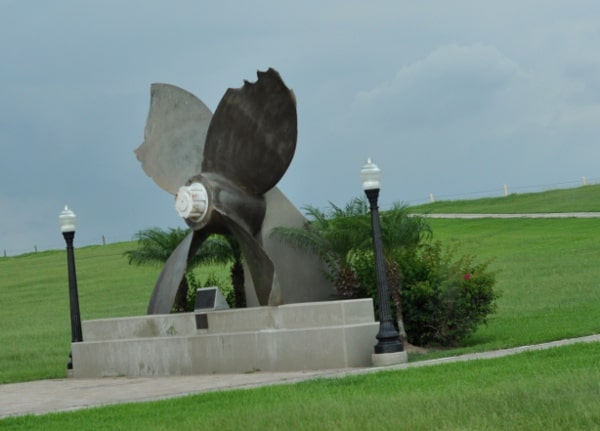 Find more to do in Houston, with kids: