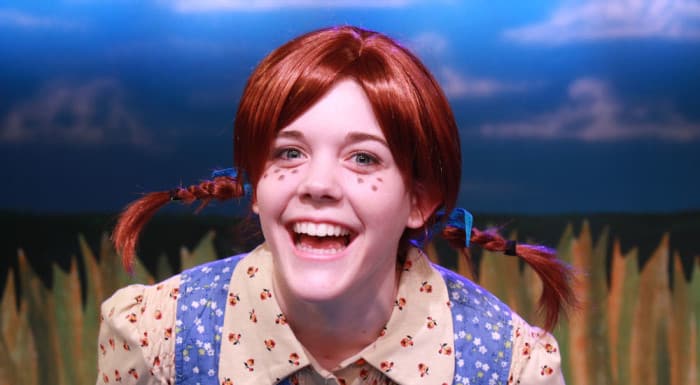 Main Street Theater, Chelsea Market
June 8 - August 3, 2014
Saturdays at 2pm and 5pm, Sundays at 2pm
Kids 3 and older
If there is one show you must see this summer, it's Pippi Longstocking: The Family Musical at Main Street Theater. It is an hour and a half of singing, dancing and giggling. Kids will be doubled over with laughter and parents will thoroughly enjoy this story from their own childhood.
Pippi Longstocking is at Main Street Theater's Chelsea Market location, on Saturdays and Sundays, through August 3. BigKidSmallCity has the great honor or sponsoring this production, and now that I've seen the show, I am even more pleased to be associated with Main Street Theater.
We attended on opening day, and for the one-time-only Pippipalooza party. We brought a couple of our friends and split up into two groups in the theater. As I looked across the stage at my son, during the police officer and tea party scenes, he was literally bent over, head on his knees, laughing. That's how good this show is.
Taylor Beyer is a great Pippi. She's new to Main Street Theater and did a great job as this mischievous girl. She climbed on roofs, ruined tea parties and scared off thieves with the greatest of ease. Shanae'a Moore, who we fell in love with as Alice in Wonderland, is sweet Annika. Scott Lupton is Tommy. When he came on stage, I heard the girl next to me whisper, "That's the Snail with the mail!" (from A Year with Frog and Toad)!
Marco Camacho was a hilarious Mrs. Pryss, in high heels and all. During the tea party, Joseph Redd (Mrs. Grandbery), Jonathan Teverbaugh (3rd Guest) and Marco Camacho had the audience roaring. I am pretty sure that 3 ladies, playing ladies, could not have gotten quite this reaction.
Beth Lazarou and Danny Dyer were a hysterical Cling and Clang. When Cling could not find Pippi in the barrel, I thought my kids might laugh themselves to tears.
I am always amazed that the small stage and small cast can go from house to school to tea party to circus and beyond. For this, I can only assume that Claire A. Jac Jones (Scenic Designer), Eric L. Marsh (Lighting Designer), Rodney Walsworth (Properties Design), Danielle Docwra (Production Stage Manager), Vivienne M. St. John (Theater for Youth Producing Director) and Rebecca Greene Udden (Executive Artistic Director) have super powers.
This summer, be sure to take your own kids to Pippi Longstocking: The Family Musical. Tickets are available for $13 and it will be an hour and a half that you will remember forever.