I have done my best to avoid camping for most of my life. I like showers and bathrooms and beds.
But now, with 4 kids, I have a confession... I love camping. I like how we work together to set up the tent, how we prepare meals together, how we sit around the fire and tell stories and how we are right next to each other for the whole weekend, with no distractions.
So more and more, I've found myself planning camping trips... which is still a little intimidating because I'm a parent preparing to take 4 little kids out in the woods and I have very little experience.
I do have a Cub Scout and an Eagle Scout in the family, but I'm the one that makes all the plans and packs all the bags and coordinates all the activities. This is why I jumped at the chance to participate in the Texas Outdoor Family program at the Texas State Parks.
When our sponsor, Toyota, invited us to the program at Brazos Bend State Park, I replied "yes" immediately.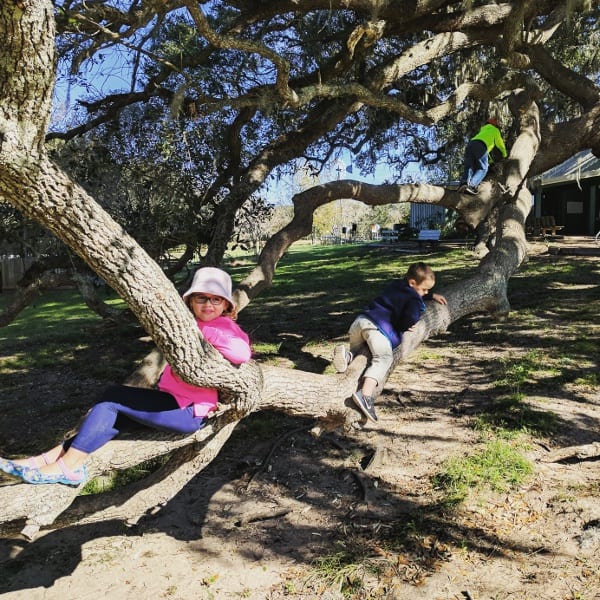 This program is designed to help families discover the joys of camping and Texas State Parks. All camping gear required for a stay in the park is provided and several rangers stay with the group for the trip.
And friends, Texas Outdoor Family was amazing.
Not only did we set up tents, make meals and build campfires but we went fishing and hiking, learned to geocache and made nature watercolors! Even my Eagle Scout husband said it was a great refresher on what you need to take kids camping.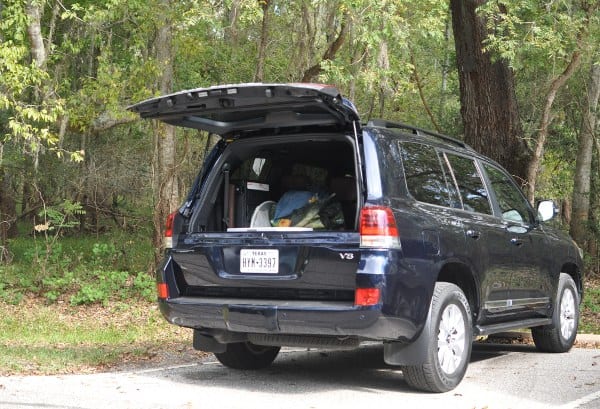 We packed up our
Toyota
on Saturday morning, drove out to Brazos Bend State Park and checked in with the rangers. They gave us lessons on setting up our tents and using our stoves and taught the kids about playing in nature and leaving no trace.
We set up our camp and made our lunch before rejoining the group at the nature center. After learning about snakes and alligators and fishing and more, we went for a hike and went back to our campsite to build a fire and make dinner.
With this Texas Outdoor Family, you can participate in as much or as little as you want. We did a lot of group activities... but even if we just did our own thing, it is nice to know the rangers are close by to help.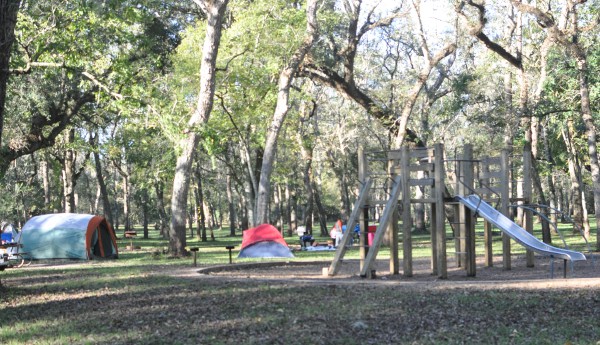 If you are thinking of heading out to the Texas State Parks, here is what you need to know:
Check for Texas Outdoor Family Programs HERE! (More are coming after the holidays!)
You don't have to participate in Texas Outdoor Family to enjoy the park! Anyone can visit Brazos Bend State Park for the day or the night!
The park entrance fee is $7/person over 12, regardless if you are staying the night or not. Entrance is free for Texas State Parks Pass Holder.
To camp, you can reserve a spot for $12… or pay as much as nearly $65. There are campsites, screened shelters and a primitive shelters. The Texas Outdoor Family fee included the campsite fee.
There are restrooms and showers near the campsites. (And ours was very clean.)
Whether you spend the night or not, you can visit the park, take guided nature hikes and visit the nature center.

The Nature Center has exhibits on the three ecosystems in the park, as well as on reptiles that live there.
The George Observatory is open on Saturdays from 3 to 10 p.m. The observatory is part of the Houston Museum of Natural Science.
The park has 37 miles of trails, some of which are stroller and wheelchair friendly.
There are alligators in some areas of the park. Be smart around them!

Gathering firewood is not allowed, but it can be purchased at the front of the park.
This park is not very far from downtown Houston. It seems like another world, but really, you could drive home and come back if you forgot something big.
It was hot on Saturday and very chilly Sunday morning. Be sure to pack for both!
Texas Outdoor Family loaned us some equipment and I packed up everything else I thought we might need… and listed it below. If you have essentials you pack on your trips, tell me and I'll add it!

What was provided with the program:

Tent for 6 people (This was a very nice REI tent.)
Lantern (But we still used our own flashlights and lanterns to see a little better.)
Stoves and fuel
Pots, fry pan, and cooking utensils
Equipment necessary for all activities (Like bikes and fishing poles.)
2 Cots and 4 foam pads (Our cots happened to be brand new.)

What we packed: affiliate links included

For the Campsite:
For the Fire:

Firewood (bought at the entrance of the park)
Lighter/Matches
Lighter Fluid
Leather Gloves

For Us:

Sun Screen
Water
Clothes/Toiletries
First Aid Kit (Band aids, Ointment, Anti-Itch for Bug bites)

Groceries

Bread
Peanut Butter
Marshmallows
Graham Crackers
Chocolate
Water
Eggs
Turkey Bacon
Pre-cut Veggies
Snacks (Granola Bars, Trail Mix)
Supplies for Foil Dinners

Foil
Tongs (for taking them off the fire)
Vegetables
Hot Dogs
Butter
Salt

Cooking Supplies:

Knife
Marshmallow skewers
Veggie Peeler
Cutting Board
Paper Towels
Paper Plates
Cups/Water Bottles
Plastic Bags (for storing food)
Cooler

More Supplies:

Biodegradable Soap (because we have a faucet)
Lantern/Flash Lights
Duct Tape
Pocket Knife
Hand Sanitizer
Trash Bags
Deck of Cards
Phone/Charger

Cold Weather Supplies:

Winter cap
Extra socks
Extra blanket

I Wish I Had:

A glow stick for the toddler. I'm serious. It was so dark by dinner that it would have been nice to have a glow stick on her back.
If you also want to work together, cook together, tell stories together and try something new together, check out Brazos Bend State Park or any of the Texas State Parks. And if you want some help getting started, check out the Texas Outdoor Family program!
Thank you Toyota for tell us about the program!