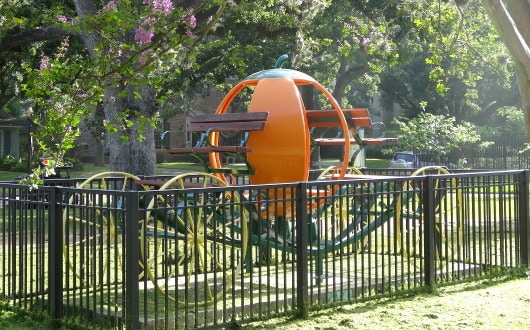 UPDATE:  This park has been renovated! See the AMAZING updates HERE!
Address:  3600 Locke Lane, Houston, Texas
Cost: Free!
Appropriate Age: Any Age
Reader Update, March 2016: You can climb on the pumpkin again! A recent remodel made the needed repairs!
This is Shanna! My kids, ages 6 and 4, and I are on a mission to visit a new Houston Park each week this summer. This week we kicked off summer at the Pumpkin Park in River Oaks!
I'm somewhat embarrassed to admit that this morning was the first time that the kids & I visited Pumpkin Park. We've been hearing about it for a couple of years, but somehow never made it the short distance from our home to see it for ourselves. This was definitely an oversight on my part because it is a nice park and the kids had a great time.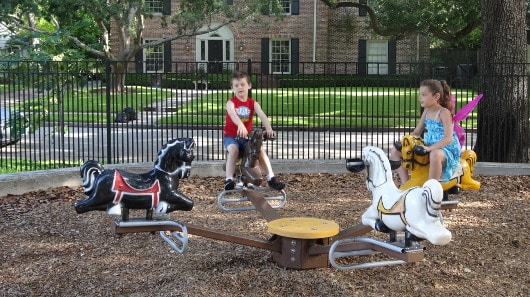 The first thing we saw after arriving was the pumpkin carriage that gives the park its nickname. The kids enjoyed looking at it for a minute or two but were a little disappointed that a fence around it stopped them from climbing all over it.
From there we went straight to the playground. I loved that a fence surrounds the playground area and that the oak trees provide plenty of shade. The kids loved the equipment, of course!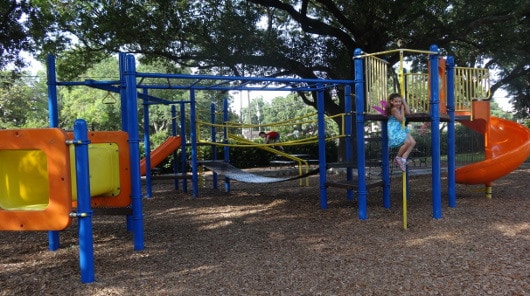 There is both a smaller play structure for younger children and a larger one for older children. There are also swings, a small sand area, a hill to play on, and one of those four-way spring horse things. We spent most of our time on the playground then took a tour of the rest of the park by way of the short walking track.
The community center has restrooms accessible from the outside (we didn't check to see if they were locked though) and right beside it is a small picnic area with a few tables and a barbecue pit. A little further along is a small basketball area, a sand volleyball court, and several tennis courts.
By then we were back to the front of the park and it was time to bring two hot and tired kids back home.
We will definitely be returning to Pumpkin Park soon, and the kids are already looking forward to our park exploration adventure next week!
&nbps;
Find More Houston Parks Here: