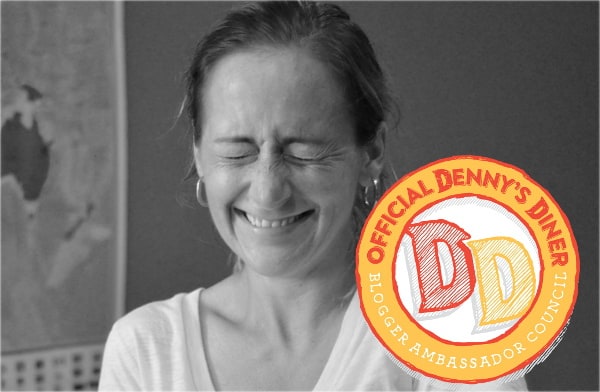 Last week I sat at a Houston
Denny's
and tried to lie-straight-faced to those that had hired me as a
Denny's Ambassador
. Their questions was, "What came to mind when I thought of Denny's?".
I tried to bite my cheeks and keep my face straight as I said, "Pancakes". But it wasn't long until I had the same crooked smile you can see on my kid's faces when they claim they brushed their teeth.
I don't think of pancakes. I don't even think bacon. I think of the dingy Denny's from my childhood, with old men at the counter and waitresses that obviously wanted to go home.
And because my lying-face looked ridiculous, I just blurted it out, "I think boring. I think of a dingy old diner where old men drink coffee and waitresses scowl." And immediately I decided that drinking my tea would have been a better solution for fixing my lying-face.
Fortunately another Ambassador (perhaps with better manners or more practice lying) spoke up and said only nice things about the establishment.
The fearless meeting leader then came back to me and he bravely asked what was dingy about the Denny's we were at? Well...
The Denny's we visited on I10 was actually quite nice. When I walked in, I was greeted enthusiastically by 3 employees and noticed the restaurant was very Chili's-esque with hardwood floors, a big modern Texas mural and power plugs at the booths. The waiters were enthusiastic and it was quite enjoyable to be there.
But still, this isn't what came to mind when I thought Denny's. I thought of the Denny's from the 1980s that my mom didn't want to visit.
Apparently I need to re-calibrate my brain a little, because the Denny's we visited wasn't anything like the 1980s Denny's. In fact, it's somewhere I'd like to visit when I'm not at the Ambassador's meeting. Especially on Tuesdays when kids eat free and my entire family can dine for just a few dollars.
So, not only did the meeting start with a crooked smiled, but it also ended with one. I get that same ridiculous looking face when I'm wrong about things.
This time I straightened it out by sipping my tea and eating strawberry pancake hush-puppies.