I am pleased to tell you I have accepted a position as
Denny's Blogger Ambassador
! This is funny, because as a kid, my mom refused to go to any restaurant that resembled a diner. It was only when she was away that my dad and I would sneak off to places like Denny's.
It has been a longtime family joke that my mom (also one of my favorite people in the entire world) was too snooty* for Denny's. Every time we would head out to eat, for at least the last 30 years, we'd bring this up. Still, despite our teasing, she refused to go.
I never had any luck changing her mind, but it just took my own kids 30 seconds of batting their eyelashes and smiling sweetly to get their grandma to Denny's.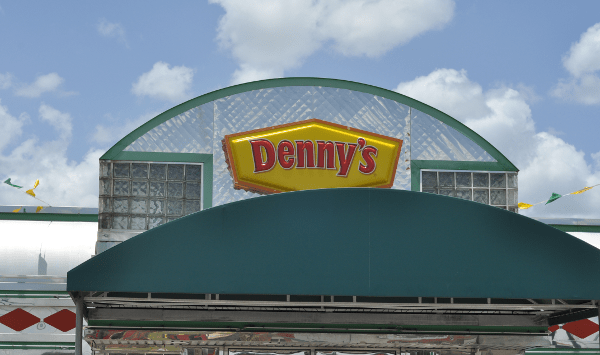 A few Denny's locations around Houston are in the shiny silver old-time diner building, complete with jukeboxes and bar stools. My kids got their grandma to this spot on Louetta and did not know quite what they had accomplished. I didn't bother to explain it, because they were busy figuring out how the jukebox worked.
We sat at a back table, under the old time diner photos, and the kids reviewed their menus while my dad and I smiled at my mom. The kids menus have pictures and descriptions for the kids to pick out their meal. They either pick a breakfast ($2.99 each) or they pick one lunch item with one side ($3.29 each). It was so easy that the kids did not need my help and I could continue to watch my mom.
She was busy ignoring me and helping to color National Geographic Kid menus and reading weird facts to the kids. Did you know that a dolphin's eyeballs move independently of each other? They can look up and down, at the same time! I am pretty sure she giggled along with the kids, which made me suspect that she was enjoying herself.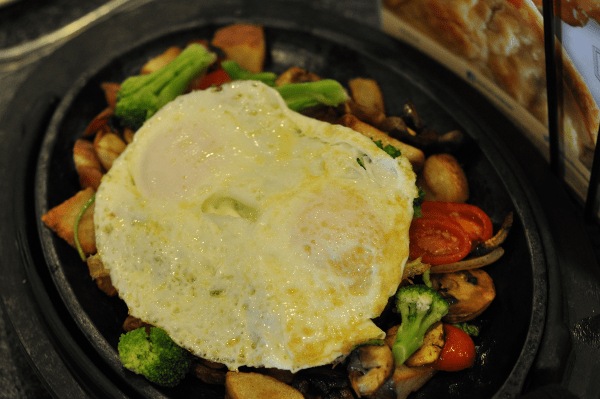 The kids ordered a Grand Slam, Spaghetti with Goldfish and Cheeseburger with French Fries. My mom and I both ordered the Fit Fare Veggie Skillet, with assorted vegetables and egg.
The food came quickly and the kids dove into their meals. Of course my dad and I could only watch grandma and her vegetable skillet. She continued to ignore us. (Apparently raising 3 kids and then 5 grandkids can make you immune to staring and also the bad manners or those around you.)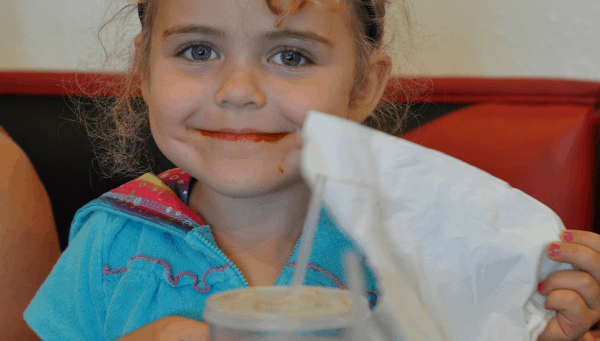 Pretending like we didn't really care about her reaction, we got reports from the kids that the food was great. My daughter had pasta sauce from ear to ear and my oldest boy stole the eggs off of any unprotected plate.
And when she knew we were about to burst from not knowing, my mom told us that her skillet was good. She liked her Fit Fare at Denny's. Since we were in public, I only said, 'I told you so" under my breath.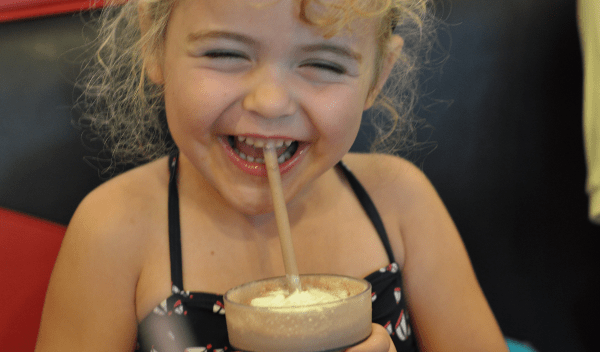 After a round of milk shakes (which happens to be my 2 year old's favorite word), my mom spotted a sign that said kids eat free* on Tuesday and Saturday evenings with only a $4 adult purchase. This is when she declared that we should come back.
So, after 30 years of not going to Denny's, my mom wants to go back. I think Denny's hired the wrong ambassador. I'm getting grandma a shirt that says: #DennysDiner.
*No grandmas were hurt with this post. My mom gave me full permission to write about her being snooty!
**Kids eat free days vary by location, so check before you go!