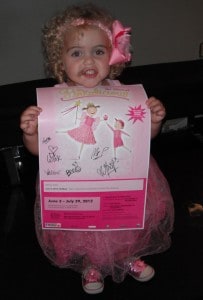 Address:
Main Street Theater - Rice Village
2540 Times Blvd.
Houston, Texas 77005
Main Street Theater - Chelsea Market
4617 Montrose Blvd.
Houston, Texas 77006
Cost: Reasonable. Pinkalicious was $12/person.
Appropriate Age: 3 and Up for Youth Theater
Our Review: I've always wanted to like theater. I've gone to many shows, paid a lot of money, sat in a big auditorium and then found myself looking at my watch. I am sure that I have picked the wrong seats or performances for my interests, but still, I'd just about given up on theater.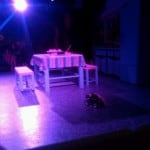 A couple of weeks ago I happened into tickets to the Main Stage performance at Main Street Theater. I went with low expectations and left as a theater lover. The intimate setting of Main Street Theater is *the* way to see a show.
Main Street Theater has two locations. One is in Rice Village and one is in Montrose at Chelsea Market. Neither is on Main Street, but the theater gets its name from the original location at the Autry House on Main Street.
The Theater opened in the the 1970s when Houston was rich with oil and itching for cultural activities. The theater opened up to fill this need and to provide employment for Houston's local theater artists. They seem to have been successful in their mission, because today there are two locations with 92 (Rice Village) and 250 seats (Chelsea Market) with plays for Houstonians age 3 and up.
My first show, which blew me away, was at the Chelsea Market location. It's in the back of the Market with plenty of free parking. The theater is small and simple. There is one room for mingling and one room for the show. Neither is fancy, but it doesn't matter. In fact, the casual atmosphere made me like it more. It wasn't the chandeliers and velvet the were capturing my attention, it was the show.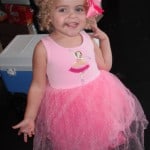 The first show was Red Hot Patriot. I did not know that a one woman show could keep my attention, but it did. I was so amazed that I decided my kids needed to see what theater was all about.
Main Street Theater has a Youth Theater with a solid schedule of performances for kids 3 and up. And, I should mentioned that the age restriction usually makes me angry because I have sweet baby James at home. But, even though I know that James would behave perfectly (cough, wink), it would not be much fun to listen to another baby cry for an hour. So, dad watched baby and I set a date with my two big kids (ages 3 and 5) to see Pinkalicious.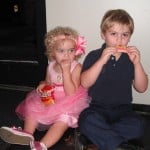 My kids and I went on Friday night for the 7:30pm show. The kids were so excited that I had to go at 7:00 just to stop the "can-we-go-yets". We arrived and the place was full of energy. Lots of little girls in pink were excited to see the show, buying books and eating snacks. (Juice and Goldfish were $1/each. The fancy crown cookies were $5.)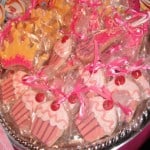 The kids mingled a little, made one last trip to the restroom and then we headed into the show. The theater is small with only 250 seats. Both times I've been, I've sat in section 4 on the side. Premium seating is right in front, but there is not a lot of difference in any of the seats. Everything is right next to the stage.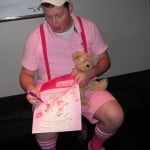 My kids smiled and laughed during the entire show. Pinkalicious has plenty of boys in the cast and Joe could certainly appreciate someone turning pink after eating too many cupcakes. At intermission (after 30 minutes) my kids were afraid the show was over and did not want to go. Brooke said, "But I want to learn more about Pinkalicious!" and Joe said, "I want to see if she turns back to her normal color!". So, I'm absolutely certain the show held their attention.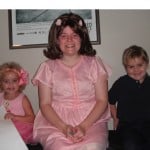 Fortunately there was just a 15 minute intermission and the kids could get back to their show. Afterwards the kids were able to meet the cast and get autographs and pictures. They just could not believe they got to sit next to Pinkalicious.
The show was just perfect for my 3 year old girl and my 5 year old boy. You can be bet that we'll be back for Duck for President, A Little House Christmas, A Wrinkle in Time, Miss Nelson is Missing and Charlotte's Web. And yes, I do mean all of them. We loved Pinkalicious.