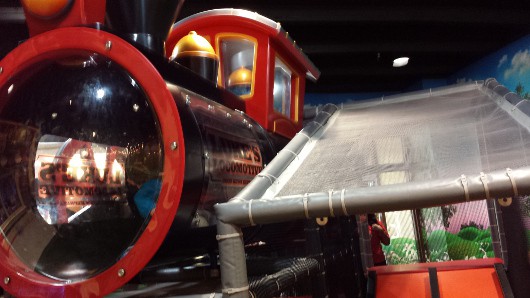 Address:
 First Methodist Houston Downtown, 1320 Main Street, Houston, TX 77002
Cost:
 Free!
Hours:
 Tuesdays – Wednesdays – Thursdays, 9:00am – 12:00pm
Appropriate Age:
 Kids 5 years and younger
This week's park review is of Main Street Indoor Park at the First Methodist's Downtown campus. The park is designed for kids 5 years old and younger and is free and open to the public.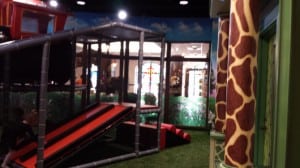 This indoor park is perfect for preschoolers to run around and play. The play area is just inside the front doors of the church. It is designed to look like a town square with storefronts, park benches and soft turf. It is really done well and reminds me of Disney or Vegas.
Even better than this, the play structure is a huge train! Kids can climb into the train and slide down the slides.
I took my 3 kids when they were open one weekend and, although the park is for preschoolers, my 6 year old was allowed in. He helped his brother on the steps and sat on the benches while my 4 and 2 year had a great time at this new playground.
Main Street Indoor Park is not huge, but it is completely closed in, nicely designed, temperature controlled and has bathrooms. I recommend taking your preschoolers for some free, and cool/dry/clean fun!
View Larger Map