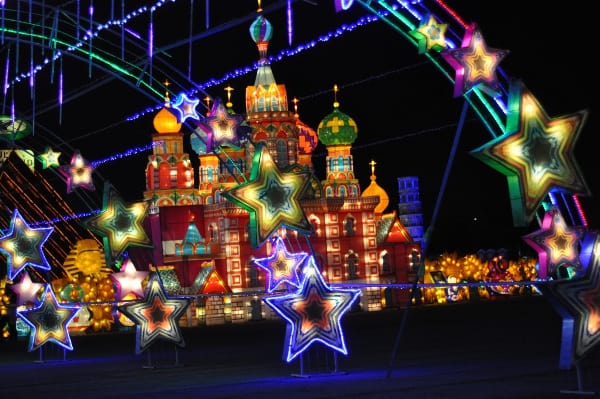 See the 2017 Post HERE!
Address: 1000 FM 2004 La Marque, TX 77568
The giant lantern festival is back for the holidays and the pictures are amazing. But it's in La Marque, which is a long rush hour drive from downtown Houston. Still, Magical Winter Lights invited us out and I have a very hard time turning down things that look awesome.
We were determined to go on a school night, so right after pick-up, we headed down I45 from Houston to La Marque. It took an hour there (and about 30 minutes after rush hour), but when we realized it was next to our favorite Buc-ees, we knew we made a pretty good decision. When we saw the lights from the highway, we were certain the long drive was worth it.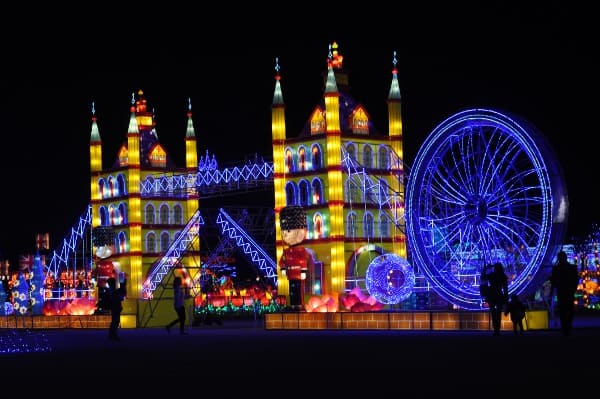 This festival is in the parking lot of the stadium (much like the rodeo takes over the NRG parking lot)… and it's very big. Half of it is a lantern festival with world landmarks you will recognize, mysteries of the east, dinosaurs and much much more. You need to see the pictures below.
This is not an underwhelming display of lights, that is for sure! We rushed through the lights once… and then did a second lap because there was something new each time we turned.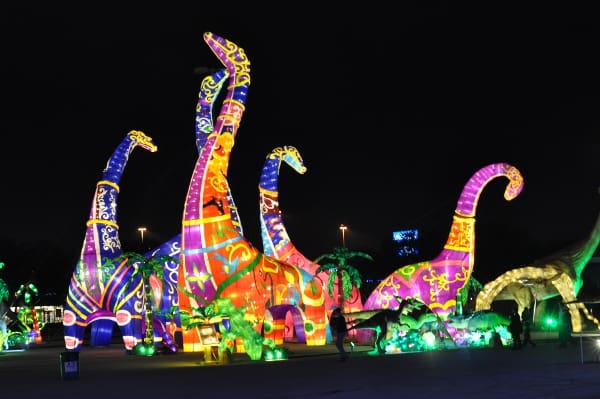 In addition to the lights, dinosaurland has motorized dinosaurs that swing their tails and make noise. Plus there is an area where kids can ride on dinosaurs with a $2 token. So, if you have a dinosaur lover, you are probably going to like this part of the festival.
See all the lanterns HERE.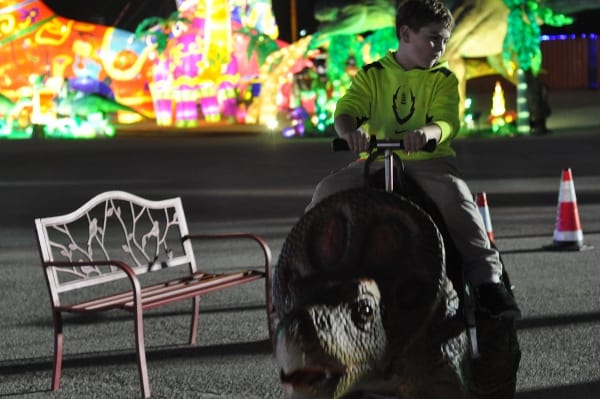 In addition to the lanterns, there is a carnival, live entertainment, photos with Santa, characters (like Elsa!), food stations and a market.
The carnival rides are extra… and the admission is already high, so be prepared. Either get ready to buy a $25 (or $20 online) all you can ride wristband or tell the kids you are only doing the lights and entertainment.
General admission is $20+ for adults, $13+ for kids and free for kids under 4. Parking is $5 (cash only onsite). Get all the prices HERE. Magical Winter Lights is open daily through January 8, 2017, including holidays.
Strollers are okay… and there is room for pushing them. Outside food is not allowed.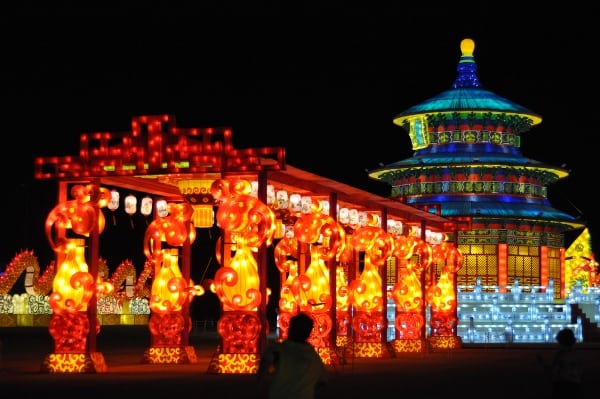 Magical Winter Lights was a bit of a drive from Houston… but my kids really really liked it. They claim it's better than
Zoo Lights
.
I'd say that Zoo Lights is cool because of the venue and getting to see the Zoo at night. Magical Winter Lights just has a parking lot, but the lanterns are really elaborate and there are a lot of them. Plus, the live entertainment is top notch and we saw Ana and Elsa by the lit up carriage!
So, if you really like holiday lights, learn more HERE!