Magical Winter Lights has returned to Houston. The giant lantern festival will be at the new location, Houston Raceway Park in Baytown, November 19, 2021 – January 2, 2022.
At Magical Winter Lights, you can tour more than 100 individual lantern sets in eight unique themed sections.
Find the magical castle, a Christmas village, skylines of Houston, a Dino fun zone, festival foods, carnival rides and games, Santa and Ice Sisters meet-and-greet, local cultural performances on select nights and more!
AND I have tickets to give away! Jump to the bottom to register to win.
Jump to:
Things to See at Magical Winter Lights Houston
Magical Winter Lights had to skip a year because of the pandemic, but before that, this was our very favorite Houston area holiday light show.
Each year we would arrive at opening to see the festival in the light... and capture the best photos at dusk... just before it got too dark for this amateur photographer! And then we got to see everything in the dark, when it becomes extra magical!
We would take one lap around Magical Winter Lights Houston to see what was new... and then took another lap to see it all in the dark. We especially liked the ice castle, giant mermaid, the Houston skyline and the light up checker board dance floor… that changes colors as you walk on it!
After the second lap, the boys went to the carnival while the girls got a front row seat for the live performances. The acrobats were great!
Magical Winter Lights Video
To give you an idea of what to expect, here is some video from a couple of years ago!
Things to Do at Magical Winter Lights
This festival is in the parking lot of the stadium… and it's very big. Half of it is a lantern festival with world landmarks you will recognize, dinosaurs and much much more. The other half is a stage with live entertainment and a carnival.
There are some slides between the lanterns, some spots for photos and a lot of interactive things to do in the dinosaur tent. Also, the snow sisters visit daily by the ice castle!
The carnival rides are extra, so either get ready to buy a $20+ all you can ride wristband or tell the kids you are only doing the lights and entertainment (which is all included in the admission price).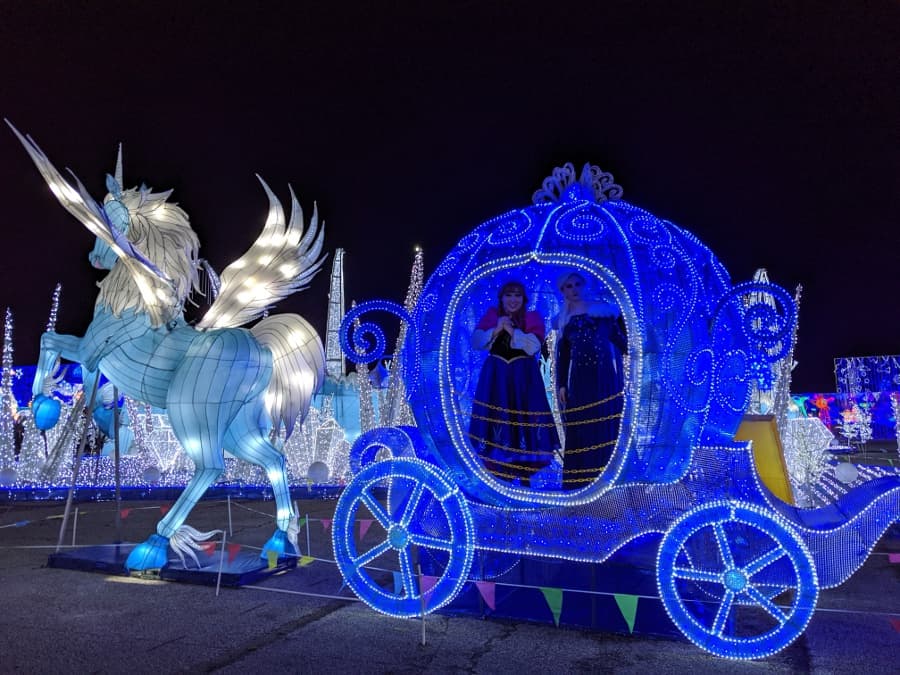 Prices at Magical Winter Lights
General admission is $23+ for adults, $15+ for kids and free for kids two and under. Parking is $10 (CASH only onsite). Magical Winter Lights is open daily through January 2, 2022, including holidays. (In past years you could look for discounts on the website and at Costco.)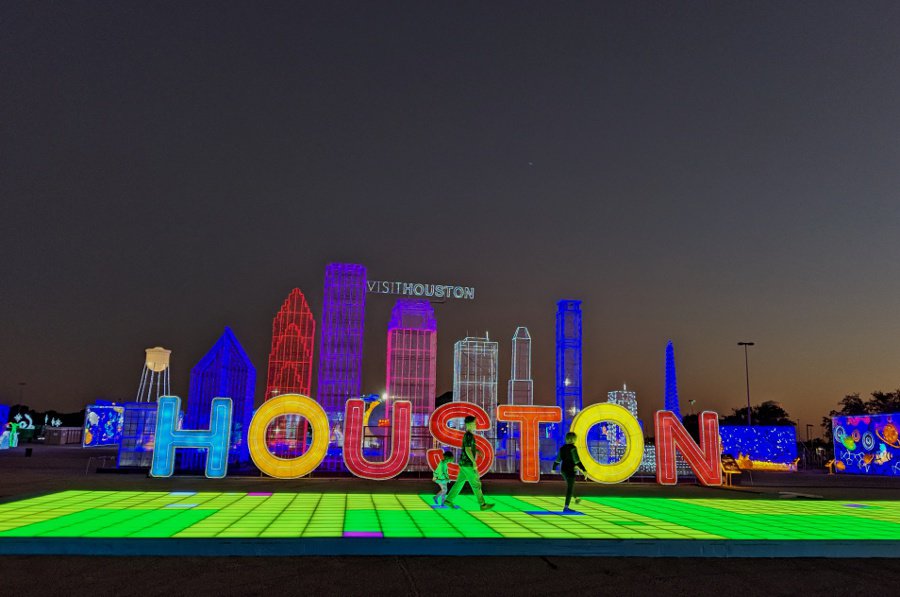 More to Know
Strollers can be brought in and there is plenty of room to maneuver. No outside food or drinks are allowed, but there are a lot of food options inside the festival. In the past, there have been no real restrooms (just port-a-potties). I am not certain about the new location.
If you really like holiday lights too, look at more pictures below and learn more HERE!
Give Away
Congratulations to our winner, Maria T!