Update: See the latest post HERE!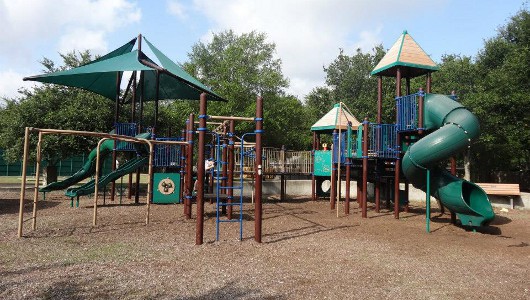 Address:
  7800 Stella Link Road, Houston, Texas
Cost:
 Free!
Appropriate Age:
 Any Age
Update: See the latest post HERE!
This is Shanna! My kids, ages 6 and 4, are on a mission to visit a new Houston park each week this summer.
The reason I decided to take the kids to Karl Young Park is because it is really close to the Weekley YMCA on Stella Link. I wanted to take the kids by the park then head over to the family pool at the YMCA to cool off.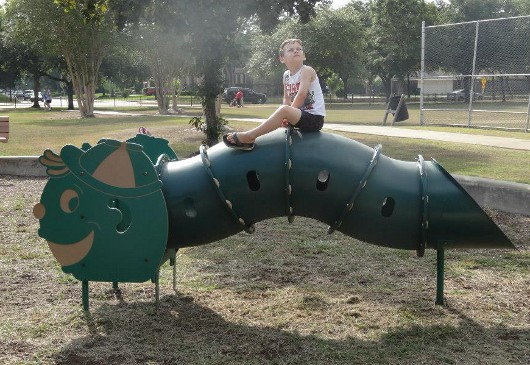 We got to the park a bit later than I planned (no surprise there!) and I thought we'd play for 20 minutes or so until the pool opened. We stayed for an hour, and the kids would have loved to stay even longer if I hadn't already promised to take them swimming.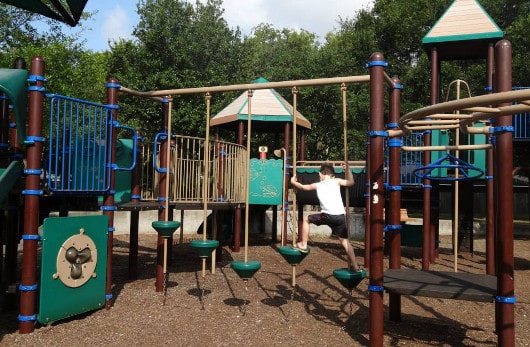 There is a small playground structure for young children and a larger one for older children at this park. My kids don't usually spend too much time on the smaller set, but today my 4 year old had a blast "riding" the caterpillar tunnel. The spring riders and 4-person teeter-totter also looked like fun. Near this play equipment is a shaded sandbox that had several toys and shovels that look like they are always left there.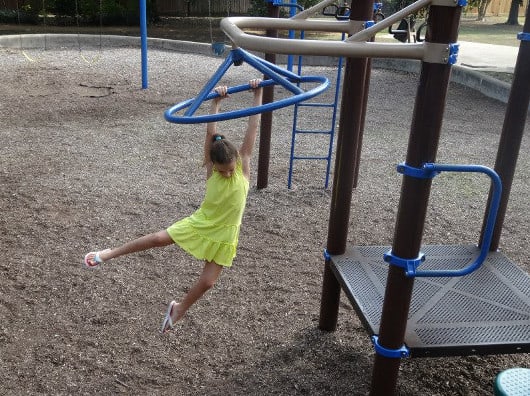 The larger playground structure is where we spent most of our time. There are monkey bars, slides, a talking tube, a periscope, a small climbing wall, an unusual bridge, a set of hanging pendulums for the kids to walk across, and a circular bar that you can spin as the kids hang from it.
Near both sets of playground equipment are shaded pavilions with picnic tables where parents and caretakers were relaxing while watching the kids play. The park also has a jogging track, large ball field, tennis court, tennis backboard, and a small basketball court. Once the weather cools off a little we'll be packing a picnic lunch so we can spend an entire morning playing at Karl Young Park.
View Larger Map